Film Room with Coach Collins: Can Grit 'n' Grind be effective in stretches?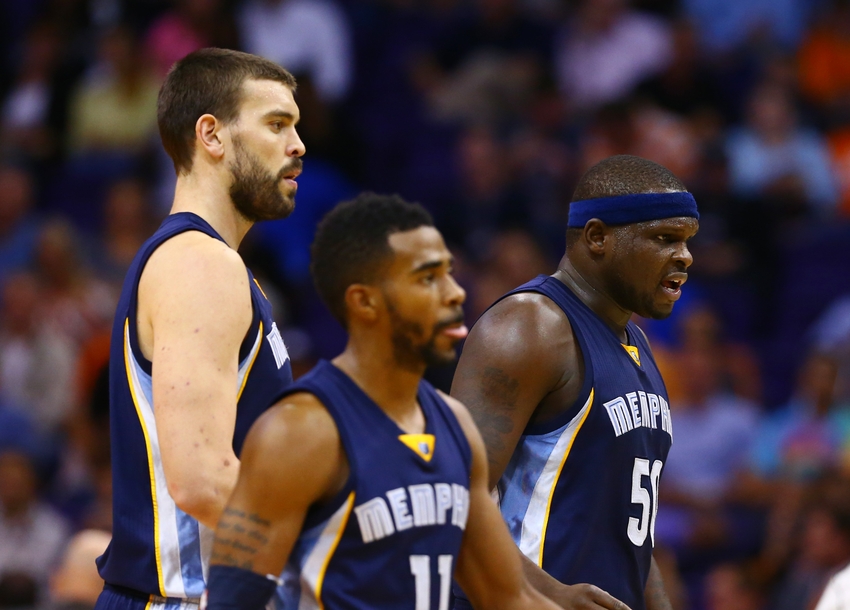 The Film Room series with Coach Collins takes a look at video to see what he thinks the Memphis Grizzlies' offense will look like this season. A lot of talk has been made about David Fizdale's offensive schemes coming with him to Memphis. It seems that he will be combining some classic Grizzlies sets with a newer, more modern offense for today's NBA game. Part 2 of this series, Coach Collins takes a look at how Grit 'n' Grind can still be impactful on offense.
A lot of talk has been made over the years of the Memphis Grizzlies" Grit 'n' Grind approach. You already know all this, but let's recap. The Grizzlies grind out every possession, maximize a small amount of space on offense by having guile and wily passers and have a smash mouth defensive unit lead by two All-World defenders in Marc Gasol and Tony Allen. This recipe has certainly been successful, but why haven't the Memphis Grizzlies haven't made the jump to title contender?
Let's take a look at some number courtesy of our friends at Basketball Reference. As a general rule, teams need to be in the top 10 in both offensive and defensive categories to be a true title contender. Let's start at the very beginning and look at a series of numbers from each of the Grizzlies' playoff seasons. The numbers given will be the Memphis Grizzlies' overall rank in the following categories: offensive rating (points per 100 possessions for), defensive rating (pointers per 100 possessions against) and pace.
Want your voice heard? Join the Beale Street Bears team!
The 2010-11 Grizzlies went 16th/9th/15th (Ortg/Drtg/pace) and defeated the Spurs in the first round as an average with an above average defense. The 2011-12 Grizz: 19th/7th/18th; 2012-13 Grizz:  17th/2nd/30th; 2013-14 Grizz: 15th/7th/30th; 2014-15 Grizz: 13th/3rd/26th. And finally , the injury-laden 2015-16 Grizz: 19th/19th/27th.
While the Memphis Grizzlies have been at times an elite defensive unit, the pace has continued to drop and offensive numbers have as well. Can Grit N' Grind survive offensively?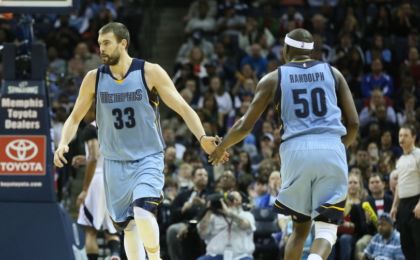 Grit 'n' Grind high-low passing
Let's talk about the Grizzlies returning members from the Grit 'n' Grind era. Zach Randolph is an old-school, low post, bullyball power forward from yesteryears' past. Tony Allen is the gritty, athletic, defender, who has an underrated offensive game and is a world class cutter. Mike Conley is the maestro, who can work in space and hit open jumpers, and has shown potential to be a killer in the high pick-and-roll. Marc Gasol is a classic European center: he is really good at everything, with one caveat: he can actually play (really good) defense. Do these guys have what it takes to generate points?
First, a look at how they can use guile, basketball IQ and amazing continuity to find a basket.
I could watch this beautiful clip all day. Spacing? It's terrible. But, look at that pass from ZBo! It is almost like he had a sixth sense where Gasol will be. That level of comfort comes from years of playing in the frontcourt and despite the fact that he will be anchoring the bench unit, he and Gasol will share the floor plenty and we will see more of this.
Memphis Grizzlies Grit 'n' Grind sets from previous coaches
What can Coach Fizdale learn from Coach Joerger about implementing a pace style? A commitment to it. The Memphis Grizzlies have talked for years about speeding up and were unable to implement the change. Chandler Parsons' introduction into the lineup adds a mix of intrigue and space to this offense. That being said, is there anything from Coach Joerger that is peak Grit 'n' Grind that can still work? Let's check out this piece from PickandPop.net's Zak Boisvert.
35 Logo
The Grizzlies' section begins at roughly the 58-second mark and the play begins with ZBo popping and looking for the 3-man, Tayshaun Prince, on the block. Randolph throws it down to him and gets out of the way so Marc Gasol can set a ballscreen for Prince,  who is already deep into the paint. The kick-out results in a missed 3.
Holy cow, though, this action could be crazy effective for Parsons in the starting unit. The only downside would be that Tony Allen would be on the weak side mucking up spacing, but he could simply use his surreal cutting ability to create a weak side gap. Very nice stuff.
Angle Narrow
This play is used out of a classic Horns set, where there are two big men screening for the point guard up top. In the first video, Beno Udrih drives off of a screen, reverses the ball to Courtney Lee, who then hits Marc Gasol on a post up. The starters are in the second time through and Tony Allen jets around a screen for a layup.
These kind of actions were successful because of pristine timing and feel. That being said, these actions should be a happy complement to the Memphis Grizzlies' new pace and space offense. Can't you imagine ZBo catching deep on the block and clowning on second unit defenders? What about Mike Conley zooming off the first screen and whipping it around to an open shooter on the perimeter?
The coaching staff does not have to reinvent the wheel here; they just need to add some air to the tires and balance them. The offense can slow a bit while Randolph embarrasses second unit defenders and speed back up when necessary. Late in games, they can maintain a slower pace with Randolph on the floor as well. Grit 'n' Grind may be on its last legs, but it's not dead yet.
More from Beale Street Bears
This article originally appeared on