Film Room: Jerian Grant Shows Why Bulls Wanted Him in 2015 Draft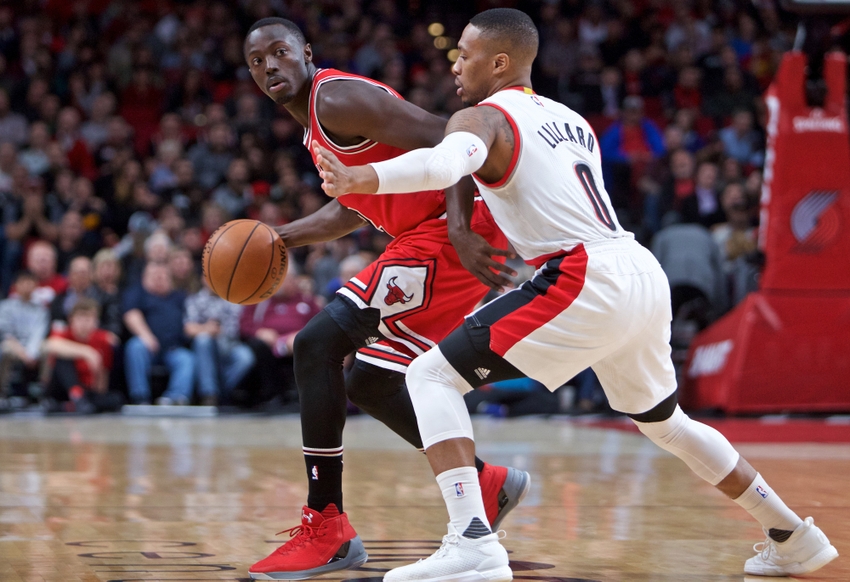 The struggling Rajon Rondo reportedly twisted an ankle prior to Tuesday's game in Portland, so the Bulls turned to 24-year-old Jerian Grant to get the start at point guard against Damian Lillard. It worked.
When the Chicago Bulls front office duo of Gar Forman and John Paxson traded Derrick Rose and Justin Holiday to the New York Knicks this past summer, they made their excitement loud and clear about getting Jerian Grant in return.
"Jerian Grant, a year ago, he was very high on our draft board," Forman said to the media during a press conference after the trade became official.
"[He] was somebody we were hoping would slide to our position and we feel he is a fit in transition with pace and pick and roll. In our minds, it's like getting another first round pick."
On Tuesday night in Portland, the Bulls were without one of their other guard acquisitions from the summer. Rajon Rondo reportedly injured his ankle during practice prior to Tuesday and would be inactive against the Trail Blazers.
With Rondo not dressed and Michael Carter-Williams dealing with a bone bruise in his knee, it was Jerian Grant's time to shine as the starting point guard against one of the league's best lead guards in Damian Lillard.
Grant not only played well, he outplayed a legitimate All-Star caliber player in Lillard and showed why Forman and Paxson were so high on him last summer coming out of Notre Dame.
In 30 minutes of action on Tuesday night, Grant shot 6-of-13 from the floor, made two of his 5 3-point attempts, grabbed three rebounds, dished out a couple assists and racked up five (!) steals in the 113-88 beatdown of the Blazers.
What made Grant so good on Tuesday night?
Grant was a primary ball-handler at Notre Dame, so he can run the offense and the floor
Grant only had two assists in 30 minutes on Tuesday, but he was seeing the floor well. He didn't get the assist here to Dwyane Wade, but his vision and passing ability were on full display not two minutes into the game.
Notre Dame ran a fluid, free-flowing offense in Grant's last season, resulting in the Irish going to the NCAA Tournament's Elite Eight and taking unbeaten Kentucky down to the final seconds.
A big reason why that offense was so successful is because Irish head coach Mike Brey utilize the simplicity of running screeners out to Grant and having bigs that could roll or pop out to hit the mid-range jumper.
Robin Lopez isn't Pau Gasol with his mid-range shooting, but if you get him this much space, he's going to hit these shots more often than not.
Grant's such a good player in the pick-and-roll/pop game. He looks for others more than his own shot. He recognizes here that Mason Plumlee slid over to cut off his lane to the basket and Lillard was on his back off the screen, resulting in a simple, but smart pass to Lopez for the easy jumper.
Later in that 35-point opening quarter for the Bulls, Grant ran a screen-and-roll with Taj Gibson. Grant goes around the screen again, while Lillard follows him around once more. Plumlee sags off in the driving lane, and Gibson drifted towards the rim, so the pop-out jumper wasn't there.
Grant makes a great read to the right corner where Jimmy Butler — who was usual fantastic self on Tuesday with 27 points and 12 rebounds — showed off his improved shooting stroke from long range.
So, you're going to hedge the pick-and-roll with Grant as the ball-handler now, Mason Plumlee?
Big mistake.
Grant makes a beautiful between-the-legs crossover after showing Lillard (and Plumlee) that he was going left. He crossed back over, drove into the lane, and flew right on past C.J. McCollum for the layup.
Grant's defense is something the Bulls have been missing at the PG spot
It's not trolling to say that a former All-Defensive Team mainstay isn't what he used to be on that end of the floor anymore. Rajon Rondo is not the defender he once was and it's shown so far this season for the Bulls.
(Note: When Rondo's on the floor, the Bulls have a team-worst 107.5 defensive rating. When Rondo's off the floor, the Bulls have a team-best 95.4 defensive rating.)
Jerian Grant was a man possessed on defense against the Blazers. The Bulls had seven steals as a team on Tuesday night, with Grant logging five of them.
Grant wrecked the Blazers with his defensive pressure and length with his 6'4″ frame at the lead guard position. He's only played 76 total minutes this season, but the Bulls' defensive rating of 89.0 when he's on the floor isn't a fluke. He's a bulldog on defense and if his playing time is extended off this performance, more plays (like the one below) are going to happen.
It's been a struggle throughout the summer league title run and the early portion of this year with Grant's jumper, but it's better for the Bulls to have him on the floor to hit corner 3s instead of teams using the defender marking Rondo elsewhere and making things harder for the other Bulls on the court.
If this shot is falling, and you throw in his defense, the Bulls just might have their point guard of the future.
It's just one start on a long road trip for the Bulls, which continues on Thursday night in Utah, but it's a promising start for the guy the Bulls most likely would've taken instead of Bobby Portis in last year's draft if he was still available.
More from Pippen Ain't Easy
This article originally appeared on