FanDuel NBA – Lucky 7's – 7 Profitable Plays Dec. 19
Welcome to FanDuel NBA Lucky 7's where I lay out my top 7 players who are simply intriguing buys for their respective match-ups. The "confidence" ratings reflect how risky each player is with "7" being very risky, and "7777" being a pick I'm very confident about.
FanDuel NBA – PG Dennis Schroder @ Oklahoma City $6,800
Pros: Point Guards playing opposite Westbrook has actually proven to be profitable in FanDuel NBA. So far this season, Elfrid Payton had a 50.9 FDP game on $5,400 (23 points, 9 assists, 7 rebounds), Derrick Rose had a 43.4 FDP game on $6,100 (30 points, 7 rebounds, 4 assists), and Jeff Teague had a collosal 58.5 FDP line on $6,600 (30 point, 9 assists, 6 steals).
Tonight the Atlanta Hawks and Dennis Schroder take on the Thunder at home, and I'm loving his potential for $6,800. He only needs 34 FDP to get you your money's worth. Over his last 6 games he's averaged over 36 FDP a game while averaging $6,650 in salary. Schroder had a dud the other night against Charlotte with only 21.8 on $7k, but it resulted in his salary dipping $200, so he makes for an easy pickup tonight that I can't bet against.
Cons: Tim Hardaway Jr., Paul Millsap, and Kent Bazemore are the most imminent threats to Schroder's fantasy value in this game. Especially the hot Tim Hardaway Jr. who has been playing with a ton of confidence, getting more than his usual load of minutes averaging 32.5 a game over his last 4. If he keeps it up and Schroder decides to concede most of the scoring to him, it could certainly cut deep into Schorder's fantasy value. Although a stack of both Schroder, and Hardaway wouldn't be a terrible idea for only $11,100 as they would only need a combined 55.5 FDP to get you your money's worth.
Confidence: 7777
FanDuel NBA – SG Tim Hardaway Jr. @ Oklahoma City $4,300
Pros: After averaging only 23 minutes a game on the year, Hardaway's minutes over his last 4 games have been hovering over 32. Which is awesome for his fantasy value as he's averaging career highs in points and assists per 36 minutes. Like I laid out with the aforementioned Dennis Schroder, backcourts against the Thunder usually yield plenty of fantasy value. Him together with Schroder as a PG/SG stack make for a nice strategy to lock up as many fantasy stats as you possibly can in that fantasy-lush Thunder backcourt for a bargain of $11,100.
Cons: It's unknown how the value pendulum will swing between he and Schroder. Don't forget also the he also has to share some minutes with their 3-point specialist Kyle Korver. So in the event Atlanta gets down big with Schroder and Hardaway at the helm, Korver may be called upon to log more minutes in the hope to surge back with some quick threes. Hopefully most players will try to pick between one or the other between Hardaway/Schroder, keeping the ownership percentage on the pair low.
Confidence: 7777
FanDuel NBA – SG Devin Booker @ Minnesota $5,700
Pros: I like Booker here as a buy-low option in a competitive one against Minnesota where they're going to need him and his offensive capability to get an attainable win. The Timberwolves are also struggling with a 7-19 record on the year, so hopefully this one can come easy for Booker and his shooting prowess. Booker just put up 38.1 FDP on $5,800 in Oklahoma City (See Schroder and Tim Hardaway Jr.) and his price has actually dropped $100 since! Playing opposite the high-powered offense of Zach Lavine and Andrew Wiggins should inspire Booker to be a lot more aggressive and stay involved through the whole game.
Cons: Eric Bledsoe seems poised for a great game as well, and could take lots of opportunity away from Booker to be as involved as he was against OKC. If Bledsoe finds the Minnesota defense to be lax, he may opt to just continually take the ball to the hole if it comes easy for him, leaving Booker mostly out of the equation. The TWolves don't exactly yield a ton of opponent points scored from 3 at only 24 points a game, so keep your expectation for Booker realistic as it wouldn't be a complete surprise for him to cash in something disappointing like 24-27 FDP for seemingly no reason.
Confidence: 777
FanDuel NBA SF Otto Porter Jr. @ Indiana $5,500
Pros: Otto Porter has been quiet over his past 7 games averaging only 19.7 FDP while averaging $5,770 in salary. But how far are you going to let his salary dip before you pay him a hard look? Even though it seems like a distant memory, Otto cashed in a jackpot line of 68.8 FDP on $5,200 against Boston earlier this year (43 points, 13 rebounds, 4 assists, 3 blocks, 3 steals). So it speaks to what caliber of player he in stats across the board.
I like his presence opposite Paul George who will presumably be leading Indiana's charge with confidence after chipping in 26 points and 7 rebounds against the Pistons last night. With Bradley Beal coming in off of a 50.7 FDP on $7k game against the Clippers, most should opt for him over Porter, but with Porter you have an opportunity to bet against the probably higher owned, higher salary SG.
Cons: To average 19.7 FDP on $5,770 over his last 7 games, means he's undershooting the mark in value reflecting salary by 9.15 points a game for that stretch. That output is abysmal and shorting his owners by $1,830. While it could surely happen, it's only a suspicion that Porter will have a good game playing opposite Paul George. Porter's value could be in trouble if the game gravitates more toward the likes of John Wall/Jeff Teague. Save Porter for your 7-8th pick.
Confidence: 77 FanDuel NBA PF Gorgui Dieng v. Phoenix $5,500
Pros: I had no interest in Dieng here at first glance as mostly backcourt players come to mind against Phoenix, but then I took another look at his salary for a calm $5.5k. With as iffy as your options are at PF tonight, he could actually yield solid value as a compliment to Karl-Anthony Towns and his game if the game gravitates his way. Hopefully he's brushed over by those opting for more attractive plays like Nikola Jokic and Paul Millsap (Poison pill candidate) for lower ownership.
Opponent games where Phoenix has surrendered plenty of fantasy points in their frontcourt include Rudy Gobert for 40.2 FDP on $6,900 (22 points, 11, rebounds, 4 blocks), Nikola Vucevic with 43.6 FDP on $6,300 (21 points, 13 rebounds, 2 assists), and DeAndre Jordan with 40.2 FDP on $7,500 (19 points, 11 rebounds, 2 blocks).
Cons: Phoenix' defense is just honestly bad everywhere, so it's hard to peg one player as the leading beneficiary for how much Phoenix leaves the game open for teams to get plenty of points. This game could very well go over Dieng's head if this game heats up with the likes of Bledsoe, Booker, LaVine and Wiggins at the helm. Keep a reasonable expectation about Dieng's numbers in this one as I don't expect much more than 30 FDP
Confidence: 77
FanDuel NBA PF Nikola Jokic v. Dallas $5,900
Pros: Nikola Jokic had an outstanding game against Dallas and their quicksand tempo with 47.2 FDP on $5,600, and I have no reason to think he'll deviate much at all in a rematch at home tonight. Jokic had a couple of clunkers with 27.3 FDP against the Knicks on $5,900 and 24.3 FDP against the Blazers on $6,000, but Dallas plays much slower than both of those teams averaging a league-slowest 93.7 points a game. So once again the game should fall into the hands of Denver's bigs with Jokic being the leading beneficiary. I think to not have Jokic here for under $6k would be an arrogant move.
Cons: I can't think of many, except for the fact that Kenneth Faried most recently outdid Jokic against the Knicks in value with 40.4 FDP on $4,800, but the Knicks are a much higher-tempo team. So it's almost unimaginable that Kenneth Faried would get very much run against these slow-motion Mavericks. Especially since he played only 7 minutes the last time they played them.
Confidence: 7777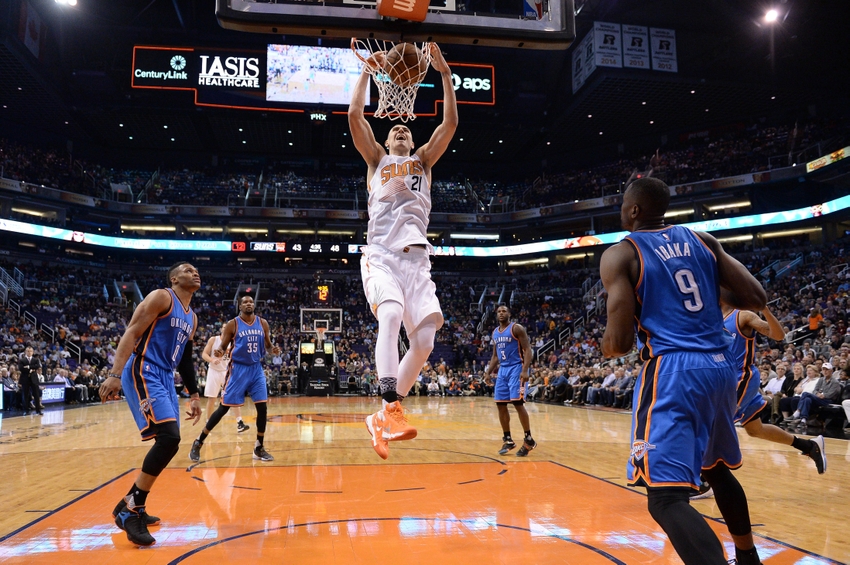 FanDuel NBA PF Alex Len @ Minnesota $4,800
Pros: In tonight's small slate, it's essential if you're playing a tournament, that you dig deep for those low-ownership, low-salaried players who demolish their value and catapult you into the victory margin. Alex Len against Minnesota's Karl-Anthony Towns, and Gorgui Dieng makes for a good sleeper candidate to be the pick you need to get your lineup into the upper echelons of prizes.
His per-36 minute output has been the best of his career so far in scoring and rebounds, and he's cashed in a few solid games this year like 16 points and 14 rebounds against Detroit, 14 points and 13 rebounds against the Lakers, and 17 points and 12 rebounds against Orlando. Let's hope he shakes off his hip ailment and gets a solid game in for the Suns here.
Cons: Len is coming off of missed time with a bruised hip, so don't be terribly surprised to see a sub-20 FDP line out of him. He has been a terribly frustrating player to own and somehow is buried under the likes of 34-year-old Tyson Chandler in the rotation, who will get the start tonight. His output being profitable will hinge on his minutes and the tempo of he game being slow enough for him to get involved. Understand he's a risk, so save him for your 8-9th pick if you're intrigued by his potential.
Confidence:7
Want your voice heard? Join the Fantasy CPR team!
Best of luck tonight in your FanDuel NBA contests! Stay tuned to Fantasy CPR on Twitter for all the late breaking lineup news and analysis.
This article originally appeared on