FanDuel NBA DFS – Fantasy Forecast Week of December 5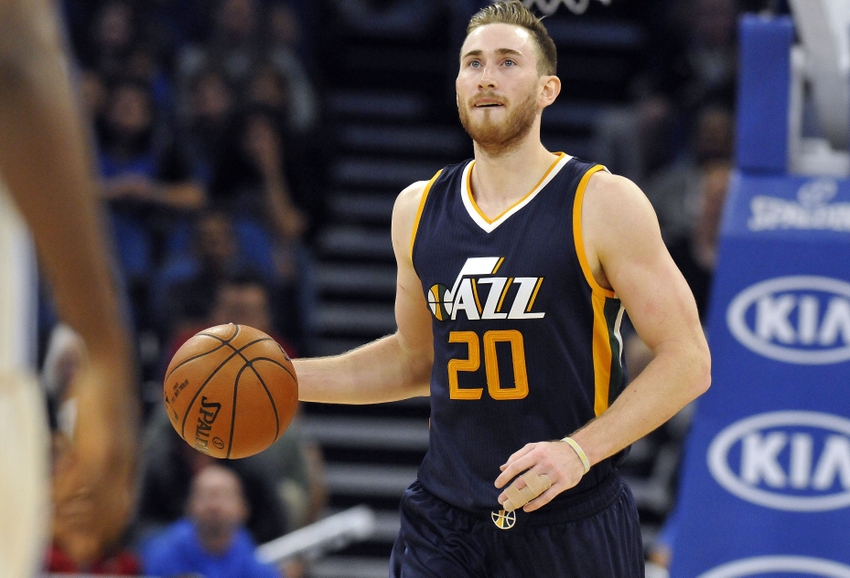 FanDuel NBA – Weekly Fantasy Forecast for December 5th
Karl-Anthony Towns was on my radar heavy for this week and sure enough he did spectacular on his $8,800 FanDuel NBA bill against the Knicks at home, posting a career high in points of 47 to go with 18 rebounds for 75.6 FDP. His next 2 games he put up 20 points and 8 rebounds with 3 blocks for a rematch on the road against the Knicks, and a 27 point, 15 rebound line at Charlotte. Neither of which Towns provided great value for on his $9,400 salary, so it would seem the buy-low window on him has shut for a bit.
Evan Fournier had a decent outing this week against Memphis for 28 points and 4 assists but nothing like what he did against Milwaukee last week with 27 points, 7 assists and 6 rebounds. He also handed out a clunker at Detroit with 12.2 FDP on a $5,900 salary, but guards against Detroit this year have typically yielded terrible value anyway.
Tim Frazier's fantasy stock is sinking with Jrue Holiday back, as expected. Frazier chipped in 20.4 FDP at the Clippers,13.7 FDP in the Staples Center against the Lakers, and 10.3 FDP with no points against the Thunder. Forget about Frazier putting out close to what he did earlier this season now that he's playing with Jrue.
Russell Westbrook is still flying high with two optimal lineup stat lines this week posting 27 points, 17 rebounds, and 14 assists at New York for 66.6 FDP. 35 points 14 rebounds, and 11 assists at home to Washington for 67.3 FDP. Westbrook appears to be unstoppable, but with his salary sitting at $12,600, you're looking at investing over 20% of your cap into him. OKC matches up against the Hawks who average 16 opponent turnovers a game to start off the week, so I think you would do better to look elsewhere at PG first.
   Goran Dragic has averaged 41.7 FDP over his last 4 games while averaging only $6,775 in salary. He cashed in some fantastic numbers last week at Boston with 27 points and 17 assists for 55.9 FDP. Although the line manifested for Dragic as a result of no Dion Waiters, Justise Winslow, or Tyler Johnson, the game was a great reminder of how good Dragic can be when given the opportunity.
   Dragic also had two other outstanding games this week against Utah on the road with 38.8 FDP for $6,800, and 39.8 FDP for $7,100 at Portland. He's done a great job picking up the slack in his teammate's absence, especially when not having to split on/off ball duties with Tyler Johnson.
   This was fantastic production from Dragic, but most of him demolishing what his salary projects his fantasy value to be, has to do with Miami's rotations being turbulent due to injury. That said I do think that he's still one of the most underrated point guards in the entire league, just as long as his teammates Josh Richardson, Tyler Johnson, and Wayne Ellington don't eat into too many of his minutes and he can yield assists to them.
  This week Miami plays the Knicks at home, then Atlanta, Cleveland, and Chicago on the road. It would seem his best opportunities to produce would come against the Knicks and the Bulls, so if his salary is close to his last closing tag of $7,100, then I think you have to pay a long look at him.
  Gordon Hayward has been on a tear lately, yielding outstanding value as he's averaging over 41 FDP a game over his last 6 games while fetching an average salary of $7,400. He's also averaging just under 32 points a game over his last 3 games, and putting together his best season in scoring with 22.8 points.
  Some of the most notable lines from last week for Hayward came against Houston with 31 points, 7 assists, and 5 rebounds for 47.5 FDP. Without both Rodney Hood and George Hill against the Miami Heat at home, Hayward found himself in a nice rhythm while bearing most of the production load, cashing in 32 points, 7 assists, and 3 rebounds for 50.1 FDP.
  It should be noted that Rodney Hood and George Hill have both been in-and-out of the injury fold for Utah, not to mention Derrick Favors continues to miss an indefinite period of time, so be mindful of their statuses before game-time if you're thinking of playing Hayward's card this week. However, Hayward has still demonstrated that he can be productive with or without them.
  This week Utah has some great games for fantasy value coming down the pipe, starting with the Lakers on the road, then Phoenix, Golden State and Sacramento at home. In all of these games I could see Hayward putting up solid numbers in a worst-case scenario. His salary currently sits at $7,900 which with no George Hill or Derrick Favors makes Hayward hard to bet against this week.
   Bradley Beal has had a busy week averaging 36.5 FDP over his last 4 games while averaging $6,600 in salary. With his most outstanding line being at home against the Spurs with 25 points, 6 rebounds, and 5 assists for 43.7 FDP on a $6,000 ticket. Beal also went on for back-to-back games with 31 points against Sacramento and Oklahoma City on the road combining for 81.2 FDP.
  He did unsurprisingly only manage to produce 21 FDP against the Spurs on the road after a hard week, but with a day's rest I think he should be close to back to form against the Nets. He opens at Brooklyn for $6,900 while playing worth $7,300 in his last 4 games. So he honestly wouldn't be a bad player to build around to tipoff your Monday matchup.
  This week Washington also plays Orlando, Denver and Milwaukee at home and I think he's going to do tremendous so long as John Wall can keep him involved offensively, with his most valuable games coming against Brooklyn and Denver. He's one of the hottest plays this week and I would consider him a great value pick at SG, even though his salary has shot up almost $1,000 in one week.
FanDuel NBA – What do we do with the Lakers?
   With D'Angelo Russell out with a sore knee, and the Lakers other starting guard Nick Young out with a strained calf, much of the workload has been dispersed among the Laker's younger core. Some notable lines from this past week include Julius Randle cashing in 39 FDP against Chicago with 20 rebounds and 13 points. Brandon Ingram with 17 points and 6 rebounds against Toronto, and the best line coming from Lou Williams who had 40 points for 45.9 FDP against the Grizzlies on a $5,200 salary.
   Lou Williams has been great all year for the Lakers and I like his value even more as Russell and Young continue to miss time. I think he's worth a look this week if his salary sits at $5,900 or lower as he's averaging 31.9 FDP over his last 3 games. Against Utah to start off the week, Lou's salary currently sits at $5,500.
   Among the most disappointing of this bunch has to be Jordan Clarkson who has been getting decent minutes, but not producing on them. Over his last 4 games he's averaged 19 FDP a game so he's playing like a $3,800 player, but his salary for this time has been hovering around $5,500. This is without Nick Young and D'Angelo Russell. (Ouch.) His lack of production with the minutes he's been getting has me fading him heavily for the likes of Lou Williams and Brandon Ingram. As for Luol Deng, he has not been terrible for a sub $4k price, but it's hard to imagine allotting a SF slot to him, until I see more production out of him.
FanDuel NBA – Grizzlies
   Much like the Lakers having lost their starting point guard to injury, The Grizzlies also suffered a devastating blow this week after Mike Conley suffered a fractured vertebrae. The injury comes at a time when Zach Randolph has already been absent after the death of his mother. Memphis was looking poised to make a solid playoff run this season but the news of Mike's back injury after already missing Randolph and Vince Carter has the their hopes of a high playoff seed fading fast.
  On the bright side, the fantasy rewards look to be falling into the hands of the younger rotation players who have been called on to keep Memphis' playoff hopes alive, and so far have been making the most of it by the looks of these lines.
  Troy Daniels posted explosive value Saturday Night against the Lakers, chipping in 31 points for 43.4 FDP on a $3,700 ticket. Conley's interim successor Andrew Harrison has had a few nice lines with 27.8 FDP against Orlando, and 33.4 FDP against Toronto while his current salary sits at $4,300. Most of the sleeper value for Memphis going forward will come down to Harrison and Daniels, but also keep an eye on Troy Williams if you're looking for a cheap plug at SF (Also, be sure not to mix up the Troys).
  JaMychal Green has probably been the highest-reaping beneficiary without Zach Randolph, averaging 32.8 FDP over his last 3 games, unfortunately this has resulted in his price kicking up to $5k. Green's production will surely take a tumble once Zach comes back so definitely keep an eye on his status before game time to open this week against New Orleans. Green for $5k sharing minutes at PF with Randolph could be crippling to your lineup.
  Their first game this week is at New Orleans and I think this is a game that is worth a deep look at the likes of Andrew Harrison, Troy Daniels, and Troy Williams. I haven't forgotten about Marc Gasol, but in terms of sleeper picks those other 3 look to be more enticing plays, especially with Zach Randolph potentially making his return tonight against the Pelicans.
 This week Memphis also matches up with Philadelphia, Portland, and Golden State all at home, so keep a watchful eye on them and Memphis' rotations, as I really like the idea of Andrew Harrison and both Troys going up against star point guards Damian Lillard and Stephen Curry.
Want your voice heard? Join the Fantasy CPR team!
Have fun and good luck this week in all your FanDuel NBA contests and stay tuned to Fantasy CPR each day for out top DFS picks!
This article originally appeared on