FanDuel NBA DFS 10 Game Slate Run Down – November 18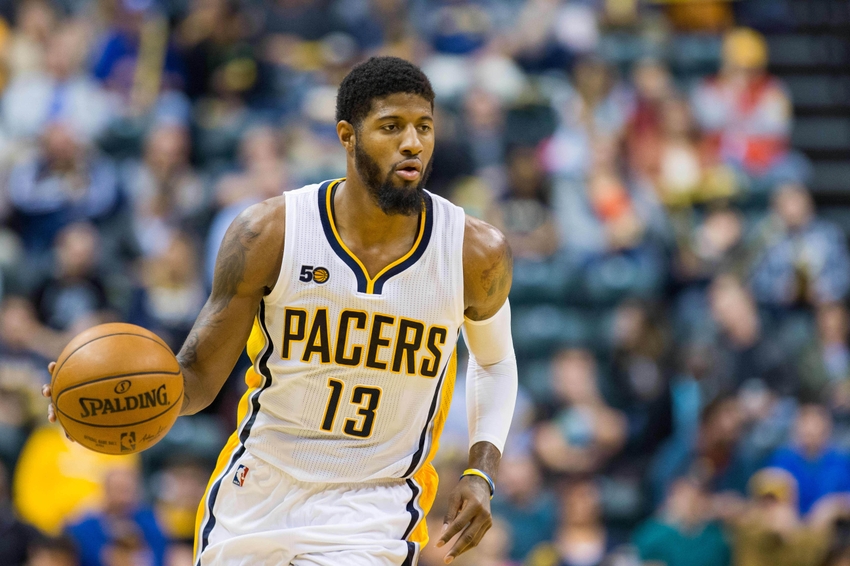 Welcome to Friday Night in the NBA on FanDuel as we break down each game on this DFS slate!
DFS – FanDuel Game by Game NBA Breakdown!
Phoenix @ Indiana – O/U: 217.5, IND -7
There are a lot of DFS questions in this game: Is Monta Ellis starting? Will Paul George show up? Who's going to take the weight for Phoenix?
Some notes on Jeff Teague, Monta Ellis, Paul George, CJ Miles, and Thaddeus Young: Paul George has been one of the most infuriating players to own this season so far and he's the most expensive of this bunch at $8,600, but I still think he has the most value in this game overall. I think he could/really needs to crush his 43 FDP in Value Reflecting Salary because the Suns give up a league-worst 116 points a game. Their lax-defense and high tempo style should ignite him to take over. Sink or swim for George I'm not betting against him.
I wouldn't look too deep into what happened to Booker at Denver a few nights ago. He's still leading the Suns in scoring and if they're going to have a chance on the road against Indiana they're going to need him to let it fly.
My picks of the game: SF – Paul George: ($8,600), SG – Devin Booker: ($6,500)
Atlanta @ Charlotte – O/U: 206, CHA -2.5
This will be a hard-fought game on both ends of the floor for both teams. With a spread this low, and a projected point total of 207 this game to me is the murkiest game to project out on the night. Both teams are kind of similar in terms of their defense It seems anyone could get it going tonight for either team. I think Kemba Walker and Millsap could both be efficient plays, but Kemba's salary has kicked up a few 100 bucks in the past few days, and Dwight and Millsap against this Charlotte frontcourt seems like a tossup.
Dennis Schroder is 2nd in field goals attempted per game on the Hawks with 12.9, plus playing against a volume scorer like Kemba should prompt him to get more involved for his team, so I think for $6,000 I say plug him in and see what happens if your lineup allows it. His ownership should be low with all the more attractive, more expensive plays.
Charlotte allows 31.6% in opponent percentage of points from 3, and that's second from last in the league. So, that kind of has me thinking Kyle Korver and Tim Hardaway Jr. right off the bat. I also like Dwight and Paul Millsap, but with other more attractive plays around the league at Power Foward and Center I don't think not having them poses a big threat to your winning percentage.
My picks: PG – Dennis Schroder ($6,000), SG – Kyle Korver ($3,800)/SG – Tim Hardaway ($3,700)
Detroit @ Cleveland – O/U: 203.5, CLE -8.5
Starting with the backcourt in this match-up, I think Kyrie Irving could be an OK pick with the potential to be explosive, and a GTD for JR Smith yields well for his value, but I can't be too sure with him currently sitting on a GTD. LeBron at $10,100 as a 9 point favorite I think is overkill and If they get up early he's not going to play the entire game either, so I don't feel like 50.5 FDP tonight is realistic for LeBron.
I don't see Ish Smith, Marcus Morris, Tobias Harris, or Andre Drummond being very effective against the Cavalier's defense/rebounding, so I'm comfortable fading all of them, but if you were looking for an option from Detroit I would hone in on Kentavious Caldwell-Pope. He's a little more expensive than I would like for him to be for $4,900, but he may be the Piston's only shot at a W.
My picks:  SG – Kentavious Caldwell-Pope ($4,900), PG – Kyrie Irving ($7,400)
Brooklyn @ Oklahoma City – O/U: 219, OKC -9.5
There are surprisingly a lot of points projected to go around in this match, but I think one of two scenario's occurs, either Westbrook crushes the first 3 quarters and gets pulled early in the 4th, or he opts to get his teammates more involved compromising his value for their's. You could still play him, but I just don't see this thing being close late into the game, so the risk of him getting pulled makes him an unattractive pick to me.
I envision a scenario for Adams having to guard Lopez on the perimeter, leaving Kanter under the basket freeing him up for put-backs and rebounds, so for $4,700 I think for what Kanter is capable of in scoring and rebounding makes him a great sleeper play here.
I honestly don't know a lot about the Nets' wings/guards, I just know they're really bad. I do know that the likes of Kilpatrick, Bogdanovic, and Hollis-Jefferson, strike me as low risk/really-low reward players. I do however think Sean Kilpatrick is a really boring but effective pick. Perhaps Bojan and Hollis-Jefferson cash in some lines over their projected values, but I don't think they're worth the slots.
My picks: SG – Sean Kilpatrick ($5,200), PF – Enes Kanter ($4,700)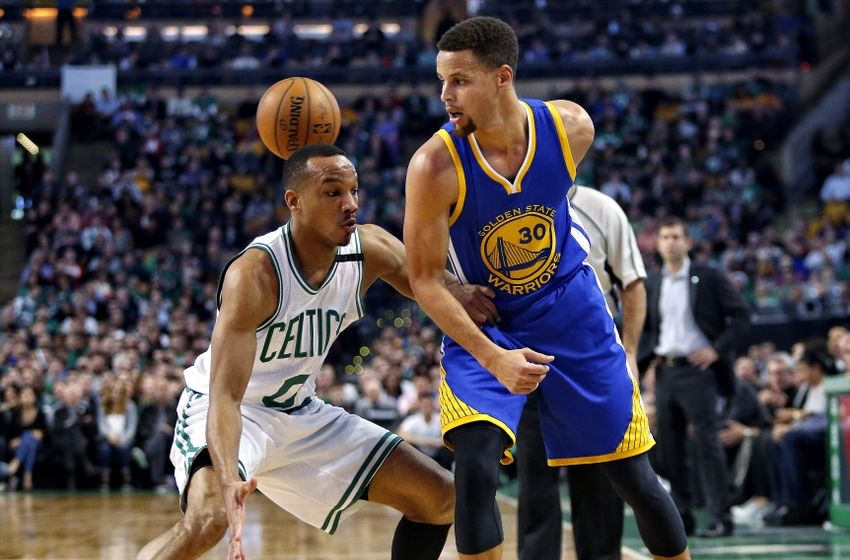 Golden State @ Boston – O/U: 224.5, GS -7
 First thing's first, The Celtics might be getting back Jae Crowder and Al Horford, so it might be time to fade Avery Bradley slightly if both of them come back, but if neither of them play, I'm hinging my lineup's success on the night on Avery Bradley. I think his game matches up against Curry and Kevin Durant and he'll be forced to play every minute. He'll have to take shots to keep up with Golden State, and I see him being very active on Defense.
Marcus Smart could be a solid pick if Jae and Al aren't back, just ask yourself with all of the other plays at PG if he's worth your slot. After Isaiah Thomas ($8.3k), Avery Bradley ($7k), and Marcus Smart ($5,300) minus GTD's and O's, your next Boston player in salary is JAMES YOUNG at $3,600. So either, you should dig deep in this game for sleepers or you should invest heavy in Boston's current "Big 3" of Thomas, Smart, and Bradley.
My picks: SG – Avery Bradley ($7,000), SF – Kevin Durant ($9,700)
Portland @ New Orleans – O/U: 214.5, POR -2
 Love the spread value here, and I think this will actually be a close call for Portland on the second night of a hard-fought back to back. Not to mention it's Jrue Holiday's first game of the season. It looks like Vegas is projecting him to have quite an impact on this game if the spread is only POR by 2 against the 2-10 Pelicans, but at $7,900 that's higher than Kyrie Irving, Eric Bledsoe, and Jeff Teague.
 I don't think if Lillard was set to have a great game that the spread would be as close as it is. Unless, Holiday and Davis are both going to have a major role in keeping it close, and I absolutely do like Anthony Davis if he's cleared to play tonight in a game this close. I think with Holiday back it's finally time to fade the likes of Tim Frazier, E'Twaun Moore, and Langston Galloway.
My picks: PF – Anthony Davis ($11,400) (if cleared to play), 
Memphis @ Dallas – O/U: 189, MEM -1.5
 The MEM@DAL backcourt is packed with O's and GTD's at the time of writing this. (Great.) Including Deron Williams who just came back from injury 2 nights ago. If Mike Conley can be confident giving it a go tonight, he's the only attractive PG in this game.  Unless you count the unfairly listed SG Seth Curry for $4,100.
Marc Gasol has been on a tear lately and I don't see him not taking advantage of the Mavericks tonight. Dallas is currently last in the league in Opponent Percent of Points from 3 pointers, so I see Gasol hanging out on the perimeter a ton. He might break the record for 3s made by a 7 footer. For your one center slot, I think 35.5 FDP is well within reach for the amount of Minutes Marc will get. If you were looking to bet against that suggestion, I also had my eye on JaMychal Green for less than $3,900.  If you played DFS at all last year when the Grizz were without Gasol, you know well for what Green can do that's a deal. but even for that ticket, the playing time element is the x factor.  I probably wouldn't have Him with Seth Curry, because a very unlikely game would have to develop to benefit both.
My picks: C – Marc Gasol ($7,100), PF – JaMychal Green ($3,900)
Toronto @ Denver – O/U: 214.5, TOR -3.5
I think if you're looking for deep sleepers, this is the game you want to investigate. Wilson Chandler is somehow now a GTD, Will Barton and Gary Harris are out, and Darrell Arthur doesn't look good. So there is definitely a hole in this game where the Nuggets are going to have to plug someone into a bigger role that can help them win. I like PF Nikola Jokic for the $4,300 price tag over Faried for $5,900, and you may also want to look at Jamal Murray for $3,600 if you're wanting to go extremely low-key at PG.
On Toronto, I like DeRozan and Lowry against the mediocre Nuggets, but I have a feeling for what their salaries are, they also have a high potential to disappoint. I think I would fade the two of them and look more into SF – Terrence Ross ($3,700) v. SG -Norman Powell ($4,000) if I needed bargains.
My picks: PF – Nikola Jokic ($4,400), SF – Terrence Ross ($3,700)
La Clippers @ Sacramento: O/U: 204.5, LAC
  Blake Griffin for $8,800 is 44.5 in Value reflecting Salary. Against a Western Conference Rival team. I think he gets a lot closer to his value than he has since at home at Portland, but I think if he does make his value he's not blowing it away in rebounding thanks to Cousins.
Chris Paul in this game is actually the most intriguing play. I think a projected total of 205.5 will cater to the pace and style that Paul needs to make shots from behind the arc, and run plenty of plays with Blake and DeAndre.
Even against the likes of the league-best defense Los Angeles Clippers I still think DeMarcus Cousins should chip in 50 FDP. I think he will make good on his salary, but for how much he is, I just don't know if I want to spend $9,800 at center and compromise the rest of my cap.
Matt Barnes I think is Sacramento's secret weapon. He can make shots, rebound and play defense. and for $3,900 in multiple lineups he could pay off if you were left with a cool $4k as your 9th open slot.
My picks: PG – Chris Paul ($9,300), SF – Matt Barnes ($3,900)
San Antonio @ LA Lakers
  I like LaMarcus Aldridge to get actively involved in this game, against the pesky but far from impenetrable defense of the Lakers. Not to mention his salary has been dipping over the last couple of days where he now sits at a cool $7,100 (or 35.5 FDP).
For his value I think that LaMarcus is a safer play than Kawhi, who has been a little disappointing over his last 4 games (Averaging 33.5 FDP), and with Paul George v. the Suns for basically the same salary, I'm comfortable betting against Kawhi here.
I'm happy to see Lou Williams' salary tumble back to $4,700 after that clunker against Brooklyn, and as a deep reach Danny Green sits at $4,000. I can't afford the SG slot for Green if I'm going with just one lineup, but I like the pick for deep sleeper value in multiple lineups.
My picks: SG – Lou Williams ($4,600), PF – LaMarcus Aldridge ($7,100)
Want your voice heard? Join the Fantasy CPR team!
More from Fantasy CPR
This article originally appeared on