FanDuel NBA Daily Picks: Fantasy Basketball Lineup For October 31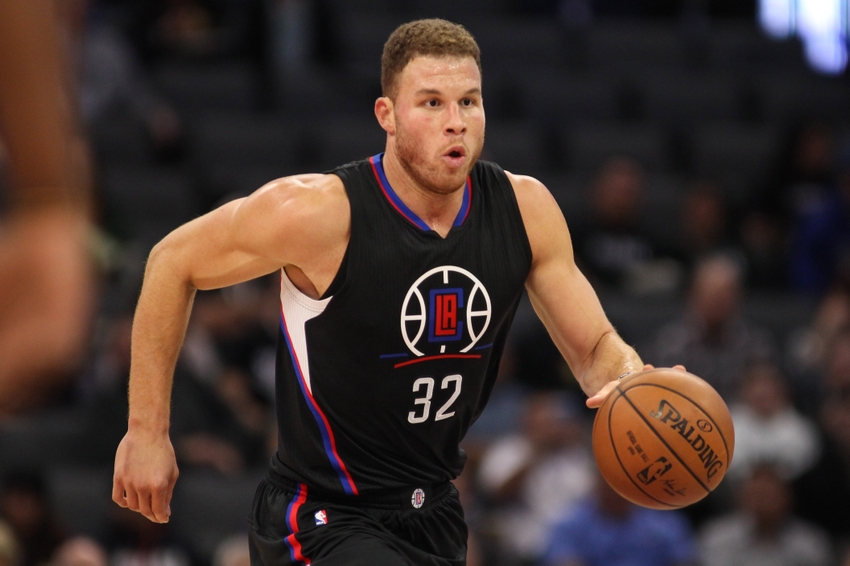 L.A. Clippers forward Blake Griffin has posted consecutive double-doubles to open the season, making him a prime candidate for any FanDuel NBA lineup.
Blake Griffin used to be penciled in for an automatic double-double in FanDuel NBA leagues.
During the first two seasons of his career, the 6-foot-10 forward totaled 104 double-doubles in his first 148 regular season appearances.
Griffin managed to record a double-double 70 percent of the time he played during his first two years in the league, but that figure has dropped to 38.9 percent over the past four years.
The rebounding average went from 11.5 rebounds per game during his first two years down to 8.5 rebounds a night over the past three years.
A promising start to the 2015-16 season was derailed by an a quad injury and an off the court incident, resulting in a broken hand for Griffin after he punched a team trainer during a night out in Toronto.
To atone for the time he missed, Griffin bypassed any vacation time this summer and spent the offseason preparing for this year.
The results have been apparent after two games. Griffin opened the year with a 27 point, 13 rebound, three steal and two assist performance in Portland.
Griffen even sent back a layup attempt from Maurice Harkless for good measure.
To follow up a stellar initial outing, Griffin posted 18 points, 10 rebounds and a steal in his home debut.
After being left off the All-Star team for the first time in his career, Griffin is well on his way back, averaging 22.5 points, 11.5 rebounds, 2.0 steals and 1.5 assists per game.
He becomes an even more intriguing option Monday night in FanDuel NBA lineups if the Clippers hold out DeAndre Jordan after he sprained his thumb Sunday afternoon against Utah.
Top Four Point Guards
Rationale:
The first two games from Eric Bledsoe produced very similar results. After posting 16 points, six rebounds and five assists in the season opener, Bledsoe followed that up with 17 points, six assists and five rebounds in Oklahoma City. Few players are capable of producing five rebounds and five assists on a nightly basis, giving Bledsoe a high value in any daily FanDuel NBA lineup.
The Hawks may need Dennis Schroder to start calling his own number a little more frequently. Through two games, Schroder has attempted just 19 shots, the third most on the team. Atlanta has still managed to score 109 points per game, even with Schroder producing just 12.5 points a night. While he has been a bit hesitant to shoot the ball, Schroder is coming of an 11 assist performance, matching the highest total of his career.
Top Four Shooting Guards
Rationale:
DeMar DeRozan has emerged as the most vital part of the Raptors offensive attack. After two games, DeRozan has taken 31.3 percent of the total shots for Toronto. The results have been a 40-point outing against the Pistons and 32 points against Cleveland. The 36 points per game from DeRozan are the third most in the league, and Toronto will keep giving him shot opportunities as long as he continues to convert 52.7 percent of his attempts.
A strained hamstring has forced starting shooting guard Randy Foye to miss the first three games of the season, opening minutes for numerous players. For any FanDuel NBA daily player, Sean Kilpatrick has emerged as an intriguing option for a very small price. Kilpatrick followed up an 18-point performance against Indiana with 15 points Saturday night in Milwaukee. The scoring and 3-point shooting of Kilpatrick makes him worth a flier for a star-studded FanDuel NBA lineup.
Top Four Small Forwards
Rationale:
The defensive impact Rudy Gay is providing in daily FanDuel NBA play is rounding out his value in an unprecedented way. After swatting away four shots in the season opener, Gay is posting 2.0 blocks and 1.0 steals to go along with his 22.5 points a night. The trade rumors still surround Gay, but he is a smart addition to any FanDuel NBA lineup.
A total of 34 players are averaging more than 20 points per game, but none may be more surprising than Phoenix forward T.J. Warren. The lofty scoring total was propped up by a career-high 30 point performance against the Thunder Saturday night. Warren is averaging 22 points, 7.0 rebounds and 2.5 steals per game.
Top Four Power Forwards
Blake Griffin ($9,000) vs. Phoenix Suns
Paul Millsap ($8,100) vs. Sacaramento Kings
Nikola Jokic ($6,100) vs. Toronto Raptors
Taj Gibson ($5,300) vs. Brooklyn Nets
Rationale:
To start the 2016-17 season, only seven players have averaged at least 20 points, five assists and five rebounds per game. Paul Millsap comes in at the lowest price in daily FanDuel NBA lineups. Millsap is averaging 22 points, 5.5 rebounds and 5.0 assists per game, while shooting 50 percent from the field and 37.5 percent from 3-point range. Blake Griffin and Millsap are the only power forwards playing Monday night averaging more than 35 fantasy points per game.
Very rarely are players averaging a double-double per game priced below $6,500 in FanDuel NBA lineups. Denver forward Nikola Jokic shook off a quiet debut in New Orleans with a breakout performance against the Trail Blazers. Jokic posted 23 points on 50 percent shooting to go along with 17 rebounds, four steals two assists and a block. The most encouraging number was 41, the amount of minutes he spent on the floor.
Top Four Centers
Rationale:
The shots simply haven't fallen for Dwight Howard during his first two games with the Hawks. Howard is averaging 6.5 points per game on 6.5 shot attempts a night, a trend that is highly unlikely to continue. To start the 2016-17 season, the eight-time All-Star is shooting 38.5 percent from the field. Throughout his 12-year career, Howard has converted 58.2 percent of his attempts, so look for the Hawks to create easy looks for him at the rim throughout the night against Sacramento.
In each of his first two games, Jonas Valanciunas has grabbed six offensive rebounds, the most in the NBA. Valanciunas ranks second in the league in total rebounds, grabbing 14 per game. While he wasn't able to follow up his career-high scoring performance of 32 points in the season opener, Valanciunas provided a major impact rebounding the ball in the second game of the season, pulling down 17 rebounds, four shy of setting another career-high.
Final Lineup
PG Emmanuel Mudiay ($5,900)
PG Dennis Schroder ($6,300)
SG DeMar DeRozan ($7,900)
SG Will Barton ($5,300)
SF Kent Bazemore ($4,800)
SF T.J. Warren ($5,500)
PF Blake Griffin ($9,000)
PF Taj Gibson ($5,400)
C DeMarcus Cousins ($9,900)
Total Cost $60,000
This article originally appeared on