FanDuel NBA Daily Picks: Fantasy Basketball Lineup For November 9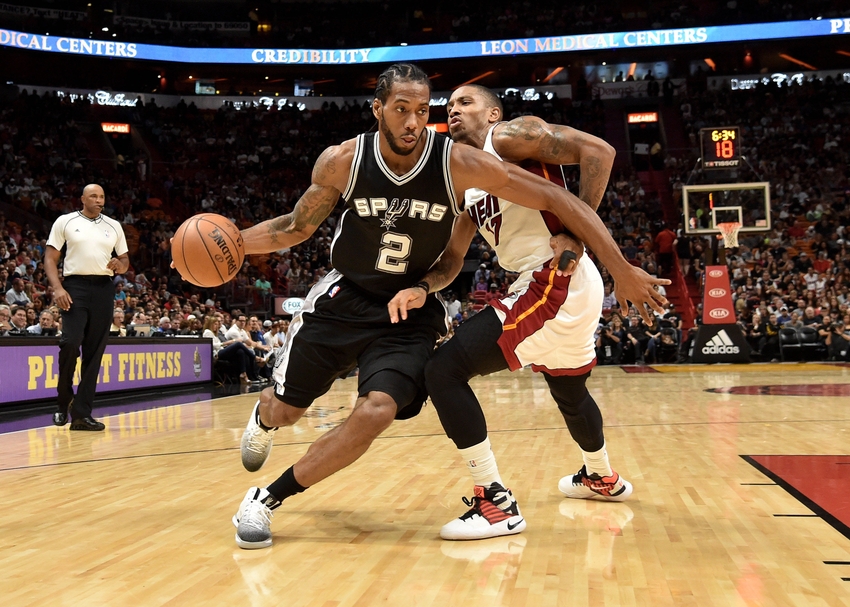 Attempting to stop San Antonio forward Kawhi Leonard is proving to be just as difficult of a task as scoring against him and his complete play has made him an elite FanDuel NBA option.
Kawhi Leonard may be on the outside of the top 60 players in terms of minutes played per game, but each second he is on the court, there is no time to relax.
The reigning NBA Defensive Player of the Year in each of the past two seasons has truly become a shutdown defender, especially on the perimeter.
Opponents are converting 8.5 percent below their season average from 3-point range when being defended by Leonard this season.
Driving to the basket hasn't proven to be a better option, as Leonard is limiting players he is guarding to 29.4 percent shooting at the rim.
Passing away from Leonard isn't the best play either, as his 7-foot-3 wingspan clogs seemingly open avenues. Leonard is stealing the ball away 2.4 times per game, the third highest rate in the NBA.
Each night, San Antonio has Leonard shadow the most potent offensive player on the other team, part of the reason it is allowing just 97.1 points per game at night.
Only when the Spurs have the ball, the offense is flowing through Leonard, as well.
The 6-foot-7 forward has managed to increase his scoring by more than five points per game, even with his 3-point percentage decreasing by 11 percent from a breakout campaign a year ago.
The difference for Leonard has been his ability to both get to the free throw line and capitalize on the drastically increased opportunities.
For the year, Leonard is averaging 9.0 free throw attempts per game, three times the amount he has averaged during the first five years of his career.
Leonard has converted 83.7 percent of his attempts at the foul line during his tenure with the Spurs, but has made 61-of-63 free throws this year. The 96.8 percent free throw shooting is the highest among any player to attempt more than 25 foul shots this season.
Along with his effective scoring practices, Leonard has become a facilitator for San Antonio, leading the team in total assists through the first seven games of the year.
By any metric, Leonard is producing at an elite level. In FanDuel NBA play, he is averaging 42.1 fantasy points per game, enough to warrant a place in any lineup.
Among his peers, Leonard ranks first in PER at 35.0. No player has ever finished an entire season with a PER better than 32.0.
The Spurs are producing 8.3 points more points per 100 possessions with Leonard on the court than on the bench.
Leonard is playing an average of 31.4 minutes per game, enough to join Kevin Durant as the only other player in the league averaging at least 25 points, 5.0 rebounds, 3.0 assists and 2.0 steals per game this year.
The wide array of ways Leonard produces makes him a viable FanDuel NBA roster option on any night.
Top Four Point Guards
Rationale:
Any player coming off a record-setting long-range shooting performance should be strongly considered for a FanDuel NBA roster spot. Stephen Curry sank a league-high 13 shots from 3-point range Monday night against New Orleans, surpassing the record of 12 he shared with Donyell Marshall and Kobe Bryant. The NBA's reigning scoring champion surpassed 30 points for the first time in the contest, as he torched the Pelicans for 46.
A move to the starting lineup, as J.J. Barea is filling in for an injured Deron Williams, has greatly benefited the Mavericks. During the past two games, Barea is averaging 22 points, 5.5 assists and 3.5 conversions from 3-point range. Without another viable point guard on the roster, minutes are plentiful for Barea, as exhibited by the 46 minutes he spent on the court against Milwaukee, helping Dallas secure its first win of the year, snapping a five game losing streak in the process.
Top Four Shooting Guards
Rationale:
Toronto guard DeMar DeRozan had his string of five consecutive games with 30 or more points scored to open the season, the longest streak since Michael Jordan in 1986-87, snapped against Sacramento Sunday night. Even though he had an off-night shooting the ball, connecting on 7-of-20 attempts from the field, DeRozan still managed to post 23 points and retain his grip as the leading scorer in the league this season. DeRozan is averaging 33.7 points per game, enough to maintain his position as an elite FanDuel NBA shooting guard.
Sean Kilpatrick may not be starting for Brooklyn, even with Jeremy Lin and Greivis Vasquez out with injury, but he is become a vital part of the offense. The 6-foot-4 guard boasts the second highest scoring average on the team at 16.6 points per game while ranking third in field goal attempts and fourth in minutes played, enough to garner consideration as a value play for FanDuel NBA purposes. As a team, Brooklyn ranks fifth in league in 3-point field goals made per game, with Kilpatrick leading the team in accuracy and his 1.7 made attempts from beyond the arc each night are the second highest on the team.
Top Four Small Forwards
Kawhi Leonard ($8,800) vs. Houston Rockets
Paul George ($8,200) vs. Philadelphia 76ers
Aaron Gordon ($5,800) vs. Minnesota Timberwolves
Trevor Ariza ($4,900) vs. San Antonio Spurs
Rationale:
The Pacers can't afford to have Paul George enter a slump. During the past two games, George has managed to total just 23 points on 40.9 percent shooting from the field after starting the year with an average of 24 points on 47.6 percent shooting. The Hornets held the three-time All-Star to 10 points, his lowest total of the year, on 4-of-12 shooting. Throughout his career, George has managed to torment Philadelphia, Wednesday night's opponent, from 3-point range, converting 46.8 percent of his attempts in 17 career games against the 76ers.
As Orlando continues to search for an identity, Aaron Gordon is becoming more of a primary option for the team. Monday night in Chicago, the third-year forward attempted a season-high 15 shots. Gordon is spending 29.6 minutes a night on the floor, the most of any front court player in the Magic's rotation, as a result of the variety of ways he contributes. A multitude of ways to contribute is perfect for FanDuel NBA rosters, with Gordon averaging 11.6 points, 5.4 rebounds, 3.0 assists and 1.7 steals per game.
Top Four Power Forwards
Rationale:
Even with the shot blocking of Millsap relegated to a non factor, as he has rejected just two shots in seven games this season, he remains an elite power forward option for FanDuel NBA lineups. Millsap has supplemented the lack of blocks by increasing his production in steals, up to a career-high 2.0 per game during the early portion of the year. The three-time All-Star is posting 18.3 points, 7.9 rebounds and 3.9 assists per game, enough for more than 35 FanDuel NBA points a night, third highest among all power forwards playing Wednesday night.
With Al Horford still entrenched in the NBA's concussion protocol, Amir Johnson could be a high value play for FanDuel NBA purposes tonight against the Wizards. Johnson is a consistent rebounder, averaging 7.5 per game this season, and capable of high scoring totals, at times. Against the Bulls, Johnson converted 9-of-11 attempts as part of a 23 point outing, but has totaled just seven points in the two games since. The Celtics are limited with viable front court options with Horford sidelined, so Johnson may get an extended look.
Top Four Centers
Rationale:
The potential for a double-double each night makes Andre Drummond a primary center option each night for any FanDuel NBA lineup roster. Only Drummond is more likely to collect rebounds than post a a lofty scoring total. In seven appearances this season, Drummond has posted 20 or more rebounds on three occasions, while managing to score 20 points just once. Drummond is on his way to a second-straight rebounding title, as the 11.1 defensive rebounds he averages a game alone would be the seventh most in the league and his 14.3 rebounds are .5 more than anyone else.
Andrew Bogut returns to Oracle Arena for the first time since being dealt to the Mavericks to clear cap space for the Warriors pursuit of Kevin Durant. In his 12th NBA season, Bogut is posting just 3.7 points per game, but is one of the most consistent rebounders in the league. The 7-footer is worth consideration for FanDuel NBA tonight because of his ability to track down missed shots. Bogut ranks ninth in the league with an average of 10.8 rebounds a night.
Final Lineup
PG Russell Westbrook ($11,500)
PG Sergio Rodriguez ($5,400)
SG Avery Bradley ($6,900)
SG Sean Kilpatrick (4,900)
SF Kawhi Leonard ($8,800)
SF Trevor Ariza ($4,900)
PF Amir Johnson ($4,200)
PF Kristaps Porzingis ($6,600)
C Myles Turner ($6,800)
This article originally appeared on