FanDuel NBA Daily Picks: Fantasy Basketball Lineup For November 6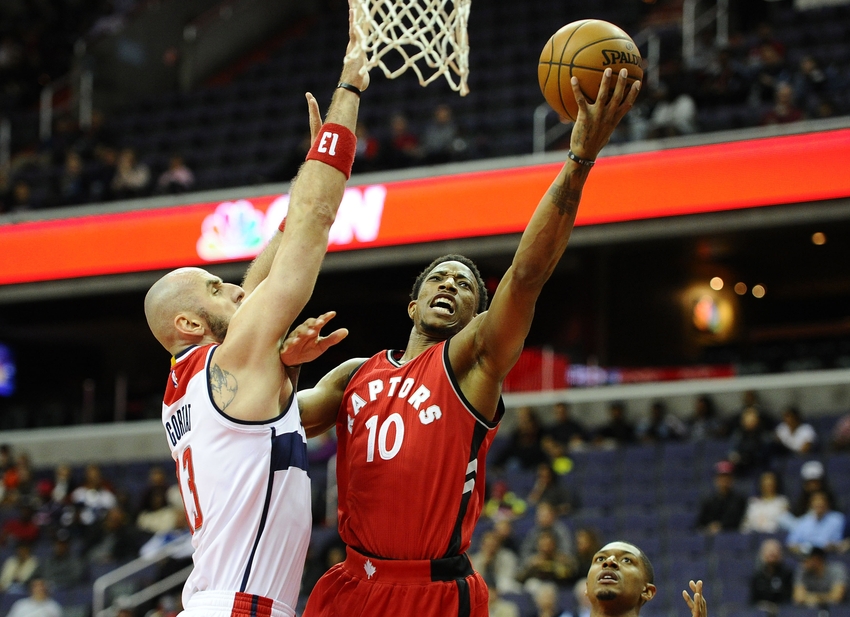 The torrid scoring stretch of DeMar DeRozan to open the season hasn't been seen in more than three decades and as he goes for his sixth straight 30-point performance, FanDuel NBA players should add him to their roster.
Any time a player is listed with only Michael Jordan, they clearly are in the midst of a phenomenal stretch.
Toronto guard DeMar DeRozan has been scoring at a level not seen in the NBA in exactly 30 seasons, as Jordan was the last player to post a longer run of 30-point performances to open a regular season.
DeRozan has managed to tally the total in each of his first five appearances, leading the league in scoring (35.8 points per game), field goals made (70) and conversions from inside of the arc (69) along the way.
Much like Jordan in the 1986-87 season, DeRozan set the tone for his scoring binge on opening night, totaling 40 points in a victory over the Pistons. Jordan opened the year by dropping 50 on New York.
The 30-point performances for Jordan ended at six consecutive games, as he totaled 231 points over the period, en route to a scoring average of 37.1 points per game, the fifth-highest average in league history. Only Wilt Chamberlain has ever averaged more.
DeRozan would need to post 52 points against the Kings to night to match the total over the first six games of Jordan's season.
Matching the streak of six consecutive games may be a challenge as San Antonio forward Kawhi Leonard is the only player in five games to have scored 30 points against Sacramento this season.
The problem for opponents is there is little mystery to the game of DeRozan. Each time he gets the ball, he wants to challenge defenders at the rim, the only problem is executing an actual tactic to prevent him from scoring.
Even while attempting 25.4 shots per game, DeRozan is converting 55.1 percent of his attempts from the field, tying him with Detroit forward Tobias Harris for the 13th highest percentage in the NBA.
Each night, DeRozan is slashing to the rim on an average of 12 times a night, the fifth highest total in the NBA this year. DeRozan is producing 11.8 points off his drives each night, meaning he is tallying a point on 98.3 percent of the time he drives to the basket.
The percentage is the fourth highest in the league among players averaging at least five drives to the rim each the game.
The Kings have surrendered only 38.3 points in the paint per game this season, the fifth-lowest in the league, so matching Jordan with six consecutive 30-point games will require an exceptional effort from DeRozan.
Five other teams tried and failed to limit his scoring and until he proves otherwise, DeRozan should be played in FanDuel NBA leagues.
 Top Four Point Guards
Rationale:
For the first time in 642 career appearances, Memphis point guard Mike Conley managed to post 30 points and 10 assists in the same game. Conley managed the feat while playing against Chris Paul, an even impressive performance when his zero turnovers are factored in, especially against the NBA's league leader in steals. For the year, Conley is quietly submitting a nice FanDuel NBA resume, averaging 21.8 points, 6.6 assists and connecting on 59.3 percent of his attempts from beyond the arc. The 16 made 3-point field goals from Conley ranks as the eighth-most in the NBA.
D'Angelo Russell appeared to have snapped out of his shooting slump with a pair of impressive performances in his last two appearances. During victories over Atlanta and Golden State, Russell is averaging 20 points on 46.7 percent shooting, after posting 15 points on 33.3 percent shooting to begin the season. Russell has registered at least one steal in five of his six games played and rejected a career-high three shots against the Hawks, a nice bonus for FanDuel NBA players.
Top Four Shooting Guards
DeMar DeRozan ($8,800) vs. Sacramento Kings
Avery Bradley ($6,800) vs. Denver Nuggets
Devin Booker ($5,900) vs. Los Angeles Lakers
Courtney Lee ($3,800) vs. Utah Jazz
Rationale:
The scoring figures for Devin Booker to start the start of the 2016-17 have been all over the place. He has scored less than 10 points once, less than 20 twice, tallied 21 points against Oklahoma City and is coming off a career-high 38 point performance during an overtime victory over the Pelicans. Booker connected on 13-of-23 attempts, including three shots from 3-point range, hit each of his nine free throw attempts, an incredible circus shot, and sent the game to overtime with a baseline jumper. Following an impressive preseason scoring performance, Booker increased his scoring average to 19.8 points per game.
Opponents have routinely conceded open looks to New York shooting guard Courtney Lee this season and he has quietly been one of the steadiest contributors on the team. In five games with the Knicks, Lee has scored over 15 points on three occasions, including an 8-for-10 shooting performance for 17 points in Chicago Friday night. Lee is shooting 53.3 percent from the field, 42.9 percent from 3-point range and is attempting 9.0 shots per game, the fourth most for New York this year.
Top Four Small Forwards
Rationale:
The Grizzlies are set to debut their newly signed small forward Sunday afternoon against Portland. Chandler Parsons underwent surgery in March to repair a torn meniscus in his right knee and after six games, Memphis will finally have him in the lineup. After six contests, the Grizzlies are averaging just 95.8 points per game, 28th in the NBA, and are counting on Parsons to scoreand create open shots for his teammates, a role he excelled at during his time in Houston and props up his value for FanDuel NBA purposes.
The primary question facing Harrison Barnes during his first season in Dallas is if he could handle being a featured player in the offense. After spending the first four years of his career as a role player in the Warriors dynamic offense, Barnes has become the most reliable scoring option for the Mavericks, posting a team-high 18.2 points per game on 48.7 percent shooting from the field. Barnes is also producing 6.2 rebounds and connecting 1.2 times from 3-point range each night. With Dirk Nowitzki out this afternoon with Achilles tendon injury, the value of Barnes increases dramatically in FanDuel NBA play.
Top Four Power Forwards
Rationale:
The catch-and-shoot game Kristaps Porzingis is becoming an unstoppable play for the Knicks. Porzingis is connecting on 42.9 percent of his catch-and-shoot opportunities from 3-point range, up from 33.5 percent from a year ago. The 7-foot-3 power forward is one of just nine players averaging 17 points per game while attempting fewer than 13 shots per night. FanDuel NBA players may be a bit disappointed since his rebounding and shot block averages have fallen from his impressive rookie season, but so have his turnovers, as he has given the ball away 1.1 fewer times per game to start the year.
Derrick Favors is averaging 9.0 rebounds in his career against the Knicks, his second highest amount against a single opponent. During his lone appearance against New York last season, Favors totaled 20 points and eight rebounds in 28 minuets. Favors hasn't scored in double figures in each of his past four outings, but may be worth a flier in FanDuel NBA play today as he is coming off a seven-rebound, two-steal and one-block outing against San Antonio.
Top Four Centers
Rationale:
For the price DeMarcus Cousins commands in FanDuel NBA leagues, he needs to produce a double-double, a feat he has accomplished just twice in seven games this season. Cousins is producing 39.9 fantasy points per game, as he is averaging 26 points and 8.4 rebounds per game, but his penchant for collecting fouls, especially in a quick manner as he posted six fouls during the fourth quarter against Miami, makes him a riskier play for FanDuel NBA leagues.
There is plenty of incentive Mason Plumlee to produce this season. After failing to agree to a contract extension with Portland at the deadline last week, Plumlee will become a restricted free agent this summer, meaning he could be in line for a huge payday. The primary skill Plumlee possesses, collecting rebounds, hasn't been on display often this season, as he has totaled more than 10 rebounds just once. The rebounding average for Plumlee has dropped from 7.7 rebounds per game a year ago, down to 5.3 this season, but with Memphis surrendering 44.3 rebounds a night to opponents, the 19th-most in the league, Plumlee could be in line for a breakout performance.
Final Lineup
PG Damian Lillard ($9,700)
PG D'Angelo Russell ($6,100)
SG DeMar DeRozan ($8,800)
SG Devin Booker ($5,900)
SF Chandler Parsons ($6,400)
SF Harrison Barnes ($5,100)
PF Julius Randle ($6,300)
PF Kristaps Porzingis ($6,400)
C Mason Plumlee ($5,300)
Final Lineup: $60,000
This article originally appeared on