FanDuel NBA Daily Picks: Fantasy Basketball Lineup For November 30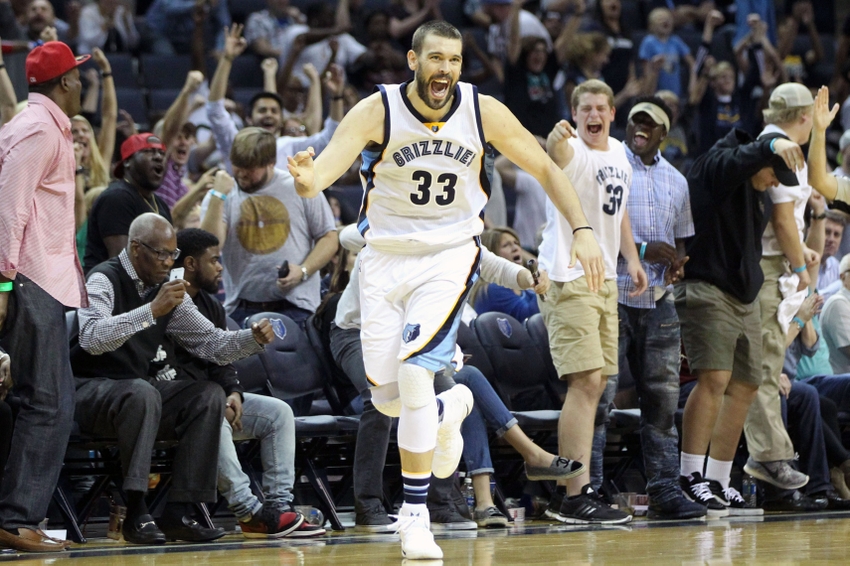 As injuries continue to pile up for the Memphis Grizzlies, the FanDuel NBA value of Marc Gasol is poised to greatly increase.
Once again, injuries are ripping apart the Memphis Grizzlies early in the regular season.
The Grizzlies are expected to be without point guard Mike Conley indefinitely after suffered a transverse process fracture in the vertebrae.
The fluke injury happened Monday night against Charlotte, as a knee to the back struck Conley as he was taking a charge.
Without Conley facilitating the offense, Marc Gasol is likely to become the primary distributor for the Grizzlies.
Gasol already has dished out the second-most assists on the team and his 3.8 assists per game is the second-highest average among centers in the league.
The 32-year-old center has found ways to supplement his value in FanDuel NBA tournament play outside of the traditional statistics he, and other players at his position, have historically accumulated.
For his career, Gasol is averaging 7.7 rebounds per game, but that figure has slipped to 5.6 this season. In 17 games played, Gasol has registered a pair of double-doubles and hasn't tallied one in 12 consecutive games.
Instead, he has generated 32.9 FanDuel NBA tournament points a game by adding a new dimension to his game, a potent 3-point shot.
During the first eight years of his career, Gasol had made just 12-of-66 attempts (18.1 percent) from beyond the arc.
In his first season under coach David Fizdale, the Grizzlies are drawing up plays for Gasol from 3-point range with the game on the line.
Gasol has responded by connecting on 25-of-60 (41.7 percent) of his attempts from beyond the arc. The 25 conversions from long range are the fourth most among all centers and his conversion rate is the highest at the position.
The viable long range shooting has paved the way for a career-high 18 points per game from Gasol as his usage rate of 26.5 percent is the most he has ever been involved in the offense.
As Conley joins Chandler Parsons, expected to be out for another week with a knee injury and Zach Randolph, out indefinitely after his mother passed away, the value of Gasol could skyrocket in FanDuel NBA play.
Few centers are capable of consistently knocking down three pointers, collecting rebounds and distributing the basketball.
The variety of contributions from Gasol is a welcome addition to any FanDuel NBA roster.
Top Four Point Guards
Rationale:
As the league leader in the most vital statistic in all of FanDuel NBA tournament play, minutes, Kyle Lowry has plenty of opportunities to pile up statistics in his 38 minutes a night on the court. Playing against either Wade Baldwin or Andrew Harrison, the backup point guards in Memphis, Lowry could be in line for a huge outing after totaling 24 points, eight assists, four rebounds and a steal against Philadelphia Monday night.
The string of four consecutive games with double-digit scoring efforts from Jamal Murray came to an end Sunday night in Phoenix, as he was held to nine points in 21 minutes. The rookie out of Kentucky has rapidly adapted to the longer 3-point line in the NBA. After failing to convert a shot from long range in his first four games, Murray has connected 30 times in the past 12 games. Even in limited minutes for Denver, Murray has proved to be a viable option in scoring, rebounding and assist categories.
Top Four Shooting Guards
Rationale:
While Russell Westbrook is busy averaging a triple-double each night, the other guard in Oklahoma City is quietly posting the most efficient scoring figures of his young career. Victor Oladipo is posting 16.8 points per game on 46 percent shooting from the field and 40.2 percent shooting from 3-point range. Along with his uptick in scoring, Oladipo is a viable FanDuel NBA roster option as he is averaging 4.2 rebounds, 2.8 assists and 1.0 steals per game.
Once again the 3-point shot is routinely falling for Dallas guard Wesley Matthews. Over his past eight games, Matthews has connected at least twice from beyond the arc at a 48.2 percent clip. The Pelicans couldn't chase Matthews off the perimeter in his last outing, surrendering six conversions from 3-point range, his personal best of the year Sunday night.
Top Four Small Forwards
Rationale:
The list consists of just two players, Jimmy Butler and Kevin Durant. The two are the only players averaging at least 25 points, five rebounds, four assists and 1.5 steals per game. The play from Butler has led Chicago to a 10-6 start, placing him in early contention for MVP honors, as he is posting several career-highs, including 25.8 points, 49 percent shooting from the field, 42.6 percent shooting from 3-point range and 6.6 rebounds per game.
Mavericks coach Rick Carlisle kept Harrison Barnes on the floor for more than 40 minutes for the fourth time in his last appearance, resulting in another solid FanDuel NBA performance. Barnes tallied 23 points, seven rebounds, four assists and two steals in 41 minutes during a victory over New Orleans. Barnes remains the top scorer in the league off isolation plays, pouring in 6.3 points per game off 6.1 isolations.
Top Four Power Forwards
Rationale:
An extended Thanksgiving break, as San Antonio hasn't played since Saturday, could pay huge dividends in FanDuel NBA play for LaMarcus Aldridge. The only other time he spent four days away from the floor, as he sat out a game against the Mavericks, Aldridge came back and totaled 23 points, seven rebounds, two assists, two blocks and a steal in just under 37 minutes against the Hornets. For his career, Aldridge is averaging 8.8 rebounds per game when playing with three or more days of rest.
Mike Muscala is one of the best value plays for a FanDuel NBA roster. The 6-foot-11 forward is converting 63.6 percent of his shots inside of the 3-point arc, the highest percentage in the NBA as the Hawks continue to carve out minutes in the rotation for him. Muscala is playing more than twice the amount of minutes he did a year ago, as his scoring average has tripled from last season.
Top Four Centers
Hassan Whiteside ($8,700) vs. Denver Nuggets
Marc Gasol ($7,000) vs. Toronto Raptors
Myles Turner ($6,400) vs. Portland Trail Blazers
Joel Embiid ($6,200) vs. Sacramento Kings
Rationale:
The NBA's leader in rebounding average is collecting 30.4 percent of his rebounds on the offensive end of the floor. Hassan Whiteside has turned the 4.6 offensive rebounds per game into 4.9 put-back points a night, accounting for 28.3 percent of the total points he has scored this season. In addition to the 17.3 points and 15.1 rebounds a game is also averaging 2.5 blocks a night, propelling him to more than 40 points in FanDuel NBA tournament play a game for the year.
Myles Turner posted consecutive double-doubles to begin the season, but didn't register another one until he tallied 17 points and 12 rebounds against the Clippers Sunday night. Indiana ranks third in the league in blocks per game behind 2.5 a night from its sophomore center.
Final Lineup
PG John Wall ($9,200)
PG Kyle Lowry ($8,300)
SG Zach LaVine ($6,200)
SG Wesley Matthews ($4,700)
SF Wilson Chandler ($6,400)
SF Harrison Barnes ($6,100)
PF Kristaps Porzingis ($7,500)
PF JaMychal Green ($4,400)
C Marc Gasol ($7,000)
This article originally appeared on