FanDuel NBA Daily Picks: Fantasy Basketball Lineup For November 29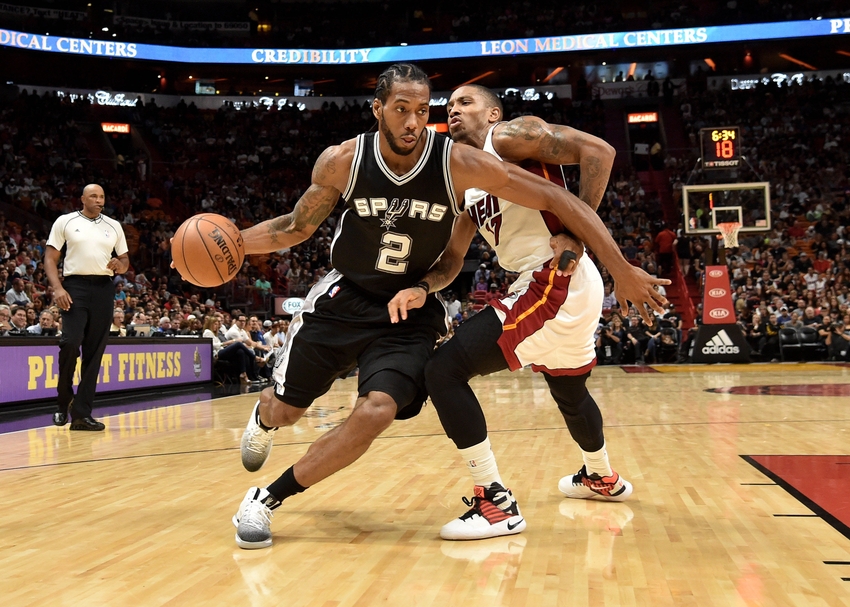 Kawhi Leonard is once again making his case for Defensive Player of the Year, but has also become one of the most consistent FanDuel NBA performers in his sixth season with the San Antonio Spurs.
Few things about the career of Kawhi Leonard are typical.
Nearly 350 games into his career, Leonard has stolen the ball 608 times while committing just 603 personal fouls.
Only one player in league history has ever logged more minutes than Leonard while registering more steals than fouls.
Once again, Leonard is among the league leaders in steals per game, poaching the ball away 2.1 times a night while committing just 1.7 fouls per game.
This season, several players have joined Leonard, with Chris Paul, Kemba Walker, Trevor Ariza, Lou Williams, Thabo Sefolosha and Jordan Clarkson all registering at least 20 steals and forcing more turnovers than committed personal fouls.
After 17 games, Leonard ranks second in terms of steals per foul and his 4.2 deflections per game are the second-most in the NBA.
Leonard is the primary reason San Antonio has managed to score 275 points off turnovers this season, as he is extremely effective at transforming his steals into fast break points.
Only six players have been able to produce more than the 74 points off turnovers Leonard has managed this season.
The defense of Leonard has generated 17.6 percent of his total points scored, helping him increase his scoring average for the sixth consecutive season at 24.8 points per game.
The 6-foot-7 forward is capitalizing on nearly every scoring chance, as his conversion rate of 92.5 percent at the free throw line stands as the eighth-highest in the league.
Even as the Spurs have become more reliant on Leonard, as his usage rate is at a career-high 30.5 percent, and the 10th-highest in the NBA, he has managed to limit his turnovers.
The 8.5 percent turnover rate Leonard has registered is the lowest among the top-30 leaders in PER.
The high production coupled with limited mistakes has transformed Leonard into one of the most consistent performers in FanDuel NBA tournament play.
Leonard has scored 30 or more points in FanDuel NBA play in 14 of his 17 appearances this season, including a streak of seven consecutive games.
Three players available for Tuesday night carry a FanDuel NBA valuation of $8,400, but Leonard has the highest fantasy point average, at 40.5 points per game.
With steady contributions on both ends of the floor, Leonard deserves strong consideration for any FanDuel NBA lineup.
Top Four Point Guards
Chris Paul ($8,800) vs. Brooklyn Nets
Kyrie Irving ($7,400) vs. Milwaukee Bucks
George Hill ($6,800) vs. Houston Rockets
Matthew Dellavedova ($6,400) vs. Cleveland Cavaliers
Rationale:
Top Four Shooting Guards
James Harden ($11,500) vs. Utah Jazz
Giannis Antetokounmpo ($10,000) vs. Cleveland Cavaliers
Evan Fournier ($5,800) vs. San Antonio Spurs
Jordan Clarkson ($5,200) vs. New Orleans Pelicans
Rationale:
Top Four Small Forwards
LeBron James ($10,100) vs. Milwaukee Bucks
Kawhi Leonard ($8,400) vs. Orlando Magic
Gordon Hayward ($7,400) vs. Houston Rockets
Trevor Ariza ($5,400) vs. Utah Jazz
Rationale:
Top Four Power Forwards
Rationale:
Top Four Centers
Rationale:
Final Lineup
PG George Hill ($6,800)
PG Kyrie Irving ($7,600)
SG Jordan Clarkson ($5,200)
SG Evan Fourner ($5,800)
SF Trevor Ariza ($5,400)
SF Kawhi Leonard ($8,400)
PF Jabari Parker ($6,400)
PF Kevin Love ($8,400)
C Clint Capela ($6,000)
This article originally appeared on