FanDuel NBA Daily Picks: Fantasy Basketball Lineup For November 22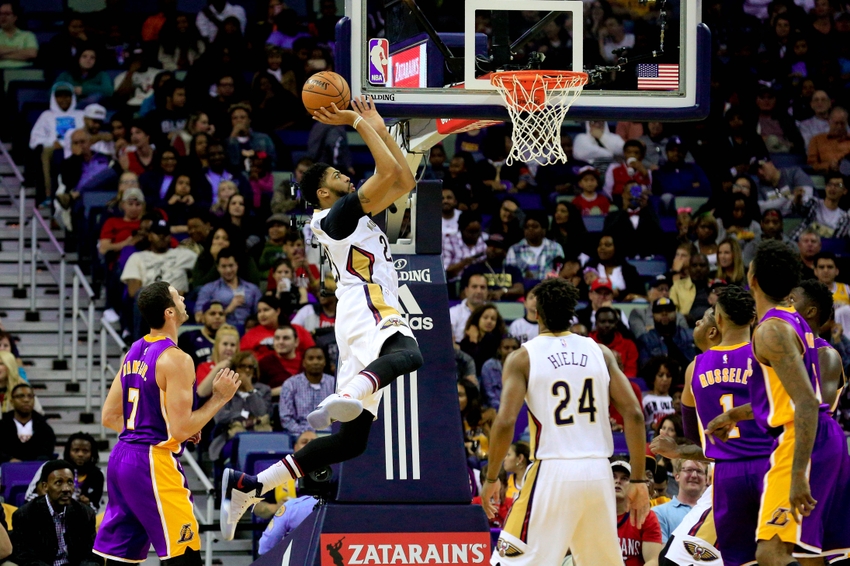 Anthony Davis has played his way to the top of several lists this season, including a top salary among all FanDuel NBA players.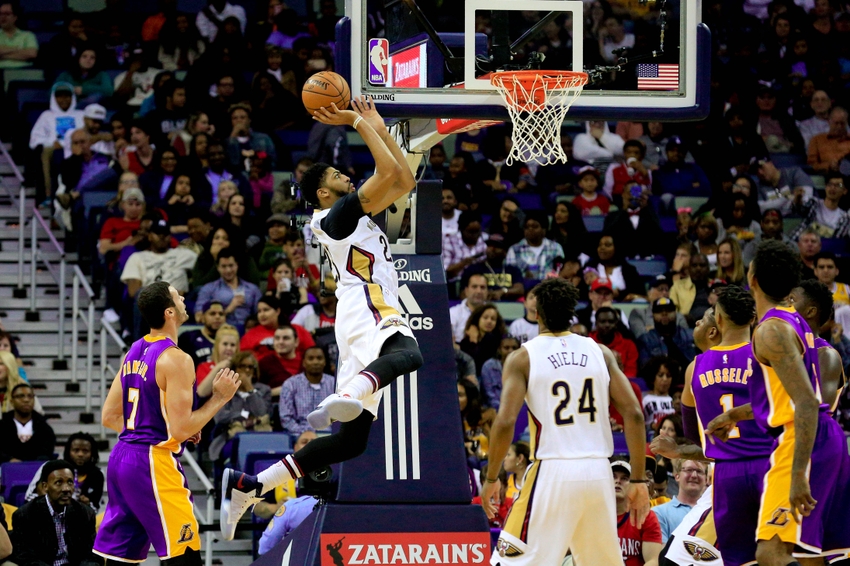 The name sitting as the league leader in points, blocks and cost for a roster spot in FanDuel NBA tournament play all belong to the same player: Anthony Davis.
The return of point guard Jrue Holiday has made Davis even more explosive, as he has converted 58.2 percent of his attempts from the field along with averages of 38 points, 12.5 rebounds, 4.0 assists, 3.5 blocks, 2.0 made 3-point field goals and a steal per game over his last two contests.
A 38-point performance against Charlotte Saturday night enabled Davis to jump from third among the league leaders in scoring into first place.
Davis is just as effective at preventing opponents from scoring, as he leads the league in total rejections (39) and blocks per game (3.0) and is forcing players he is defending to miss more frequently.
The 6-foot-10 forward is holding the opposition to 7.1 percent below their season average when serving as the primary defender.
Charlotte simply ran out of answers against Davis, allowing him to total 38 points, 16 rebounds, three blocks and two assists during a 121-116 victory for the Pelicans.
Davis is already the most dangerous player slashing to the basket off a pick-and-roll, scoring a total of 115 points as the roll man this season, and the return of Holiday only increases his potency.
After missing the first 12 games of the season to spend with his wife as she recovered from an operation on her brain, Holiday has managed to set up Davis with easy looks.
Holiday has dished out a total of 16 assists since returning; eight have come off baskets by Davis.
The influx of assists from Holiday has increased his season average to 31.7 points per game, 0.1 more than Thunder point guard Russell Westbrook, the co-owner of the most expensive roster salary figure in FanDuel NBA tournament play for Tuesday night at $11,800.
The two share the highest salary figures because of their phenomenal performances throughout the year, with Westbrook holding a slight edge in fantasy points per game produced (by 1.3 per game), while Davis has submitted the highest performance of the year, totaling 90.5 points on opening night.
Both Davis and Westbrook have registered consecutive 60-point outings in FanDuel NBA leagues over their past two games.
Only eight teams are in action Tuesday night, but Davis should be a part of every FanDuel NBA lineup.
Top Four Point Guards
Russell Westbrook ($11,800) vs. Los Angeles Lakers
Damian Lillard ($9,000) vs. New York Knicks
Derrick Rose ($5,800) vs. Portland Trail Blazers
Rajon Rondo ($5,700) vs. Denver Nuggets
Rationale:
Derrick Rose has actively been seeking his own shots over the past three games. The 6-foot-4 guard has launched an average of 15.7 shots per game, up 1.2 from his season average, resulting in 18.7 points per game. Scoring easy points has been a struggle for Rose, as he has only one dunk of the season among his 82 converted shots. During his MVP season, Rose slammed the ball 43 times.
The assists and rebounds are beginning to pile up for Chicago guard Rajon Rondo. During the past four games, Rondo is averaging 9.5 rebounds and 7.1 assists per game, enough to average more than 22 fantasy points in FanDuel NBA leagues. The steady rebounding and assist production makes Rondo a viable value play for Tuesday night.
Top Four Shooting Guards
Rationale:
A 33-point outing in Brooklyn marked the fourth time Trail Blazers guard C.J. McCollum has poured in more than 30 points this season. McCollum was especially potent from beyond the arc, converting 6-of-10 attempts from beyond the arc, raising his 3-point shooting percentage to 45.9 percent on the year, the eighth highest in the league.
The early start Sunday afternoon, as the Hawks played at noon in Madison Square Garden, perfectly suited Kyle Korver. The 35-year-old guard matched a season-high with 17 points to go along with four rebounds, two conversions from 3-point range, two steals and an assist. Korver remains one of the most efficient long range shooters in the league, converting 41.1 percent of his attempts, and is making 1.9 shots from beyond the arc each night.
Top Four Small Forwards
Rationale:
The start of the 2016-17 season has produced numerous impressive scoring figures. Even though he is averaging 25.1 points per game, Jimmy Butler stands as the 10th-leading scorer in the NBA this year. Only six players finished the year averaging more than 25 points per game a year ago and Butler seems poised to produce throughout the year. Butler has scored 20 or more points in eight consecutive games and is coming off a season-high 40-point outing against the Lakers Sunday night.
Kent Bazemore is producing steady numbers in every category for the Hawks. In his third season with Atlanta, Bazemore is averaging 12.1 points, 3.2 assists, 3.2 rebounds, 1.7 steals and 0.8 blocks per game. The defensive numbers provide Bazemore value as a low-budget small forward option for FanDuel NBA players, as the steals rank as the 19th-highest in the NBA and he has rejected two more more shots four times in 13 games played.
Top Four Power Forwards
Anthony Davis ($11,800) vs. Atlanta Hawks
Kristaps Porzingis ($7,200) vs. Portland Trail Blazers
Taj Gibson ($5,300) vs. Denver Nuggets
Enes Kanter ($4,800) vs. Los Angeles Lakers
Rationale:
The Knicks are trying to run simple plays for Kristaps Porzingis, resulting in 6.8 points per game off catch-and-shoot opportunities, the eighth-highest in the league. Porzingis is knocking down 39.1 percent of his attempts from beyond the arc off catch-and-shoot plays, a play that essentially can't be defended with his 7-foot-3 frame. In his second season, Porzingis has emerged as perhaps the most efficient scorer in the league, as he is the only one to appear in more than 10 games and score more than 20 points on less than 15 shot attempts from the field.
The most encouraging sign for Enes Kanter was the 25 minutes he spent on the floor against Indiana, his longest playing stint of the year. Kanter capitalized on the extended opportunity, producing 16 points, four rebounds, three blocks three assists and a steal, good enough for 31.3 FanDuel NBA fantasy points, his fourth-highest total of the season.
Top Four Centers
Dwight Howard ($7,900) vs. New Orleans Pelicans
Jusuf  Nurkic ($4,900) vs. Chicago Bulls
Robin Lopez ($4,900) vs. Denver Nuggets
Steven Adams ($4,900) vs. Los Angeles Lakers
Rationale:
Dwight Howard has managed to showcase just how effective of a rebounder he is during the past two games, but in different ways. Against the Hornets, Howard collected 16 defensive rebounds, while he grabbed 10 offensive rebounds in New York Sunday afternoon. Both games ended with Howard posting 18 rebounds, increasing his season average to 13.3 per game, the third-highest in the NBA this season.
Three starting centers for Tuesday night carry a FanDuel NBA valuation of $4,900, but Oklahoma City's Steven Adams gets the nod over Jusuf Nurkic and Robin Lopez because of his consistent playing time. Adams (32 minutes per game) simply has more chances to produce than Lopez (27.6) or Nurkic (22.8) each night. Adams is averaging 9.9 points, 8.1 rebounds and 1.1 blocks per game, resulting in an average of 23.4 FanDuel NBA tournament points per game, slightly higher than the season averages of Lopez or Nurkic this year.
Final Lineup
PG Russell Westbrook ($11,800)
PG Rajon Rondo ($5,700)
SG Kyle Korver ($3,800)
SG Lou Williams ($5,100)
SF Maurice Harkless ($4,500)
SF Kent Bazemore ($4,900)
PF Anthony Davis ($11,800)
PF Kristaps Porzingis ($7,200)
C Steven Adams ($4,900)
This article originally appeared on