FanDuel NBA Daily Picks: Fantasy Basketball Lineup For November 21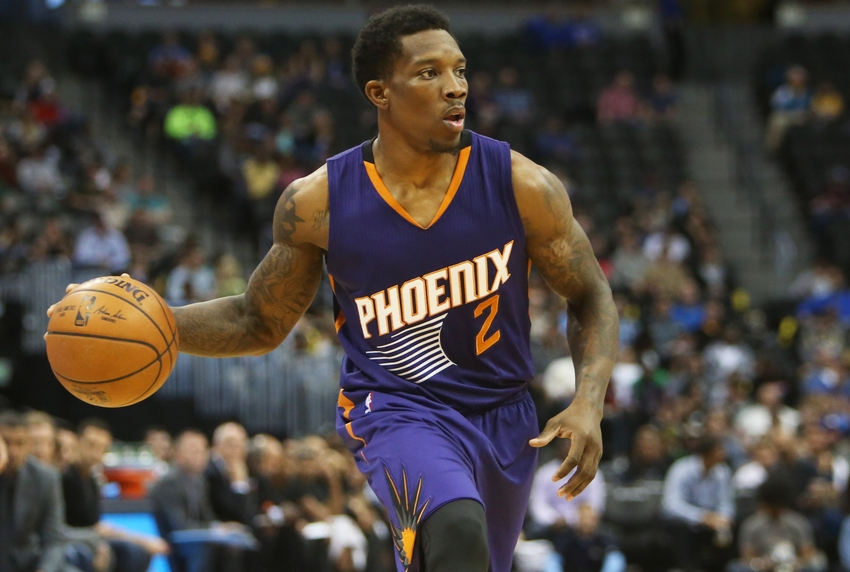 The complete game of Eric Bledsoe is ideal for any FanDuel NBA lineup and a critical piece of the Phoenix Suns' high-powered offense.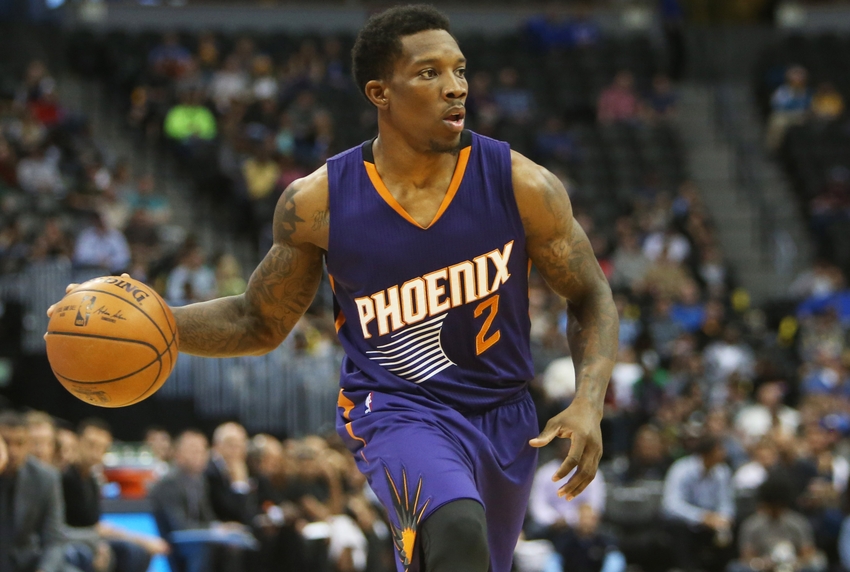 Few players are capable of impacting the game in the variety of ways of Phoenix guard Eric Bledsoe.
The 6-foot-1 guard has even been dubbed "mini-LeBron" because of his array of skills, consistently contributing points, rebounds, assists and steals.
In fact, Bledsoe is joined by exclusive company: LeBron James, Giannis Antetokounmpo, Kyle Lowry, Chris Paul, Russell Westbrook and James Harden as the only players averaging at least 15 points, five rebounds and five assists per game this year.
Much like James, Bledsoe is an extremely effective scorer anytime he approaches the basket. At the rim, Bledsoe is converting 68.3 percent of his attempts and 65 percent on attempts from 3-to-10 feet away from the rim.
Defenders struggle to keep in front of Bledsoe and usually surrender a basket any time he drives to the paint.
Bledsoe ranks 12th in the league in points off drives to the basket at 6.4 per game, but his shooting percentage is unmatched. Bledsoe has made 57.9 percent of his attempts off drives, a figure surpassed only by Jrue Holiday among players scoring over 6.0 points off drives per game.
Holiday has played just two games this year, so his shooting percentage may not reflect what he will post over a long period of time.
Bledsoe has made 32.9 percent of his total shots this season with either dunks or layups.
Bledsoe is just as adept attacking the rim on the defensive end of the floor, as he has totaled five or more defensive rebounds in seven of his 14 games played this year. The 5.5 rebounds he is averaging per game ranks as the third most among all point guards in the NBA.
This season, Bledsoe has posted nine games with five or more rebounds and has dished out five or more assists on nine occasions.
Phoenix provided Bledsoe a season-high in shot opportunities Saturday night against Philadelphia, as Devin Booker played just 18 minutes after injuring his ankle and T.J. Warren sat out with an illness, resulting in a huge outing from Bledsoe.
In 30 minutes, he totaled 27 points and took 24 shots, both were season-highs for Bledsoe.
The Suns may be without Warren Monday night against the Wizards, as he was hospitalized for his condition, meaning Bledsoe could once again be in store for an uptick in scoring.
Even if Bledsoe's scoring opportunities are limited, his penchant for collecting rebounds and assists makes him a great FanDuel NBA option every night.
Top Four Point Guards
Chris Paul ($9,200) vs. vs. Toronto Raptors
Isaiah Thomas ($8,200) vs. Minnesota Timberwolves
Eric Bledsoe ($6,900) vs. Washington Wizards
Mike Conley ($6,900) vs. Charlotte Hornets
Rationale:
For the seventh time in his career, Clippers guard Chris Paul is leading the league in steals per game, generating 3.0 turnovers per game. In each of his last five games, Paul has registered at least two steals, along with 15.8 points, 8.6 assists and 4.6 rebounds per contest. Any FanDuel NBA lineup featuring Paul comes with the added benefit of ball security, as the 4.29 assist-to-turnover ratio he has this year is the third highest in the NBA.
After matching a career-high with seven conversions from 3-point range as part of a 30-point outing against the Clippers two games ago, Mike Conley has since totaled just 21 points on 31.3 percent shooting from the field. Even though he has struggled in the past two games, Conley is still one of the most effective long range shooters this season, with his 47.5 percent conversion rate serving as the fifth-best in the league.
Top Four Shooting Guards
James Harden ($11,700) vs. Detroit Pistons
Giannis Antetokounmpo ($9,600) vs. Orlando Magic
Avery Bradley ($6,800) vs. Minnesota Timberwolves
Zach LaVine ($5,900) vs. Boston Celtics
Rationale:
Not many point guards can boast an average of more than 2.0 blocks per game. Milwaukee knew sliding Giannis Antetokounmpo over to the point guard position would generate unconventional results, but to being the year, he has rejected at least one shot in 12 consecutive games, tying him for the longest streak this year. Antetokounmpo is a solid selection for any FanDuel NBA roster because he contributes in every statistical category.
Even missed free throws become highly entertaining with Zach LaVine. In his third season, LaVine has brought a new dynamic to his scoring repertoire, with an NBA high 44 points coming off handoff plays and he is averaging 7.7 points per game off catch-and-shoot plays, the fourth-best total in the league. LaVine is an exceptional value option in FanDuel NBA leagues, as he is averaging 19.1 points per game, but costs less than $6,000.
Top Four Small Forwards
Rationale:
Ever since he was held to 18 points in Denver, snapping a string of 72 consecutive games with 20 or more points, Kevin Durant has responded by pouring in 115 points over the next four games. Facing a team that surrenders over 107 points per game, without All-Star small forward Paul George to counter Durant, he should be in line for another exceptional scoring performance, making him a viable FanDuel NBA roster option.
P.J. Tucker could see extended minutes Monday night as starting small forward T.J. Warren is questionable, after playing just nine minutes before being hospitalized with an illness. In his absence, Tucker produced seven points and seven rebounds, enough to merit consideration for FanDuel NBA lineups as a value play.
Top Four Power Forwards
Rationale:
The spot up jumper has become a viable weapon for Jabari Parker in his third season. The 6-foot-8 forward has scored 73 points off the play, second to only San Antonio forward Kawhi Leonard, a major portion of the 19.1 points per game Parker is averaging this year. Parker posted one of the finest performances of his career Saturday night against the Warriors, totaling 28 points on 11-of-17 shooting with five rebounds, five assists and two steals.
For just the second time in 41 games since joining the Pistons, Tobias Harris logged over 40 minutes Saturday against Boston. The extended playing led to the third 19 point scoring effort from Harris this season. In three of his past five games, Harris has posted over 30 FanDuel NBA tournament points. More importantly, Harris has been entrusted by coach Stan Van Gundy, as he has played more than 35 minutes in four of the past five games.
Top Four Centers
Rationale:
There were no signs of rust from Al Horford Saturday night. After missing eight consecutive games after entering the NBA's concussion protocol, Horford submitted his finest outing since signing with Boston. During a 33-minute stint, the four-time All-Star posted his first double-double, with 18 points and 11 rebounds to go along with five assists, three blocks and two steals. Horford immediately erased any concerns for FanDuel NBA players with his exceptional performance.
The point total for any FanDuel NBA roster spot aims for is 25 fantasy points. Finding value players for that role is the challenge, but Rockets center Clint Capela has quietly been one of the most productive players. Caplea is almost becoming a must start in FanDuel NBA leagues because of the value he brings. Valued at more than $1,200 below the cost of an average player, Capela has scored more than 25 FanDuel NBA tournament points in six consecutive games and is averaging 25.9 fantasy points a night.
Final Lineup
PG Eric Bledsoe ($6,900)
PG Chris Paul ($9,200)
SG Avery Bradley ($6,800)
SG Zach LaVine ($5,900)
SF Harrison Barnes ($5,900)
SF P.J. Tucker ($4,000)
PF Gorgui Dieng ($5,500)
PF Jabari Parker ($6,700)
C Hassan Whiteside ($9,100)
This article originally appeared on