FanDuel NBA Daily Picks: Fantasy Basketball Lineup For November 2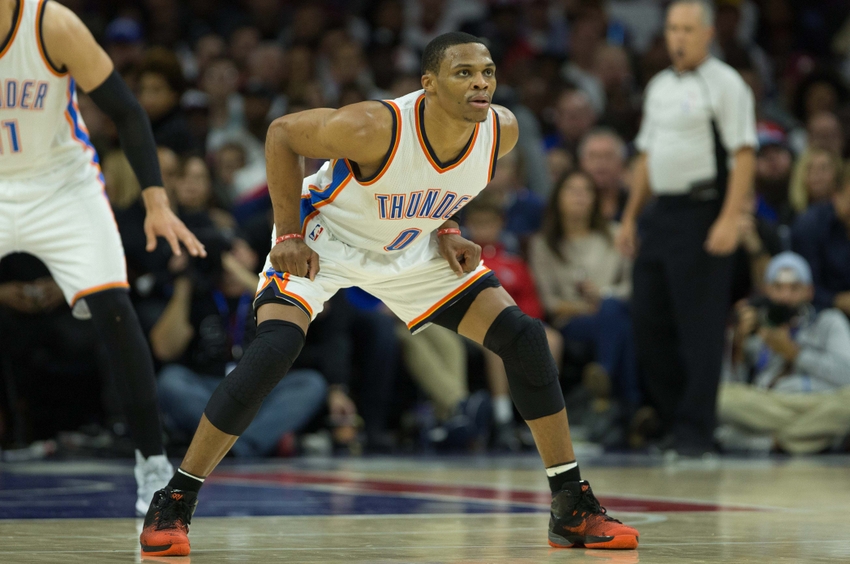 Oklahoma City guard Russell Westbrook is unquestionably the most valuable performer in FanDuel NBA lineups after the first week of the season.
A torrid start to the 2016-17 season has Russell Westbrook sitting atop any FanDuel NBA player rankings.
The five-time All-Star has managed to elevate his game in his ninth season with the Oklahoma City Thunder, leading all players in scoring and assists after the first week of play.
Along with his averages of 38.7 points, 12.3 rebounds and 11.7 assists per game, Westbrook is the first player in league history to post at least 100 points, 30 rebounds and 30 assists in the first three games of a season.
The rebounding from Westbrook is no surprise, as he has led all point guards in rebounding five out of the past six seasons. A career-high 7.3 rebounds per game matched the output Zach Randolph and Brook Lopez managed last season.
Not only is Westbrook once again leading all point guards in rebounding, the 12.3 per game has him tied for the seventh most in the league, alongside Dwight Howard and Jonas Valanciunas.
The 6-foot-3 guard became the first player since Kareem Abdul-Jabbar 41 years ago to post a triple-double featuring 50 points, as he totaled 51 points, 13 rebounds and 10 assists during an overtime victory over the Suns.
Two nights later against the Lakers, Westbrook needed only 24 minutes to post his second triple-double of the season, becoming the first player since Lakers guard Magic Johnson in 1982-83 to post two triple-doubles in the first three games of the season.
If he continues to tally two triple-doubles every three games, Westbrook would finish the season with 55 triple-doubles.
Oklahoma City has placed the ball in the hands of Westbrook for 9.5 minutes a night, the highest figure in the NBA, and he has generated 196 points with his scoring and passing, accounting for 59.6 percent of the Thunder's offense.
As long as Westbrook is producing in every conceivable fashion, he should be part of any FanDuel NBA roster.
Top Four Point Guards
Russell Westbrook ($12,000) vs. L.A. Clippers
Damian Lillard ($9,900) vs. Phoenix Suns
Tim Frazier ($5,500) vs. Memphis Grizzlies
J.J. Barea ($4,900) vs. Utah Jazz
Rationale:
The NBA's fourth leading scorer is shooting well from all over the court. Damian Lillard is averaging 34 points per game while connecting on 52.2 percent of his attempts from the field, 42.9 percent from 3-point range and converting 88.4 percent of his free throws. The efficiency is unprecedented for Lillard, as he has never shot 44 percent from the field or better than 40 percent from 3-point range during his first four seasons in Portland.
J.J. Barea has played exactly 100 minutes in the first three games for Dallas and has posted some intriguing numbers. The 6-foot guard leads the team in assists, averaging 5.7 points per game, while totaling 50 points, 10 rebounds and six conversions from 3-point range. Knee soreness kept Barea out of Tuesday's practice session, so check on his status before placing him in any FanDuel NBA lineup.
Top Four Shooting Guards
Rationale:
The only guard averaging more than the 8.7 rebounds per game Avery Bradley has managed for Boston is Russell Westbrook. Bradley has unexpectedly emerged as the Celtics most effective rebounder, as he is grabbing 6.7 defensive boards along with 2.0 offensive rebounds each night. In league history, only eight players 6-foot-3 or shorter have averaged 7.0 rebounds per game for an entire season.
The Mavericks are letting Wesley Matthews shoot his way out of a slump to begin the season. Dallas coach Rick Carlisle has kept Matthews on the court a league-high 39.3 minutes per game this season, making him a perfect value option for any FanDuel NBA roster and launch a team-high 55 shots from the field. The lofty shot total hasn't generated enough offense, as Matthews has totaled just 51 points while shooting 29.1 percent from the field and 18.2 percent from 3-point range. A foot injury prevented Matthews from practicing Tuesday and he is a game-time decision Tuesday.
Top Four Small Forwards
Rationale:
Perhaps the most surprising name atop any statistical category through the first week of play in the NBA is Atlanta Thabo Sefolosha. The 6-foot-7 small forward has yet to start and is only spending an average of 21.7 minutes on the floor, making his league-high 3.3 steals per game even more impressive. A five-steal performance on opening night, followed by a four-steal outing against Sacramento Monday has Sefolosha just ahead of Kawhi Leonard and Kevin Durant for the most in the NBA.
Players attempting less than five shots per game typically don't garner much consideration for a FanDuel NBA team, Andre Roberson is providing an impact elsewhere. The 24-year-old is the only FanDuel NBA player averaging 25 fantasy points per game available for less than $4,500 tonight. Roberson has propped up his value by consistently attacking the boards, averaging 7.7 rebounds per game and providing a defensive impact, leading the Thunder with 2.7 steals per game.
Top Four Power Forwards
Rationale:
One player definitely ready to play for the Mavericks Wednesday night in Utah is forward Dirk Nowitzki. A sore Achilles tendon, along with a bout against a stomach flu, has limited the 38-year-old to an appearance on opening night, but he will be in the lineup for Dallas Wednesday night. In his lone outing, Nowitzki buried four shots from 3-point range as part of a 22-point, eight-rebound, two-assist, two-steal and two-block effort, perfect contributions for any FanDuel NBA team.
Trevor Booker provides plenty of value at $1,400 less than the cost of an average FanDuel NBA player. As one of 17 players averaging 10 or more rebounds early in the year, Booker has become an important piece for coach Kenny Atkinson in Brooklyn. Along with his rebounding totals, Booker is averaging 9.3 points, 2.0 assists and 2.0 steals a night.
Top Four Centers
Andre Drummond ($8,000) vs. Brooklyn Nets
DeAndre Jordan ($7,500) vs. Oklahoma City Thunder
Jonas Valanciunas ($6,400) vs. Washington Wizards
Steven Adams ($5,000) vs. L.A. Clippers
Rationale:
Detroit is hoping Andre Drummond will provide more than 14.3 points on 13.5 shot attempts per game. Fresh off an All-Star appearance last season, Drummond is once again leading the league in rebounding at 15.5 per game, but is coming off an unusually ineffective shooting performance against the Knicks Tuesday night, as he converted 4-of-13 attempts from the field. Drummond has converted better than 50 percent of his attempts from the field in each of his first four seasons, so look for him to get back on track tonight in Brooklyn.

Perfection at the free throw line is the last expectation for Steven Adams after one week of play. For his career, Adams is a 55.7 percent free throw shooter, but he has converted each of his seven attempts for Oklahoma City this year. Adams ranks third on the team in scoring at 13 points per game to go along with 9.0 rebounds and 2.3 steals per game, giving him plenty of upside for a player costing just $5,000 in FanDuel NBA lineups Wednesday night.
Final Lineup
PG Russell Westbrook ($12,000)
PG Tim Frazier ($5,500)
SG Avery Bradley ($6,500)
SG Wesley Matthews ($4,600)
SF Jimmy Butler ($7,900)
SF Thabo Sefolosha ($4,500)
PF Trevor Booker ($5,300)
PF Julius Randle ($6,200)
C DeAndre Jordan ($7,500)
Total Cost: $70,000
This article originally appeared on