FanDuel NBA Daily Picks: Fantasy Basketball Lineup For November 18
New Orleans point guard Jrue Holiday missed the first 12 games of the season to care for his wife, but is expected to play Friday night. The Pelicans need Holiday to play as a star, which could pay dividends in FanDuel NBA play and turn around a 2-10 start to the year.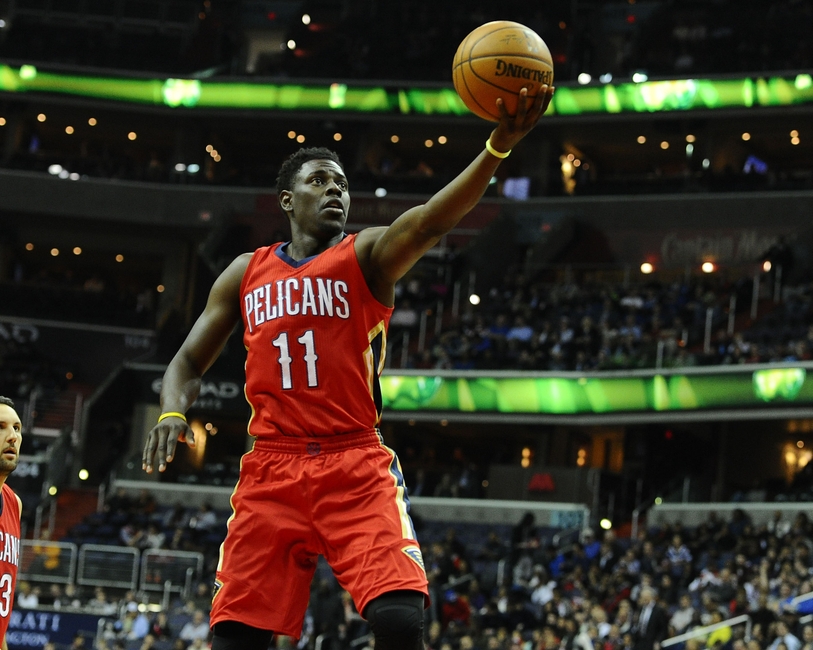 Jrue Holiday has played in just 53.9 percent of the possible regular season games since being acquired by New Orleans four years ago.
The Pelicans were even compensated $3 million for Philadelphia's failure to disclose the extent of the stress fractures in his lower right leg.
The 26-year-old has missed the first 12 games of the regular season this year for an entirely different reason.
Holiday was granted an indefinite leave of absence to tend to his ailing wife, as she underwent a surgical procedure to remove a benign tumor from her brain after giving birth to their daughter over the summer.
Once she received a clean bill of health, Holiday participated in Thursday's practice, his first with the team this season, and for was left off the latest injury report issued by the team.
The 6-foot-4 guard is expected to play Friday night as the Pelicans host Portland, hoping to revitalize the offense.
The team is scoring just 99.7 points per 100 possessions, down from 105.6 points a season ago. The differential is ranking as the 18th most efficient offense down to the 26th this season.
Shooting from 3-point range has been the primary weakness of the Pelicans offense this year. The team is shooting just 29.1 percent from beyond the arc, the lowest percentage in the NBA and only the Suns, Pistons and Wizards are converting fewer shots from 3-point range a night.
Holiday converted 87 shots from 3-point range a year ago, the most of any player returning to the team.
Long range shooting isn't Holiday's primary means to score the ball, he is much more efficient creating shots for himself, or teammates off the dribble.
New Orleans is hoping Holiday can quickly establish the pick-and-roll game with Anthony Davis after experiencing so much success off the play a year ago.
Holiday scored 536 points as the ball handler in pick-and-roll situations, the ninth highest total in the league and the only one to total more than 500 while playing fewer than 75 games.
For the second consecutive season, Davis is leading all player in points scored off the pick-and-roll as the player rolling to the basket, scoring 88 points off 80 such plays.
Davis has been in desperate need for a secondary scoring punch all season. During a loss to the Lakers Saturday night, the four other starters for the Pelicans totaled just 16 points on 7-of-24 shooting (29.1 percent) from the field.
Once Holiday was able to abandon the minutes restriction imposed on him following a surgery to correct his stress fracture issues, he played at an All-Star level during the second half of the season.
Holiday posted averages of 21.2 points, 7.3 assists, 3.3 rebounds and 1.7 steals per game following the All-Star break.
The Pelicans are hoping he can produce at a similar level to reverse a terrible start to the season and the primary beneficiaries could be any FanDuel NBA lineup featuring him.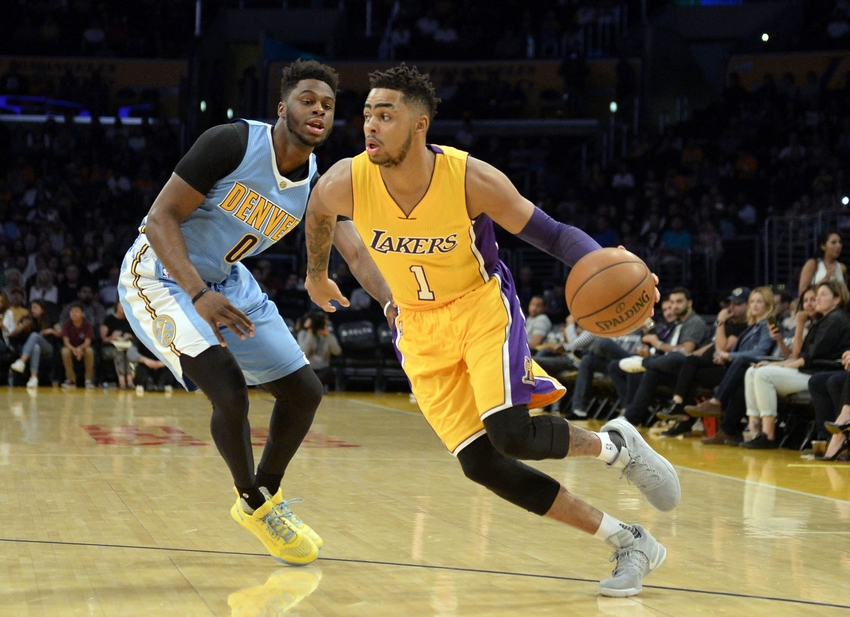 Top Four Point Guards
Russell Westbrook ($11,400) vs. Brooklyn Nets
Jrue Holiday ($7,900) vs. Portland Trail Blazers
D'Angelo Russell ($6,200) vs. San Antonio Spurs
Dennis Schroder ($6,000) vs. Charlotte Hornets
Rationale:
Russell Westbrook submitted the perfect highlight depicting exactly why he has been the NBA's most valuable player during the first portion of the season. A vicious tomahawk jam over Rockets center Clint Capela snapped a tie with five seconds remaining and ended a four-game losing streak for Oklahoma City. Westbrook continues to impress, averaging 31.8 points, 9.8 assists, 9.5 rebounds and 1.2 steals per game, ideal for any FanDuel NBA lineup.
For each of the past two games, Lakers guard D'Angelo Russell has stolen the ball in both contests. Tuesday night the sophomore guard did much more than impact the game defensively, as he registered season-highs with 32 points, eight rebounds and seven conversions from 3-point range to go along with four assists. Russell has converted 52.9 percent of his attempts from beyond the arc in his career against San Antonio, meaning he could be in line for another impressive 3-point shooting performance.
Top Four Shooting Guards
Rationale:
A total of 10 players are averaging at least five rebounds, five assists and a steal per game and none are available at a lower price in FanDuel NBA play than Charlotte guard Nicolas Batum. In each of the past two games, Batum has posted 40 FanDuel NBA fantasy points and has totaled more than 25 fantasy points in nine of his 10 appearances this year.
A total of eight players have submitted a five-block outing this season, the most unusual name on the list would be 6-foot-3 guard Monta Ellis. Wednesday night against the Cavaliers, Ellis provided 31.2 FanDuel NBA tournament points in an unexpected way, as he set a career-high by swatting away five shots along with seven points, six rebounds, four assists and a steal.
Top Four Small Forwards
Rationale:
For the first time all season, the cost for playing LeBron James in a FanDuel NBA lineup is over $10,000. The uptick in price stems from the latest flirtation with a triple-double from the four-time league MVP, as he totaled 28 points, 14 assists and nine rebounds against Toronto. James sat out Wednesday's loss to the Pacers, so he should be completely fresh for Friday's tilt against Detroit.
Coming off a season-high 29-point performance against the Lakers, Bojan Bogdanovic is starting to find his shooting touch. Over the past two games, the 6-foot-8 forward has averaged 23.5 points per game on 65.5 percent shooting from the field, as he submitted his best two shooting performances of the year.
Top Four Power Forwards
Rationale:
Only three players at the power forward position are dishing out more than four assists per game. The only one to couple 4.0 assists with 20 points a night is Clippers forward Blake Griffin. As one of the most viable FanDuel NBA performers, averaging just less than 40 fantasy points per game, Griffin provides multiple avenues to register points as he is capable of scoring, rebounding, assisting and logging steals each night.
Zach Randolph has emerged as the front runner to win the Sixth Man of the Year award. In 11 games as a reserve, Randolph has posted 14.5 points, 8.0 rebounds and is converting 49.3 percent of his attempts from the field. Consecutive 18 point performances, with identical 7-of-13 shooting performances, indicates just how involved Memphis wants Randolph in the offense. FanDuel NBA players would struggled to find a better value play at the power forward position for Friday night.
Top Four Centers
Rationale:
A corner 3-pointer from Marc Gasol in the final seconds of Wednesday night's game was probably the last play the Clippers could have envisioned. During the first eight years of his career, the 7-foot-1 center has converted a total of just 12 shots from beyond the arc, but the clutch shot was his fourth of the night and improved the Grizzlies record to 6-5 on the year. Gasol is connecting a career-high 1.6 times a game from 3-point range and is one of only two centers shooting 40 percent or above from long distance.
Concerns about playing time will haunt the value of Tyson Chandler in FanDuel NBA lineups throughout the year, but he has made the most of every second he has been on the floor. Chandler rarely wanders on offense, as 22 of his 23 made shots this season have been at the rim and he is the leading rebounder in Phoenix at 12.3 rebounds per game, 4.7 more than anyone else on the roster. Chandler is producing at the same level as Indiana forward Thaddeus Young, for $500 fewer in FanDuel NBA tournaments.
Final Lineup
PG Dennis Schroder ($6,000)
PG Jrue Holiday ($7,900)
SG Lou Williams ($4,700)
SG Monta Ellis ($5,600)
SF Kawhi Leonard ($8,500)
SF Harrison Barnes ($6,100)
PF Julius Randle ($6,700)
PF Kenneth Faried ($6,300)
C Andre Drummond ($8,000)
This article originally appeared on