FanDuel NBA Daily Picks: Fantasy Basketball Lineup For November 17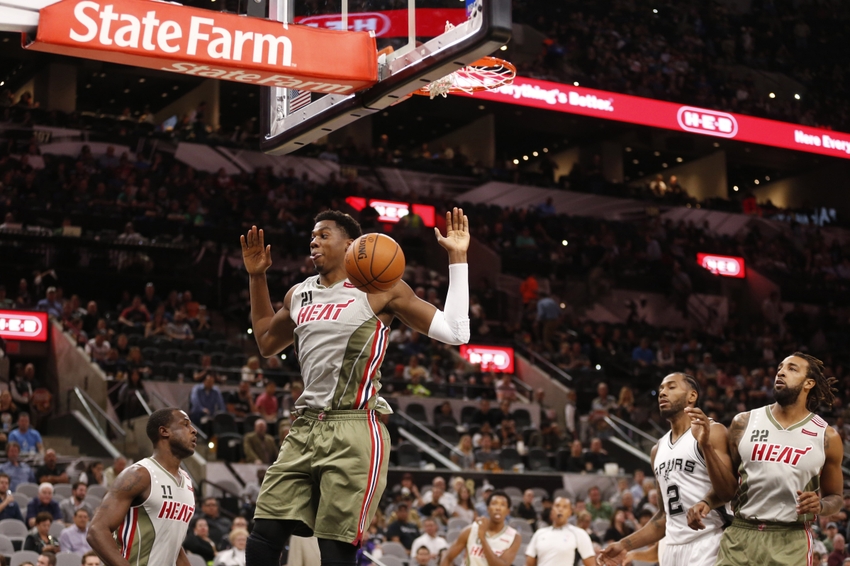 Hassan Whiteside is providing the rarest attribute in FanDuel NBA tournament play: consistency.
Ten different nights have produced the same results from Miami center Hassan Whiteside.
The 7-footer has grabbed at least 11 rebounds and rejected at least one shot in each game for the Heat this season, becoming one of the most reliable performers in FanDuel NBA play.
Opponents have yet to figure out a way to keep him off the glass on both ends of the floor, as Whiteside leads all players with 115 defensive rebounds and his 44 offensive rebounds rank second only to Atlanta center Dwight Howard.
The Hawks and Howard experienced just how difficult boxing out Whiteside is Tuesday night. In 38 minutes, Whiteside totaled 10 offensive rebounds and 15 defensive rebounds.
Both marks served as season-highs for Whiteside, as he more than doubled the 11 rebounds Howard grabbed on the evening .
The 25 rebounds from Whiteside stands as the best individual performance submitted in the early part of the 2016-17 campaign.
Along with his exceptional rebounding ability, leading the league with an average of 15.9 per game, Whiteside is just as effective at preventing shots from even approaching the rim.
Through 10 games, Whiteside has the third-highest block average per game at 2.3. Whiteside has rejected a shot in all 10 of his appearances this season, with eight games with two or more rejections.
After leading the league in blocks per game last season, with his average of 3.7 marking the highest figure any player has posted in the last 15 years, Whiteside is clearly the most intimidating defensive presence in the NBA.
Among all players averaging a block a game or more, Whiteside is the most effective rim protector, allowing opponents to convert just 37.5 percent of their attempts at the basket.
The only frontcourt player surrendering a lower field goal percentage at the rim is San Antonio forward LaMarcus Aldridge, but he has faced four fewer shot attempts per game.
The opposition has challenged Whiteside at the rim 8.8 times a night, but has averaged just 3.3 conversions.
Miami is scoring an additional 8.5 points per 100 possessions with Whiteside on the court and the team has figured out methods to keep him on the floor.
Whiteside is playing 33 minutes per game, the fourth-highest among all centers, and his 38 minutes against Atlanta also marked a season best.
Whiteside leads all players with nine double-doubles this year and with averages of 18.2 points and 15.9 rebounds a night, he is the closest thing to a lock in NBA FanDuel play.
No statistics can ever be guaranteed, but the rest of the league has yet to figure out a way to box out Whiteside or been evasive enough to prevent him from rejecting at least one shot in each of his last 29 regular season appearances.
Top Four Point Guards
Rationale:
For the first time all season, Washington point guard John Wall played fewer than 30 minutes in preparation to play on consecutive nights all season. The Wizards have been cautious in overextending Wall after he underwent surgical procedures on both knees during the summer. Even though he played just 23 minutes against the 76ers Wednesday night, Wall still poured in 27 points and went to the free throw line a season-high 12 times.
The status of Heat guard Goran Dragic is uncertain for Thursday night, but if he is unable to go, Tyler Johnson becomes a strong value play in FanDuel NBA tournaments. Johnson has displayed accuracy from all over the court, ranking 11th among all back court players in field goal percentage, converting 47.5 percent of his field goal attempts and knocking down 44.4 percent of his 3-point attempts, tying him for the 16th best percentage in the NBA. In addition to his potent scoring, Johnson is grabbing 4.5 rebounds a night to accompany his 13.1 points per game.
Top Four Shooting Guards
Rationale:
During the president's visit to Greece, Barak Obama revealed he is a fan of Milwaukee's Giannis Antetokounmpo. The 21-year-old has evolved into one of the most complete players in the league this season, as he is the sole player in the NBA averaging at least 20.0 points, 8.0 rebounds, 5.0 assists and 2.0 blocks per game. Antetokounmpo has blocked a shot in each of the first 10 games of the season and has been held without an assist just once.
For the third time this season, Dwyane Wade logged over 35 FanDuel NBA fantasy points by submitting a complete performance Tuesday night in Portland. The 34-year-old guard posted 19 points, five assists, five rebounds, two steals and a block in just over 31 minutes. Wade is the ranks third in FanDuel NBA scoring average among all shooting guards available Thursday night.
Top Four Small Forwards
Rationale:
The 47.2 percent shooting from New York forward Carmelo Anthony is his highest average in the last nine years. The increased efficiency has also led to 22.5 points per game, up nearly one point from a season ago. Anthony is adapting to becoming the second scoring option for the Knicks, as he complemented a career-high scoring performance from Kristaps Porzingis by totaling 22 points on 9-of-17 shooting from the field and converted four times from 3-point range.
As one of just seven players totaling 20.0 points, 7.0 rebounds and 4.0 assists a night, Gordon Hayward is a bargain for FanDuel NBA rosters at $7,400, just $634 above the cost of an average player. Hayward is proving to be the star player in Utah, registering five consecutive games with 20 or more points once he returned to the team after missing the first six games of the year with a broken left hand.
Top Four Power Forwards
Kristaps Porzingis ($6,900) vs. Washington Wizards
Jabari Parker ($6,400) vs. Miami Heat
Gorgui Dieng ($5,400) vs. Philadelphia 76ers
Ryan Anderson ($5,000) vs. Portland Trail Blazers
Rationale:
The Pistons simply had no answers for New York forward Kristaps Porzingis Wednesday night. The second-year forward set a career high by scoring 35 points, with 25 coming in the first half as the Knicks posted an incredible offensive rating of 150 points per 100 possessions during his time on the floor. Porzingis has scored 20 or more points in six of his last seven games, so he is worth an addition to any FanDuel NBA roster while he is producing.
Few players are capable of becoming a more precise shooter the further away they are from the rim. During his first season with the Rockets, Ryan Anderson is shooting 7.3 percent better from outside of the 3-point arc than he is on the inside of it. Anderson is shooting 41.7 percent from 3-point range, but has made just 34.4 percent of his 2-point attempts. After 11 games, Anderson has finished with four or more conversions from 3-point range on six occasions and 62.9 percent of his points have been scored from beyond the arc.
Top Four Centers
Hassan Whiteside ($8,900) vs. Milwaukee Bucks
Rudy Gobert ($6,400) vs. Chicago Bulls
Mason Plumlee ($5,100) vs. Houston Rockets
Joakim Noah ($4,500) vs. Washington Wizards
Rationale:
Not many teams will sign a player to a $102 million contract extension, then have him shoot less than five times a night in half of his first 12 appearances. The defensive impact of Rudy Gobert is enough for the Jazz and to merit consideration in FanDuel NBA play. Gobert ranks fifth in the league in blocks per game (2.2) and ninth in rebounding, at 10.3 a night. Even though he is taking just 5.3 shots a night, the ninth most in the Jazz roster, he is averaging 9.6 points per game and converting 60.3 percent of his shot attempts.
Taking New York center Joakim Noah carries a risk, as his production is tied primarily to one category, but he has been exceptional at tracking down errant shots. Noah has totaled 10 or more rebounds in three of his last four games, while raising his season average to 9.1, up from 7.3 during his first seven games of the year. Wednesday marked perhaps his most complete performance of the season, as he totaled 15 rebounds, seven points, three blocks, three assists and a steal during a 105-102 victory over the Pistons.
Final Lineup
PG John Wall ($8,900)
PG Sergio Rodriguez ($5,000)
SG Eric Gordon ($5,200)
SG Giannis Antetokounmpo ($9,600)
SF Gordon Hayward ($7,400)
SF Maurice Harkless ($4,600)
PF Ryan Anderson ($5,000)
PF Gorgui Dieng ($5,400)
C Hassan Whiteside ($8,900)
This article originally appeared on