FanDuel NBA Daily Picks: Fantasy Basketball Lineup For November 16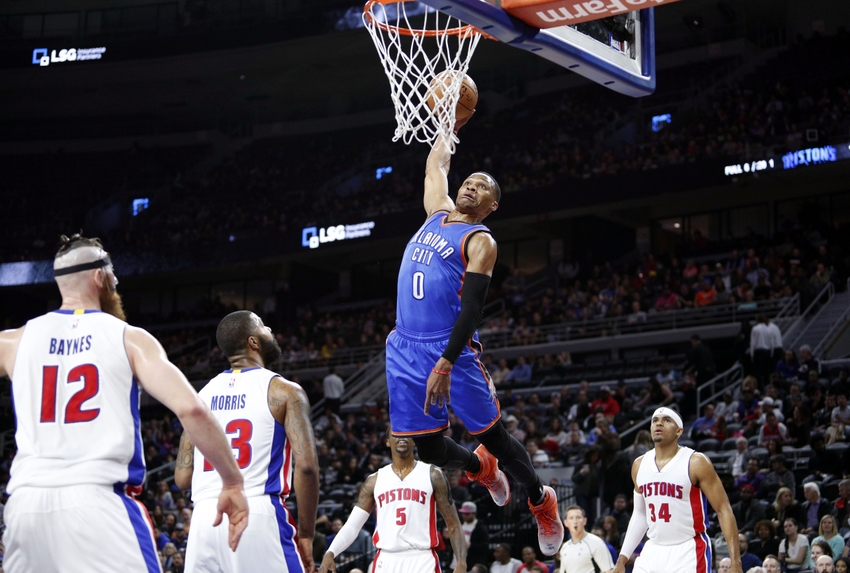 Russell Westbrook is threatening to become the first player to average a triple-double in 55 years and his output is unprecedented in FanDuel NBA tournament play.
Just about any play becomes a fast break when Russell Westbrook is on the floor.
The 6-foot-3 guard has been clocked at 21.6 miles per hour, a measurement that indicates he is about half a second faster than the average player sprinting the full length of the court.
No player has been able to produce more transition points than the 75 Westbrook has totaled this season.
Even when defenders are between Westbrook and the basket, few are capable of deterring him from scoring. Westbrook is averaging 8.1 points per game off drives, the fifth-most in the NBA.
Monday night in Detroit, the Pistons defense froze as Westbrook sprinted past Kentavious Caldwell-Pope and elevated towards the rim.
Marcus Morris simply sidestepped out of the way instead of trying to prevent Westbrook from a dunk.
Westbrook slammed the ball through the rim so hard it bounced well past the 3-point line and had to be chased down by teammate Andre Roberson before play could resume.
Even when opponents foul Westbrook on approaches to the rim, it hardly fazes him. Westbrook has earned nine and-one chances, tying him with Damian Lillard and Eric Bledsoe for the seventh-most in the league.
Fouling Westbrook is about the only option defenders have left, as he has scored a league-best 352 points. More than 29 percent of his points have come at the foul line, as he leads the NBA in both free throw attempts (128) and conversions (103) during the early portion of the year.
A strong showing against Houston Wednesday night could place Westbrook in rare territory, as he is 13 rebounds and 11 assists shy of averaging a triple-double for the year.
No player has seriously threatened to join Oscar Robertson by averaging a triple-double since he posted 30.8 points, 12.4 rebounds and 11.4 assists a night in 1961-62, his second season in the NBA.
Westbrook is the most productive player in FanDuel NBA tournaments, averaging 56.4 fantasy points, the most of anyone this year.
His status as the most expensive, and productive, roster selection for FanDuel NBA purposes stems from the 32 points, 9.9 assists and 9.7 rebounds he is averaging.
Even with Westbrook generating at a rate unseen in five decades, Oklahoma City his still lost four straight games.
Another triple-double could be in store for Westbrook Wednesday night, perfect for anyone saving a point guard slot for him on a FanDuel NBA roster.
Top Four Point Guards
Russell Westbrook ($11,500) vs. Houston Rockets
Eric Bledsoe ($7,500) vs. Denver Nuggets
Darren Collison ($5,900) vs. San Antonio Spurs
Sergio Rodriguez ($5,000) vs. Washington Wizards
Rationale:
The list of players averaging at least 15 points, five rebounds and five assists this season has been whittled down to seven. The only point guard averaging more than the 6.0 rebounds Eric Bledsoe has posted this season is Russell Westbrook. Despite his 6-foot-1 frame, Bledsoe has totaled 66 rebounds, the third-most on the Suns to go along with 18.4 points and 5.2 assists a night.
The Kings are desperate for a third scoring option to emerge alongside DeMarcus Cousins and Rudy Gay. Darren Collison seems poised to fill the scoring void for Sacramento, as he posted 20 points in his first game back from suspension. No other player besides Gay or Cousins had previously reached 20 points scored in a single game this season and Collison managed the total in 37 minutes off the bench.
Top Four Shooting Guards
Rationale:
The list of players to total at least 300 points and 100 assists in the first 10 games of the season increased for the first time in five decades this season. A night after Russell Westbrook joined Oscar Robertson as the only player in league history to post the astonishing totals, Houston guard James Harden submitted a 33-point, nine-assist effort to bring his totals up to 303 points and 126 assists on the year. Harden is just 3.7 points per game behind DeMar DeRozan for the league lead, as he is threatening to join Nate Archibald to become the only player to simultaneously lead the NBA in points and assists.
A jump shot as pure as the one possessed by Devin Booker should bring more accuracy than the 27.5 percent he is shooting from beyond the arc. Even with the 3-point shot not falling at a consistent rate, as he has converted just 2-of-14 attempts from beyond the arc in the past three games, Booker is still the leading scorer in Phoenix at 20.2 points per game.
Top Four Small Forwards
Rationale:
An appearance from Kevin Durant in the top-10 for any statistical category shouldn't come as a surprise … except when he ranks seventh in field goal percentage. During his first season with the Warriors, Durant is converting 56.2 percent of his attempts from the field. Miami center Hassan Whiteside is the only other player in the top-10 attempting at least 10 shots a night. Durant is converting 10 shots a game, leading to 27.7 points per game.
The 25 total steals from Kawhi Leonard ranks as the second most in the NBA. Leonard is also second in passes deflected each night, tipping the ball 4.4 times a night as he pursues being selected as the NBA's Defensive Player of the Year for the third straight season. When the defensive impact Leonard provides is combined with the 25.5 points per game he is averaging, leaving him off a FanDuel NBA roster is a challenge.
Top Four Power Forwards
Rationale:
The performance from LaMarcus Aldridge Monday night against Miami offers a perfect summary of his 2016-17 campaign. In the first half, Aldridge converted each of his first eight shot attempts from the field, totaling 18 points before halftime. Then he suddenly went cold, missing six consecutive shots and going scoreless in the second half. Aldridge has failed to post 20 points in six consecutive games, but has supplemented his value in FanDuel NBA play by attacking the glass in pursuit of rebounds.
Any player for Milwaukee should be fresh for Wednesday night, as the schedule generously provided the team three consecutive days of rest. Jabari Parker could use the additional rest after spending 34 minutes on the court in each of his past three games. The Bucks simply can't afford to have him on the bench for long, as the team scores 6.2 fewer points per 100 possessions when he isn't playing.
Top Four Centers
DeMarcus Cousins ($9,600) vs. San Antonio Spurs
Marc Gasol ($6,900) vs. L.A. Clippers
Joel Embiid ($5,600) vs. Washington Wizards
Clint Capela ($5,000) vs. Oklahoma City Thunder
Rationale:
Even when opponents try and wrap up DeMarcus Cousins on a shot attempt, they can't prevent him from launching a shot attempt. In 11 games, Cousins has managed to convert a basket, plus draw the foul, a league-high 15 times. In each of his past three games, Cousins has scored at least 28 points and is coming off a 33-point effort against Portland that featured three conversions from 3-point range.
The rebounding numbers were enough for Clint Capela to draw consideration as a value play in FanDuel NBA tournaments, but his emergence as a shot blocker solidified his case. Capela rejected five shots in 25 minutes against Philadelphia, setting a new career-high in the process.
Final Lineup
PG Russell Westbrook ($11,600)
PG Darren Collison ($5,900)
SG Klay Thompson ($5,800)
SG Devin Booker ($6,500)
SF Danilo Gallinari ($5,900)
SF Harrison Barnes ($6,000)
PF Kristaps Porzingis ($6,900)
PF Jabari Parker ($6,400)
C Clint Capela ($5,000)
This article originally appeared on