FanDuel NBA Daily Picks: Fantasy Basketball Lineup For November 11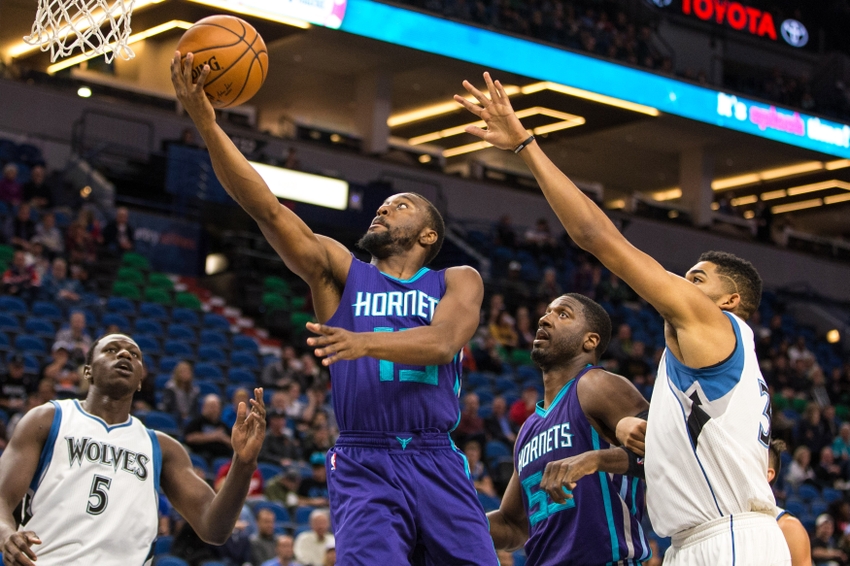 Kemba Walker has fueled an impressive start from the Charlotte Hornets with an array of contributions, becoming a FanDuel NBA sensation in the process.
Entrenched atop the standings in the Eastern Conference is a Charlotte Hornets team being carried by a point guard seeking his first All-Star selection.
Kemba Walker has led the Hornets to a 6-1 start to the season, matching the record of the reigning champion Cleveland Cavaliers, by evolving into an efficent scorer, something that appeared to be outside the realm of possibilities.
Walker twice averaged over 17 points per game while shooting less than 40 percent from the field in his career, a feat only accomplished by six other players in the past 10 years. Kobe Bryant joined Walker as the only player to post the inefficient scoring numbers twice during that kind of span.
For three consecutive seasons, Walker posted a scoring average above 17 points per game while attempting at least 15 shots a night.
This year, the 6-foot-1 guard is scoring 23.9 points per game on just 16.6 shots a night. Walker is shooting 46.6 percent from the field, his best single-season mark and 6.2 percent above his career average.
The increase in shooting percentage is even more impressive considering the influx of three-point shooting he has incorporated into his game. Walker is connecting 2.9 times from beyond the arc, the fifth most in the NBA this season, and shooting at a 43.5 percent clip from three-point range.
Walker set career-highs last season as he converted 2.2 times at 37.1 percent from three-point range.
The ability to navigate to any spot on the floor and create separation from his defender with his step-back jump shot has made Walker one of the toughest players to defend each night.
In his sixth season with the club, Walker is an established playmaker, averaging 5.6 assists per game and knows exactly where to place the ball to setup a teammate for success. Each night, the passing of Walker leads to 2.2 conversions from three-point range.
The combination of his scoring and assists, along with 3.1 rebounds and 1.9 steals per game has made Walker one of the steadiest contributors in FanDuel NBA play.
Walker has produced 167 total points in FanDuel NBA fantasy leagues this season, the exact same total as Cavaliers All-Star point guard Kyrie Irving. In each of his seven appearances, Walker has totaled at least 33 FanDuel NBA fantasy points and has registered over 40 points fantasy points in each of his last two games.
A strong showing over the next two games can go a long way for both the team and Walker.
The Hornets host the Raptors Friday night before traveling to Cleveland Sunday. Victories over the two teams in the Eastern Conference Finals last summer can solidify Charlotte as a legitimate contender.
Plus, Walker has an opportunity to showcase his efficient play against a pair of All-Star point guards, with Kyle Lowry in Toronto and Irving for the Cavaliers.
Walker appears ready for the challenge.
Top Four Point Guards
Kemba Walker ($8,100) vs. Toronto Raptors
Kyrie Irving ($7,400) vs. Washington Wizards
Jeff Teague ($6,300) vs. Philadelphia 76ers
Derrick Rose ($6,200) vs. Boston Celtics
Rationale:
Perhaps Jeff Teague is starting to snap out of the shooting slump that has plagued him since he was dealt to the Pacers. After converting just 24.6 percent of his attempts, along with an average of 9.8 points per game during his first five games of the season, Teague has averaged 20 points per game on 57.9 percent shooting over the last three contests. Teague is coming off the his best individual performance of the season, as he tallied 30 points, nine assists (both season-highs) and two steals in a win over Philadelphia Wednesday night.
The Knicks are trying to find ways for point guard Derrick Rose to gain additional rest throughout the season. With Wednesday's game against Brooklyn in control, New York opted to bench the three-time All-Star for the entire fourth quarter after he logged 14 points, four assists and three rebounds in 22 minutes. In 18 career appearances against Boston, Rose is averaging 20.9 points, 5.1 assists and 4.0 rebounds per game, making him a smart value play for FanDuel NBA lineups.
Top Four Shooting Guards
Rationale:
The last time Portland guard C.J. McCollum was held under 10 points, he exploded for a season-high 37 the following night. He had an off night against the Clippers, as McCollum converted just 4-of-11 attempts from the field for an eight-point night, his lowest scoring total of the season. McCollum posted eight performances with 30 or more points last season and two of them came against Friday's opponent, the Kings. FanDuel NBA players can look for a bounce-back outing from McCollum tonight.
Victor Oladipo has yet to blossom into the lethal scorer Oklahoma City was expecting alongside point guard Russell Westbrook. The 24-year-old guard has matched his scoring average from a year ago, as he posted 16 points per game with the Magic, but his shooting percentage has declined by 2.4 percent. In his last outing, Oladipo connected on just 6-of-16 attempts from the field, but five of his conversions came from three-point range, one off a career-high.
Top Four Small Forwards
Kawhi Leonard ($8,900) vs. Detroit Pistons
Gordon Hayward ($7,400) vs. Orlando Magic
Otto Porter ($6,000 vs. Cleveland Cavaliers
Maurice Harkless ($4,500) vs. Sacramento Kings
Rationale:
Utah has provided free rein on both ends of the court Gordon Hayward, a huge benefit to his value in FanDuel NBA lineups. Since returning from breaking a finger on his left hand, Hayward has attempted 17.7 shots a night, the most of his career, leading to 25.7 points per game — 11 above the average for his seven-year career. Hayward is also chipping in 6.3 rebounds, 3.0 assists and just under a steal per game.
A string of four consecutive games with 30 or more minutes from Maurice Harkless was snapped Wednesday night against the Clippers, as he spent less than 22 minutes on the floor, his fewest of the season. The ability to play both forward positions, especially with power forward Al-Farouq Aminu out Friday night against Sacramento with a calf injury, should create plenty of opportunities for Harkless.
Top Four Power Forwards
Kevin Love ($7,500) vs. Washington Wizards
Kristaps Porzingis ($6,900) vs. Boston Celtics
Tobias Harris ($5,800) vs. San Antonio Spurs
Enes Kanter ($4,900) vs. L.A. Clippers
Rationale:
In 159 career games with the Cavaliers, Kevin Love has yet to register five consecutive games with 20 or more points, a streak he hopes to snap tonight against the Wizards. Over the past four games, Love is averaging 23.5 points per game as Cleveland has ensured he would be further incorporated into the offense this season. Love is attempting 15.9 shots per game, up from the 12.7 shots he averaged during his first two seasons with the team.
The last three games have been the best for Enes Kanter this season. Despite playing less than 20 minutes per game during the three-game stretch, the 6-foot-11 forward has averaged 17.3 points per game on 75.8 percent shooting from the field. Kanter is a solid low-budget addition to any FanDuel NBA roster, but carries the caveat of limited minutes.
Top Four Centers
Nikola Vucevic ($7,400) vs. Utah Jazz
Myles Turner ($6,800) vs. Philadelphia 76ers
Joel Embiid ($5,200) vs. Indiana Pacers
Joakim Noah ($4,300) vs. Boston Celtics
Rationale:
Four times this season Orlando center Nikola Vucevic has collected 14 rebounds in a game, propping up his average for the season to 11.1 for the year, the seventh best in the NBA. Even though Vucevic has taken a reduced role in the offense, averaging 11.8 shot attempts per game after taking more than 16 shots a night for each of the past two seasons, he has been unstoppable from the midrange. Vucevic has converted 10-of-12 attempts (83.3 percent) from 10-to-16 feet away from the rim, a 27.7 percent increase above his average shooting percentage at the rim this year.
Selecting a center that has yet to post a double-double this season, scored more than 10 points just once and was benched for the entire fourth quarter in his last appearance would typically be insanity for FanDuel NBA purposes. Only Joakim Noah provides value outside of his ability to score the ball. In his first season with the Knicks, Noah is dishing out 4.6 assists per game, the highest among any player at the center position this year. Noah is well aware of his role on the team, as his rebounding average (7.3 per game) is more than double his shot attempts (3.6) this year.
Final Lineup
PG Kemba Walker ($8,100)
PG Kyrie Irving ($7,400)
SG Rodney Hood ($5,400)
SG Victor Oladipo ($5,500)
SF Kawhi Leonard ($8,900)
SF Gordon Hayward ($7,400)
PF  Enes Kanter ($4,900)
PF Kristaps Porzingis ($6,900)
C Joel Embiid ($5,200)
This article originally appeared on