FanDuel NBA Daily Picks: Fantasy Basketball Lineup For November 10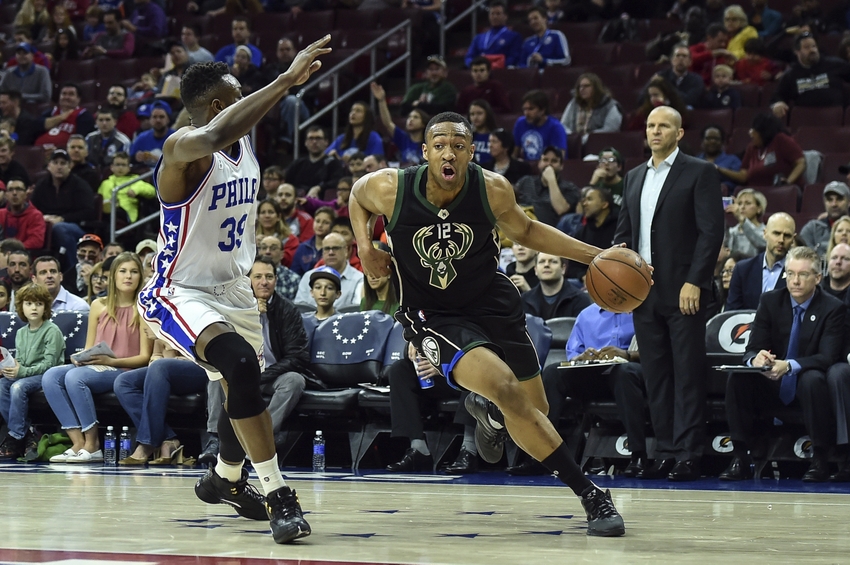 Jabari Parker has quietly emerged as one of the most consistent performers in FanDuel NBA play, posting at least 20 fantasy points in each of his seven appearances for Milwaukee this year.
Just seven games into the season, Milwaukee forward Jabari Parker is proving to have greatly expanded his game.
After connecting a total of just 13 times at a 25.5 percent clip during his first two seasons in the league, Parker has made 5-of-13 attempts from beyond the arc to open the year.
The ability to spread the court from the 21-year-old, along with a nearly flawless effort at the foul line, has paved the way to an average of 17.6 points per game, marking the third season in a row Parker has increased his scoring average.
Parker has converted 24-of-27 attempts at the free throw line, the ninth-highest average among players that have been to the foul line at least 25 times this year.
In FanDuel NBA leagues, the average player is valued at $6,667. Even though Parker has managed to tally at least 20 FanDuel NBA fantasy points in each of his seven appearances, he is still valued at $6,100.
Twice in the past week, Parker has managed to register more than 39 points in FanDuel NBA play, using a variety of ways to contribute.
Against the Pacers, the 6-foot-8 forward posted 27 points, eight rebounds and three assists. Two nights later against Sacramento, he logged 19 points, six rebounds, four steals and two assists.
Along with posting a career-high in scoring, he is dishing out 2.0 assists a night, the best of his career.
Parker has developed a special connection with Giannis Antetokounmpo, with 27 percent of his passes going to the guard.
For Parker to continue his evolution, he needs to become a more efficient scorer around the basket.
At the rim, Parker is able to produce, converting 32-of-48 attempts (66.7 percent) but if he is forced away from the basket, his percentage drops to an almost unimaginable.
When shooting between three and 10 feet away from the rim, Parker has made just 2-of-15 attempts (13.3 percent) with a majority of those shots coming from inside the paint.
If he made just 50 percent of his attempts from the same range, the scoring average from Parker would jump up to 19.2 points per game.
Parker has made major strides during this third season in the league, but until he is an effective scorer in the paint, he will continue to be undervalued in FanDuel NBA play.
Top Four Point Guards
Rationale:
The concerns about the jump shot of Emmanuel Mudiay are still there, as he has converted just 36.6 percent of his attempts this year, but he is showing signs of improvement. During the past two games, Mudiay has converted 18-of-31 attempts from the field (58 percent) while totaling 53 points. The other area of concern still needs to be addressed, as Mudiay is turning the ball over 5.1 times per game. Mudiay is an option in FanDuel NBA play, but carries plenty of risk.
Last season's leader in assists has struggled to connect with a new set of teammates. Rajon Rondo won his third career assist title last season by averaging 11.7 per game with Sacramento, but has dished five fewer assists a night during his first seven games with Chicago. Miami is one of three teams, along with the Lakers and Spurs, Rondo has averaged more than 10 assists per game during his career, and the Bulls are hoping he continues his penchant for playing well in nationally televised games against the Heat Thursday night.
Top Four Shooting Guards
Giannis Antetokounmpo ($9,600) vs. New Orleans Pelicans
Klay Thompson ($5,900) vs. Denver Nuggets
Lou Williams ($4,900) vs. Sacramento Kings
E'Twaun Moore ($4,400) vs. Milwaukee Bucks
Rationale:
It's not a lack of shot attempts, as Klay Thompson is shooting 17 times a night, the same rate as a year ago, that has limited the All-Star guard in the early portion of the season. Thompson is connecting on just 20.8 percent of his attempts from beyond the arc, New Orleans rookie Buddy Hield is the only player shooting at a lower percentage while attempting more than 25 shots from beyond the arc this season. Thompson looks to get back on track against Denver, a team he has shot 42.1 percent from 3-point range against during his career.
The Lakers backcourt features a trio of players producing strikingly similar numbers. D'Angelo Russell leads the team in scoring at 123 points, with Lou Williams right behind him at 122 and Jordan Clarkson has posted 121. Williams managed the point total while Russell (219 minutes played) and Clarkson (218) have spent an average of 32.5 more minutes on the floor this season.
Top Four Small Forwards
Rationale:
Any concerns about Jimmy Butler's lack of steal productivity were squashed in his last appearance. Butler has averaged over 1.5 steals per game each of the last three seasons, one of 16 players to accomplish the feat, but needed a strong showing in his last outing to boost his average to more than one per game. Butler recorded four steals Monday night, restoring his value in FanDuel NBA play, as he also dished out a season-high seven assists during a win over the Magic.
Danilo Gallianri is slowly becoming one of the most predictable performers in FanDuel NBA contests. The 6-foot-10 forward has spent at least 29 minutes on the floor each night, producing at least 15 points in all seven of his appearances and has failed to convert at least two shots from 3-point range just once this year. FanDuel players aren't accustomed to such consistency, as Gallianri has failed to total 20 fantasy points just once this year, and he still logged 19.9 in the contest.
Top Four Power Forwards
Anthony Davis ($10,900) vs. Milwaukee Bucks
Julius Randle ($6,200) vs. Sacramento Kings
Jabari Parker ($6,100) vs. New Orleans Pelicans
Terrence Jones ($4,500) vs. Milwaukee Bucks
Rationale:
Rest is a luxury Anthony Davis hasn't been able to enjoy this season. After eight games, the three-time All-Star has played fewer than 35 minutes just once, a statistic extremely beneficial for FanDuel NBA players. During the extended period of time on the floor, Davis has posted gaudy numbers, with 30.9 points, 11.5 rebounds, 3.0 blocks, 2.1 steals and 1.9 assists per game.
The Pelicans are in desperate need of a player that can produce alongside Anthony Davis. At times this season, Terrence Jones has provided some relief, such as the 19 points, seven rebounds and six assists he posted against Phoenix during his lone start this season. In the two games since his breakout performance, Jones has totaled just 11 points, six rebounds and one assist.
Top Four Centers
Rationale:
Sacramento does its best to involve DeMarcus Cousins as frequently as his usage rate of 34.7 percent ranks third in the league behind only Russell Westbrook and Damian Lillard. The frequency of Cousins' shot attempts and subsequent point production, as he is pouring in 25.8 a night, makes Cousins a strong center option for a FanDuel NBA roster each night.
The Bulls rotation has managed to open up additional minutes for Robin Lopez. After playing over 20 minutes just once in the first four games of the season, Lopez has logged at least 20 minutes in each of the last three games, resulting in averages of 8.3 points, 6.7 rebounds and 1.7 blocks per game. Lopez had a string of five consecutive games with two blocks snapped, as he managed just one block against Orlando Monday night.
Final Lineup
PG Stephen Curry ($8,900)
PG Tim Frazier ($5,500)
SG E'Twaun Moore ($4,400)
SG Lou Williams ($4,900)
SF Kevin Durant ($9,600)
SF Doug McDermott ($3,900)
PF Anthony Davis ($10,900)
PF Jabari Parker ($6,100)
C Jusuf Nurkic ($5,700)
This article originally appeared on