FanDuel NBA Daily Picks: Fantasy Basketball Lineup For December 7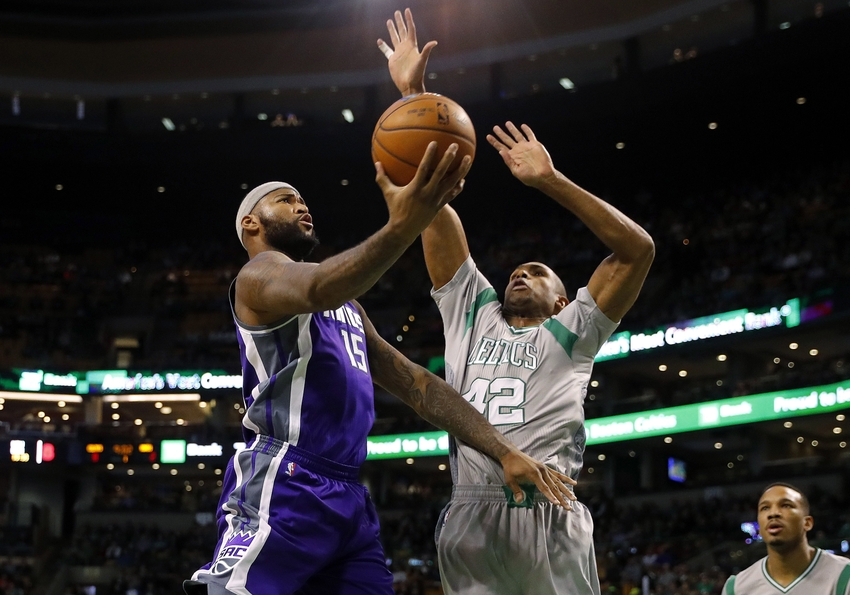 DeMarcus Cousins is averaging numbers the NBA hasn't seen in more than 15 years and has become the top FanDuel NBA option at center in the process.
Shaquille O'Neal purchased a minority share of the Sacramento Kings, mainly to serve as a mentor for two-time All-Star center DeMarcus Cousins.
Twenty games into the 2016-17 season, Cousins, along with Russell Westbrook and Anthony Davis, is posting scoring and rebounding numbers no player since O'Neal in his prime managed to tally.
By averaging 34.1 points per game over his last six outings, including five 30-point efforts, Cousins has raised his season scoring average to 29.1 points per game, the third-highest in the NBA.
With the scoring and a rebounding average of 10.5 per game, he is on pace to become the first player since O'Neal in 1999-2000 to post more than 29 points and 10 rebounds per game, joining just 13 other players in league history.
No player has averaged 30 points and 10 rebounds per game since Karl Malone in 1989-90, but Westbrook and Davis are both averaging those figures a quarter of the way through the season.
Cousins has scored 30 or more points in 10 of his 20 appearances, with seven coming in his last 10 games, largely because of a potent 3-point shot.
After connecting just 11 times from 3-point range during the first five years of his career, Cousins has evolved into a long range marksman, converting 38.3 percent of his attempts from beyond the arc, the second-highest percentage among all centers.
During his torrid scoring stretch over the past six games, Cousins has converted 19-of-42 attempts from 3-point range (45.2 percent), as the Kings are willing to allow him to shoot from anywhere, or as often, as he chooses.
Along with the incorporation of the 3-point shot into his game, Cousins leads all players in points per game scored in the post, contributing 6.3 each night.
The usage rate of 37 percent ranks second only to Westbrook, and his 21.6 shot attempts per game are the third-most in the league. Cousins has attempted at least 22 shots in each of his past six games.
Even with the exceptional averages of Cousins, the Kings have managed to win just seven times this season and rank 11th in the Western Conference, in danger of missing out of the playoffs for the 11th consecutive year.
The struggles in Sacramento once again have Cousins engulfed in trade rumors, as he is set to become an unrestricted free agent during the summer of 2018.
No matter which team he plays for, Cousins is a welcome addition to any FanDuel NBA roster, especially after his recent scoring stretch.
Cousins is just a 49-point effort away from joining an even more exclusive club, averaging 30 points and 10 rebounds per game, a feat O'Neal never achieved.
Top Four Point Guards
Rationale:
Damian Lillard has made a conscious effort to involve his teammates more over the past eight games, as he has dished out five or more assists in each game during the span. While he has maintained his usual scoring prowess, averaging 26.4 points per game, Lillard has increased his assist total to 7.6 assists, two more than his season average.
The season debut from Reggie Jackson was solid, even in limited minutes. After missing the first 21 games of the year after experiencing tendinitis in his left knee, Jackson poured in 18 points in 23 minutes against Orlando, then dished out seven assists Tuesday night against Chicago. Pistons coach Stan Van Gundy said Jackson will be on a minutes restriction, but even in limited time, he is worth considering for FanDuel NBA lineups.
Top Four Shooting Guards
Rationale:
Following a unimaginable 60-point performance in just 29 minutes against Phoenix, the value of Klay Thompson in FanDuel NBA tournament play has skyrocketed. The cost to add Thompson for Monday night was $6,200, but for Wednesday's game, he will soak up an additional $600 worth of cap space. Thompson shot 63.6 percent from the field and 57.1 percent from beyond the arc, so he is worth an add while he is still hot.
Phoenix is finding other ways to incorporate Devin Booker into the offense outside of his potent jump shot. While Booker has added 21 points per game over his last three contests, he has also dished out 4.3 assists per game, propping up his output in FanDuel NBA tournament play.
Top Four Small Forwards
Rationale:
Paul George managed to supplement his scoring, even as his shot wasn't falling, by continually drawing fouls against the Warriors Monday night. Even though he made just 4-of-12 attempts from the field, George managed to pour in 21 points, as he sank all 13 of his free throw attempts. The flawless effort moved George into the top place among all free throw shooters in the NBA, as he has converted 94.7 percent of his attempts this year.
Trevor Ariza is quietly thriving under the revamped offense in Houston. With the Rockets continually creating open looks on the perimeter, as the team is converting a league-high 13.9 attempts a night, Ariza ranks sixth individually with 59 conversions. Ariza is making a career-high 2.8 attempts from 3-point range a night and is shooting 38.1 percent from beyond the arc.
Top Four Power Forwards
Rationale:
A night of rest has paid huge dividends for Blake Griffin. Over the past three games, Griffin has been one of the highest performing players in FanDuel NBA tournament play, averaging 21.3 points, 10.3 rebounds, 6.7 assists and 1.3 blocks per game. Griffin has blocked two shots in consecutive games for the first time since Dec. 2014.
The value of Jabari Parker in FanDuel NBA play remains high, as he is averaging 18.8 points, 6.0 rebounds and 2.2 assists per game. Parker has even added steals as a consistent category, recording at least one in each of his past four games and with a season average of 1.2 per game, he ranks ninth among all power forwards.
Top Four Centers
DeMarcus Cousins ($11,100) vs. Dallas Mavericks
Hassan Whiteside ($8,900) vs. Atlanta Hawks
Tristan Thompson ($4,900) vs. New York Knicks
Kyle O'Quinn ($4,000) vs. Cleveland Cavaliers
Rationale:
Miami has been decimated by injuries, resulting in seemingly unlimited shot opportunities for Hassan Whiteside. Tuesday against the Knicks, Whiteside attempted a career-high 20 shots, resulting in 23 points, 14 rebounds and three blocks. Whiteside became the first player to total 300 rebounds this season, 27 more than second-place DeAndre Jordan, even though he has played one fewer game, and leads the league with an average of 14.9 per game.
There are plenty of minutes available for Kyle O'Quinn in New York, especially if he is as productive as he was Tuesday in Miami. O'Quinn logged 27 minutes, nearly twice as many as starting center Joakim Noah, resulting in 12 points on 6-of-8 shooting, seven rebounds, three assists and two blocks. Two games earlier, O'Quinn tallied 20 points,13 rebounds, two assists and two blocks and is worth considering as a value play in FanDuel NBA leagues.
Final Lineup
PG Chris Paul ($9,100)
PG Dennis Schroder ($6,200)
SG Sean Kilpatrick ($5,700)
SG Devin Booker ($5,900)
SF Trevor Ariza ($5,600)
SF Wilson Chandler ($6,200)
PF Dwight Powell ($3,900)
PF Trevor Booker ($5,900)
C DeMarcus Cousins ($11,100)
This article originally appeared on