FanDuel NBA Daily Picks: Fantasy Basketball Lineup For December 11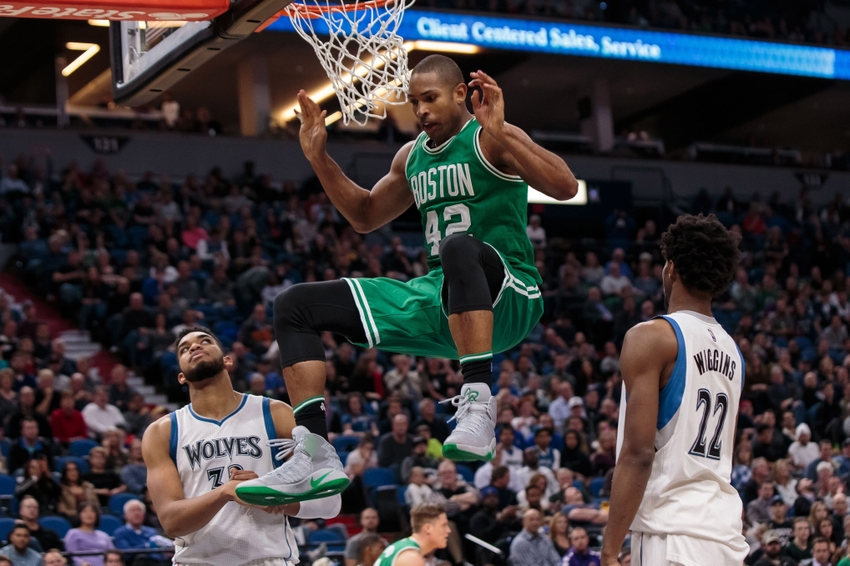 The absence of Isaiah Thomas has opened up assist opportunities for Al Horford and his prolific passing has transformed him into an elite FanDuel NBA prospect.
Typically centers in the midst of a stretch shooting 38.6 percent from the field won't increase their value in FanDuel NBA tournament play.
Boston Celtics center Al Horford has propped up his status as a premier FanDuel NBA player in the past week, even while struggling with his shot, by replacing injured All-Star point guard Isaiah Thomas as the facilitator of the offense.
A groin injury will prevent Thomas from playing Sunday night in Oklahoma City, and has forced him to miss the past two games, enabling Horford to create scoring opportunities for his teammates.
The tactic has worked, resulting in 7.7 assists per game in the last three outings, a dramatic increase over his time in Atlanta.
During his 10 seasons with the Hawks, Horford dished out eight or more assists just seven times in 578 career games.
In just 13 appearances with Boston, Horford has reached the eight-assist mark on three occasions, as he has developed an instant connection with shooting guard Avery Bradley, resulting in 1.5 assists a night.
When he hasn't been setting up teammates for easy looks at the basket, Horford can dash to the rim and throw it down.
The absence of Thomas has resulted in averages of 16.7 points, 7.7 assists, 6.3 rebounds and 2.7 blocks, generating three straight games with at least 33 points in FanDuel NBA tournament play.
Few players in league history have ever combined the ability to score, rebound, pass and block as frequently as Horford.
Giannis Antetokounmpo joins Horford as the only player in the NBA averaging at least 15 points, five assists, five rebounds and two blocks per game. Horford is posting 15.3 points, 6.5 rebounds, 5.3 assists (most among all centers) and 2.5 blocks per game.
In league history, only Kareem Abdul-Jabbar and Bill Walton have ever submitted the same figures.
Boston is relying on Horford to direct the offense, and with the increased workload, he is capable of tallying significant numbers in multiple categories — a perfect storm for FanDuel NBA success.
Top Four Point Guards
Russell Westbrook ($12,600) vs. Boston Celtics
Stephen Curry ($9,300) vs. Minnesota Timberwolves
Reggie Jackson ($5,700) vs. Philadelphia 76ers
Brandon Jennings ($4,900) vs. Los Angeles Lakers
Rationale:
Russell Westbrook is closing in on NBA history. After becoming the first player since Michael Jordan in 1989 to record seven consecutive triple-doubles, Westbrook is two games away from matching Wilt Chamberlain's record of nine straight triple-doubles. Westbrook is averaging 28.9 points, 13.6 rebounds and 13.0 assists per game during his seven-game run and simply needs to be included in any FanDuel NBA lineup.
Even though Brandon Jennings is playing nine fewer minutes than the starting point guard, Derrick Rose, in New York, he enters the 24th game of the season as the team leader in assists. The 5.2 assists per game ranks as the 23rd most in the NBA and his assist-to-turnover ratio of 2.67 is the 19th best in the league.
Top Four Shooting Guards
Avery Bradley ($6,700) vs. Oklahoma City Thunder
Klay Thompson ($6,700) vs. Minnesota Timberwolves
Zach LaVine ($6,100) vs. Golden State Warriors
Brandon Knight ($4,500) vs. New Orleans Pelicans
Rationale:
In league history, a player has averaged 3.0 made three-point shots a night just 18 times. Klay Thompson is looking to join the elite company for the third time in his career. Through 24 contests, Thompson is at 2.9 made three-point field goals and is five away Sunday night in Minnesota, a team surrendering 9.4 made shots from beyond the arc, from averaging 3.0 for the season.
Brandon Knight may not be in the starting lineup for Phoenix, but he is still receiving steady playing time. In each of the past five games, Knight has spent at least 22 minutes on the court, resulting in 15.2 points, 3.8 rebounds, 3.2 assists and 0.8 steals per game. In FanDuel NBA play, his averages have resulted in 25 or more points three times during the five-game stretch, making him an excellent value play.
Top Four Small Forwards
Kevin Durant ($10,200) vs. Minnesota Timberwolves
Carmelo Anthony ($7,700) vs. Los Angeles Lakers
Jae Crowder ($5,400) vs. Oklahoma City Thunder
Brandon Ingram ($4,400) vs. New York Knicks
Rationale:
It's been eight games since Carmelo Anthony has shot 50 percent from the field or higher, but he found a different way to generate points Friday night in Sacramento. Anthony poured in 33 points, his second highest total of the season, by continually earning trips to the foul line. The 14 free throw attempts, and 12 conversions, both marked season-highs for Anthony.
The Lakers have played Brandon Ingram for 25 or more minutes in each of the past 11 games, resulting in 10 points, 5.0 rebounds and 2.1 assists per game. With six performances of 20 or more FanDuel NBA tournament points in the 11-game span, Ingram is a perfect complementary option for rosters boasting multiple high dollar players.
Top Four Power Forwards
Draymond Green ($8,200) vs. Minnesota Timberwolves
Kristaps Porzingis ($7,400) vs. Los Angeles Lakers
Julius Randle ($6,400) vs. New York Knicks
Nerlens Noel ($6,000) vs. Detroit Pistons
Rationale:
The rebounding numbers have significantly fallen off for Draymond Green this season. After pulling down 10 or more rebounds six times in his first eight games, Green has posted a double digit rebounding effort just twice in the past 15 games. Even though Green's rebounding numbers are 1.1 below his average from last season, he has maintained his value in FanDuel NBA tournament play by routinely swiping the ball away. The 2.3 steals per game Green is averaging ranks second only to Chris Paul this season.
Philadelphia desperately needs rim protection and after missing the first 23 games of the year recovering from knee surgery, Nerlens Noel is ready to block shots. After finishing 15th in the league, at 1.5 per game, Noel is ready to make up for the point differential between when center Joel Embiid plays. With Embiid in the lineup, the 76ers have a defensive rating of 96.4, but 108.1 when he sits.
Top Four Centers
Andre Drummond ($8,400) vs. Philadelphia 76ers
Al Horford ($7,700) vs. Oklahoma City Thunder
Tyson Chandler ($4,900) vs. New Orleans Pelicans
Jahlil Okafor ($4,900) vs. Detroit Pistons
Rationale:
An early ejection in Charlotte, the result of a Flagrant-2 foul, has sparked Andre Drummond. In the six games since elbowing Roy Hibbert, Drummond has posted 17.8 points, 15.5 rebounds, 1.7 blocks and 1.3 assists per game. During a victory over Minnesota, Drummond matched a season-high with eight offensive rebounds Friday night. The Pistons have greatly benefited from the offensive rebounding of Drummond, as he ranks third in the league by averaging 3.0 points per game off put-backs.
The stomach flu kept Jahlil Okafor out each of the past three games, but he's expected to return to the floor Sunday in Detroit. Okafor has averaged 17.5 points while shooting 57.1 percent from the field against the Pistons in his career. There are no minutes restrictions placed on Okafor, as Joel Embiid will be out with a inflammation in his elbow.
Final Lineup
PG Russell Westbrook ($12,600)
PG Reggie Jackson ($5,700)
SG Brandon Knight ($4,500)
SG Zach LaVine ($6,100)
SF Jae Crowder ($5,400)
SF Brandon Ingram ($4,400)
PF Nerlens Noel ($6,000)
PF Kristaps Porzingis ($7,400)
C Al Horford ($7,700)
This article originally appeared on