FanDuel NBA Daily Picks: Fantasy Basketball Lineup For December 1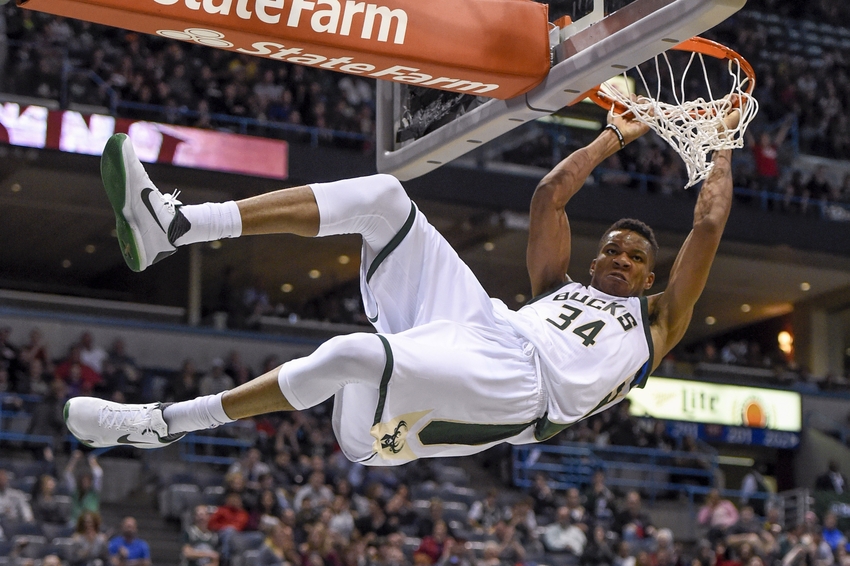 The presence of Giannis Antetokounmpmo is perhaps the primary reason the Milwaukee Bucks selected the hashtag #OwnTheFuture. Tuesday night against the Cleveland Cavaliers, Antetokounmpo owned the night and solidified his status as a top-tier FanDuel NBA talent.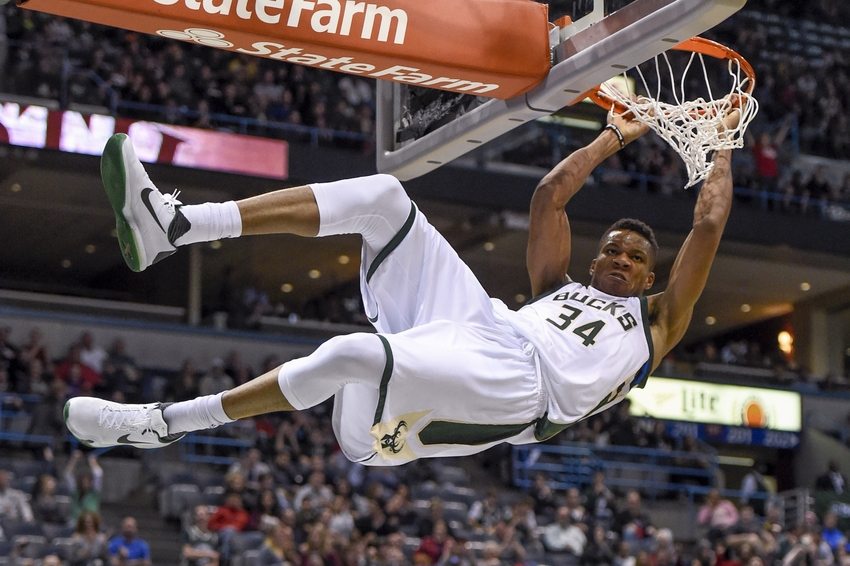 There are plenty of numbers to depict just how much of an impact Giannis Antetokounmpo provides the Milwaukee Bucks.
In his fourth season, Antetokounmpo is leading the Bucks in points, rebounds, steals and blocks per game, and is 0.4 assists a night behind Matthew Dellavedova for the team lead in that category.
As the lone player in the league averaging at least two blocks and two steals per game this year, Antetokounmpo is looking to join Gerald Wallace, David Robinson and Hakeem Olajuwon as the only players to accomplish the feat for a season.
The league didn't officially being tracking blocks and steals until the 1973-74 campaign.
At the beginning of the season, Bucks coach Jason Kidd turned point guard duties over to the 6-foot-11 player out of Greece and he has submitted numbers only Kareem Abdul-Jabbar has averaged for a season.
Antetokounmpo is on pace to accompany the all-time leading scorer in league history as the only player to average at least 20 points, eight rebounds, five assists and two blocks for a season.
Nearly a quarter of the way through the season, Antetokounmpo ranks fifth in blocks and sixth in steals, with both figures at 2.1 per game.
Tuesday night against the defending champion Cleveland Cavaliers, the point total from Antetokounmpo matched his jersey number, 34, tying a career-high as he continually weaved his way to the rim.
Twelve of the 13 made shots from the field came right at the rim for Antetokounmpo, with the other coming from behind the arc.
The 34-point, 12-rebound, five-assist, five-steal, two-block performance from Antetokounmpo not only accounted for a season-high 63.9 points in FanDuel NBA tournament play, but also handed the Cavaliers a 17-point loss, their most lopsided defeat in their last 28 regular-season games.
Perhaps the most impressive statistic associated with Antetokounmpo is 21, his age.
Milwaukee has already locked Antetokounmpo into a four-year, $100 million extension beginning next season, believing he can continue to progress even more than the 22.8 points, 8.6 rebounds and 5.9 assists per game he is averaging.
His impact in Milwaukee extends even further, considering the 15.2 points per game he creates with his passing, or the 13.9 percent difference in field goal percentage his presence makes when defending shots within 10 feet of the rim.
Few players are capable of making a solid impact in every FanDuel NBA category and Antetokounmpo is carving out statistical combinations rarely seen.
Top Four Point Guards
Rationale:
Any time the Hornets are in desperate need of some points, the team just clears out and lets Kemba Walker create. The result has been 21 jumpers from 16 feet out to the 3-point line, with only one shot coming off an assist, at a conversion rate of 42.9 percent. Walker has become one of the premier crunch-time scorers in the league, averaging 4.9 points per game in late game situations, the sixth most in the NBA.
Miami has kept Goran Dragic on the floor for more than 72 minutes in the past two games, resulting in just one turnover during the span. While his play has been nearly flawless, an added bonus for a FanDuel NBA roster, Dragic has routinely generated points for the Heat, averaging 21.5 points, 12 assists, 2.5 rebounds and a steal per game. Dragic is averaging 6.6 assists per game, the second highest total of his career.
Top Four Shooting Guards
Giannis Antetokounmpo ($10,300) vs. Brooklyn Nets
Nicolas Batum ($6,500) vs. Dallas Mavericks
Klay Thompson ($6,100) vs. Houston Rockets
Sean Kilpatrick ($5,700) vs. Milwaukee Bucks
Rationale:
The Warriors have won 12 consecutive games, no coincidence that the shots have been falling from Klay Thompson during the streak. The two time All-Star has connected 3.4 times from 3-point range, up from his season average of 2.8 conversions, and is averaging 23.1 points per game, 2.4 more than his average for the year. Thompson is shooting a career-high 47.7 percent from the field, even as his 3-point shooting of 36.5 percent from beyond the arc, the worst percentage of his six-year career.
Ever since he was limited to three points on 1-of-9 shooting from the field against Portland, Nets guard Sean Kilpatrick has been one of the most potent scorers in the league. Over the past four games, Kilpatrick is averaging 24.8 points per game and is coming off the finest performance of his career. During an overtime victory against the Clippers, Kilpatrick totaled 38 points, 14 rebounds and four conversions from 3-point range, all career highs.
Top Four Small Forwards
Rationale:
In his 10th season, Kevin Durant has quietly evolved into a legitimate shot blocking presence during his first season with the Warriors. Durant is limiting opponents to 40.3 percent shooting at the rim, the lowest among all players averaging more than 1.5 blocks per game this season. Along with his 1.6 blocks per game, Durant is posting 27.1 points, 8.4 rebounds, 4.7 assists and 1.6 steals per game, ideal for any FanDuel NBA roster.
The last time Cleveland was blown out in regular season play, LeBron James was unstoppable the next time he stepped onto the court. After losing to the Heat by 21 points last March, James posted 33 points, 11 rebounds and 11 assists against Denver. James began to press during a 17-point defeat to Milwaukee, resulting in seven turnovers. A more relaxed James will be dangerous against the Clippers, a team he has averaged 24.2 points, 7.1 assists and 6.8 rebounds per game.
Top Four Power Forwards
Rationale:
To prepare for Wednesday's game against the Cavaliers, Clippers coach Doc Rivers opted to rest Blake Griffin Monday in Brooklyn, the first time he has sat out a game this year. Los Angeles fell in double overtime, resulting in DeAndre Jordan and Chris Paul to spend more than 40 minutes on the court and with Griffin well rested, he could see more scoring chances than the 15.4 shots he has attempted each night this season.
An additional seven minutes a night on the floor has resulted in 2.7 additional rebounds per game from Trevor Booker. The 8.4 rebounds a game from Booker stands as the 23rd most in the league and is a higher figure than LeBron James, Paul Millsap, Myles Turner and Kristaps Porzingis. Booker has posted seven double-doubles this season, matching his total amount of double-doubles in the past two years.
Top Four Centers
DeAndre Jordan ($7,000) vs. Cleveland Cavaliers
Nikola Vucevic ($6,900) vs. Memphis Grizzlies
Tristan Thompson ($5,000) vs. L.A. Clippers
Andrew Bogut ($4,500) vs. Charlotte Hornets
Rationale:
The formula for DeAndre Jordan is pretty simple, collect offensive rebounds and slam the ball. Sixty two percent of his made field goal attempts have come off jams and his 52 dunks this season are the most in the NBA. Tuesday in Brooklyn, Jordan pulled down five offensive rebounds and 18 defensive rebounds. The 23 total rebounds tied Andre Drummond for the second highest single game performance this year and provided exceptional value in FanDuel NBA play.
Typically players with a season-high scoring performance of six points are to be avoided in FanDuel NBA tournament play, but Andrew Bogut has found other ways to contribute in Dallas. Bogut has pulled down 10.6 rebounds per game, the 10th most in the league, is dishing out 2.4 assists and a block per game, resulting in five consecutive outings with 20 or more FanDuel NBA tournament points.
Final Lineup
PG Kemba Walker ($8,000)
PG Goran Dragic ($6,800)
SG Giannis Antetokounmpo ($10,300)
SG Sean Kilpatrick ($5,700)
SF LeBron James ($9,700)
SF James Harden ($4,500)
PF Ryan Anderson ($4,400)
PF Trevor Booker ($5,900)
C Andrew Bogut ($4,500)
This article originally appeared on