Fandom 250: DubNation among the best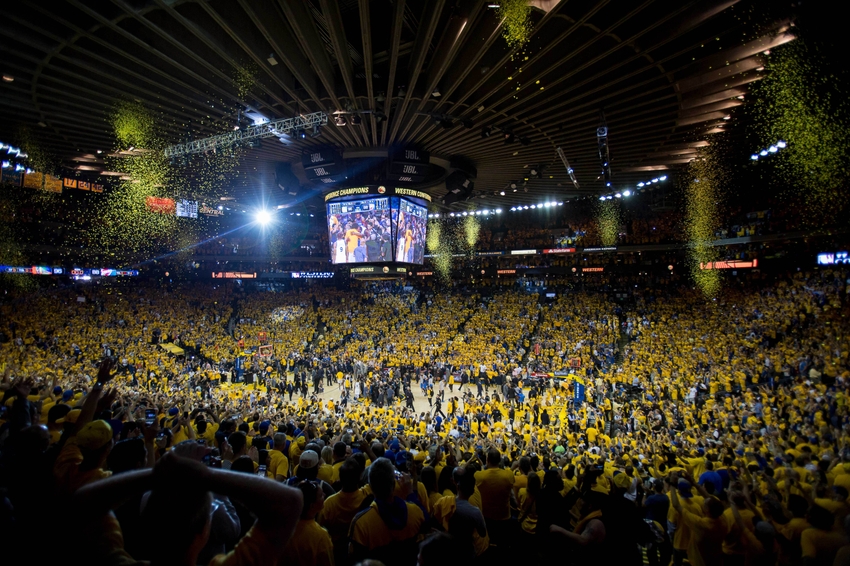 DubNation, the Golden State Warriors' rabid and expansive fanbase, has been ranked among the best for FanSided's Fandom 250.
We've got some great news for #DubNation. FanSided is ranking 250 of the best fanbases across sports, entertainment, and lifestyle and the Golden State Warriors' rabid supporters made the cut (check out the other 9 on this short list here). It's called FanSided's "Fandom 250."
Now, 250 seems like a big number, but it's really not once you start adding in professional sports with colleges and TV shows with movies and so on and so forth. The fact that the Warriors' fanbase made it to the top 250 is no ordinary feat. It's a testament to how awesome DubNation really is.
Golden State fans absolutely deserve to be recognized as one of the best groups around. Even when the team was awful, Oracle Arena still had great attendance. Now that they're the best team in the league? There's a few more people hanging around the team, every home game is still a party.
But #Dubnation is more than just filling the seats at Oracle in bright yellow t-shirts screaming for every Steph Curry three. Warriors fans takeover opposing arenas making nearly every game a home game. Check the stands whenever Golden State goes on the road–it's no. 30 jerseys everywhere.
Being a Warriors fan is a lifestyle. It's about flooding the internet with arrogant tweets. It's about blaming things that go wrong in their personal life on Kyrie Irving and Kevin Love not being healthy. It's about rocking Under Armour shoes and carrying "Free Draymond" signs. Steve Kerr loves the slogan "Strength in Numbers" and, while it's not always a great mantra for setting rotations, it holds true when talking about the boost Warriors' fans give the team.
The team and the fanbase have a unique relationship in which they feed off each other. They've formed a communal identity and guiding principle: have as much fun as possible. Now, I haven't watched every sports team or every show, but I doubt you can find fans that have more fun than Warriors supporters.
The full rankings come out December 6 on the FanSided main site.
More from Blue Man Hoop
This article originally appeared on