Evaluating Avery Bradley's Shot Selection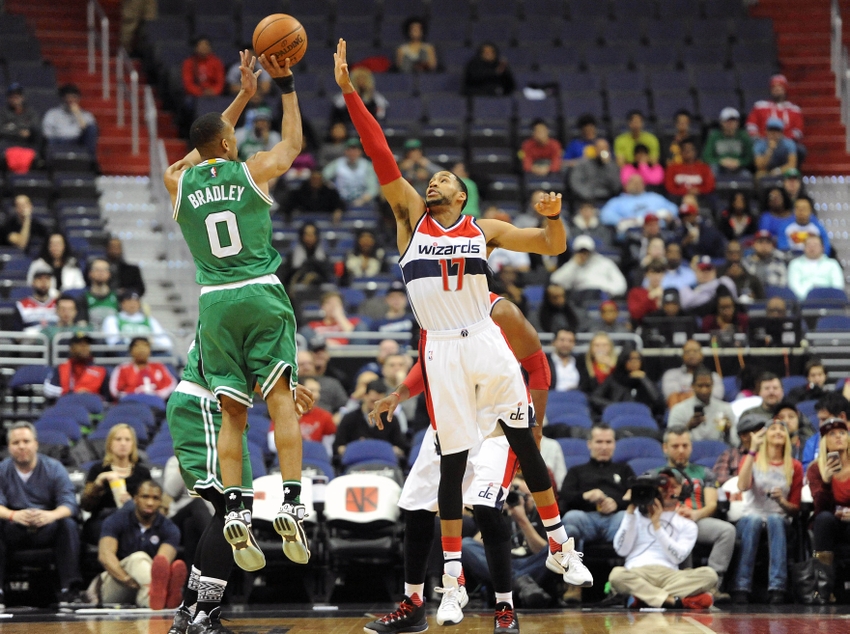 Evaluating how Avery Bradley can improve his shot selection
Avery Bradley is one of the Boston Celtics' better shooters. However, that isn't a particularly difficult thing to achieve on a roster full of middling shooting talent. In the context of the full league, Bradley rates out as about average. That doesn't sound like high praise, but given Boston's shooting woes, it is incredibly valuable.
In fact, if all of the Celtics shot as well as Bradley does, the team would average 1.5 more points per 100 possessions. That may not seem substantial on its face, but with a team as talented defensively as Boston is, every little bit of offense makes them more formidable.
More from Hardwood Houdini
Despite his position atop the Celtics' shooting food chain, Bradley has the potential to become a significantly more valuable offensive threat, and he doesn't even need to add much to his game. Simply redistributing some of his shots would create an offensive uptick in Bradley's game. An upsetting 30.9 percent of Bradley's shots come from between 16 feet and the three-point line, looks that he converts at 38.7 percent rate. That's 4.14 shots per game used to generate 3.2 points.
The 39.9 percent of Bradley's shots that come from behind the three-point line represent 5.35 shots for 5.79 points each night. In sum, Bradley averages 0.77 points every time he shoots a long two, versus 1.08 whenever he takes a three. He actually converts those threes at a lower rate, but their relative value is enough to make them more meaningful regardless.
If Bradley were to redistribute all of those long twos as three-pointers, he would increase his points per game average by 1.25. That may not seem like all that much, but the Celtics only outscored their opponents by an average of 3.2 points per game. Tacking on 1.25 more would boost that margin by 39.1 percent.
This all sounds great on paper. If a player can increase his offensive output simply by taking different shots, it would seem like a logical conclusion to do so. Making it happen, in reality, is a more challenging task. The Celtics love to run Bradley off of screens that leave him open just inside the three-point line, the same is true of dribble handoffs. Theoretically, those plays could simply occur behind the arc, but it's possible that Bradley isn't as comfortable taking three-point shots out of those actions as he is simply catching and shooting.
Teams are also far more likely to concede shots just inside the three-point line than just beyond it, and that is really the crux of the problem. Even if Bradley is making 16-19 foot jumpers relatively consistently, unless he's doing that at a truly elite level, the Celtics are playing into their opponents' hands.
Smart teams want the offenses they are facing to take shots as far from the basket as possible, without the added advantage of an extra point. Boston does a great job of moving the ball around the floor and forcing defenses to react to that movement, but if the final outcome is a deep two from anyone, not just Bradley, then they've failed to capitalize on that activity in the most impactful way, open shots near the rim or behind the three-point line.
Bradley's over-reliance on long jumpers isn't just an individual problem. It's a confluence of coaching, roster context and ability. Getting Bradley an open look from 18 feet is often a safety valve for an offense that lacks the means of getting better shots. It isn't perfect, but it's more appealing than the turnover or contested three-pointer that the Celtics would likely generate with other approaches.
It is possible all of this will change with the addition of Al Horford. His shooting, passing and threat as a post up player will breathe significant amounts of space into Boston's offense, and may mean less need for Bradley to bail out his teammates on that end of the court. Regardless, Bradley's defense is good enough to make him a very valuable player even if his shot distribution remains unchanged. That doesn't mean it shouldn't be considered.
The Celtics need more talent if they want to compete in a truly meaningful way. That can be added externally, or come from gains in play by current players. Every avenue should be explored, and reallocating shots is a simpler process than teaching someone an entirely new skill. Bradley can shoot the ball, he just needs to be careful about where he shoots it from.
This article originally appeared on