ESPNs Zach Lowe Interviewed Earl Watson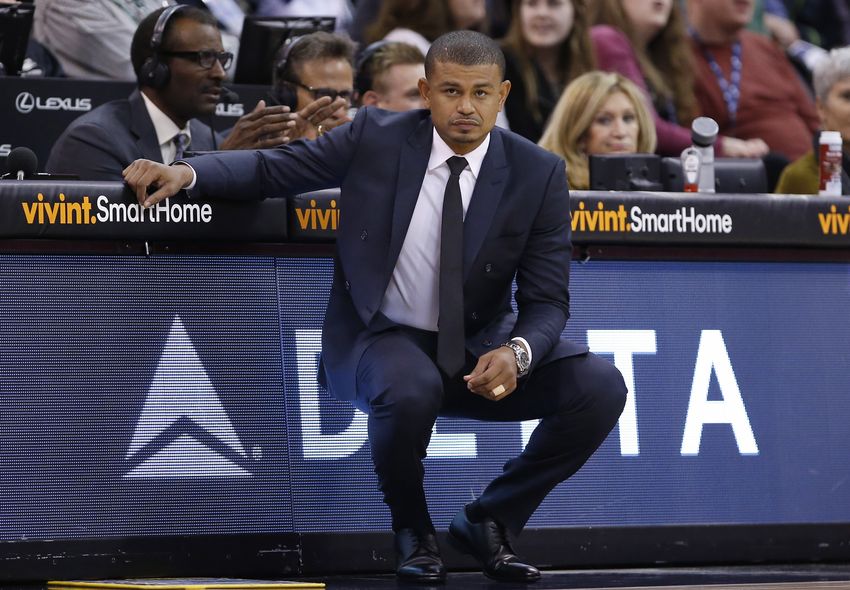 ESPN Senior Writer Zach Lowe sat down with Phoenix Suns Head Coach Earl Watson, now the second youngest head coach in the NBA.
Lowe asked Watson about his basketball life, the current Phoenix Suns team, his recent comments about marijuana in response to Golden State Warriors Head Coach Steve Kerr, his thoughts on college basketball and the NBA's age limit, and more. To read the full interview, I have attached it here.
A must read for all Phoenix Suns fans, Watson is still high on the Suns' chances of making the playoffs and discusses a lot of what he sees and thinks about the current Suns team.
Here are my thoughts on his statements about the 2016-17 Phoenix Suns:
Watson Wants to Make the Playoffs This Season – I am glad Watson said that. I want him to try to coach this team to the playoffs. I want to believe that they are not as far away from contending as they apower, and Watson even states that at 6-16 he still believes the Suns can turn the corner and sneak in.
Unfortunately this is not the case, although I am glad that Watson at least says this in public. No coach, player, or management officia should ever publicly state that they do not expect to make the playoffs. The organization should be honest and admit that it will be an uphill climb, but that they are always shooting for the postseason.
In Phoenix however, barring a Christmas Miracle, the Suns are not making the 2017 playoffs.
Watson Believes that Tyler Ulis will be a Head Coach – That is cool, but hopefully he will be a team captain first. When I watch Ulis I do believe that he is a leader. However, I just don't get to see him enough. As much as I like and respect Leandro Barbosa, I wish that Ulis was the first backup point guard off the bench. I love his scoring ability, his defensive energy, and his control with the ball. Hopefully he can get more playing time later this season, although I fear that he will remain limited throughout.
Watson DIscusses Dragan Bender's Defense – I have felt all season that Bender should have regular rotational minutes if nothing more than for his defense. He is exciting to watch because he is energetic and active, something the Suns have not had from an athletic 4 in a long time. But at the same time, he's raw and makes mistakes that all rookies are going to make. Therefore, let him make those mistakes now and not later. Bender should be playing against the best talent his can his rookie year, setting him up for growth so that next year he is not quite as far behind.
I am of the belief that Alex Len's injuries his rookie and sophomore years, coupled with the addition of Tyson Chandler (who is one of my all-time favs so not a complaint about him) has hurt his development tremendously. This is why, as he is playing in this, a contract year, there are still questions about who Alex Len really is as an NBA center, and if is he worth an long-term, expensive, extension.
If Dragan Bender and Tyler Ulis are not given enough time this season, and are maybe held back again next season, their development will undoubtedly be slowed – especially Dragan since he is dealing with a lot more than the average AAU kid out of college – and we may get into their contract years and still not know if they are NBA caliber talent and/or worth an extension.
Follow Valley of the Suns on Twitter at @ValleyOfTheSuns and on Facebook at Facebook.com/PhoenixSunsBlog
Want your voice heard? Join the Valley of the Suns team!
Can Bledsoe, Booker, and Knight Play Together – This is part of a lineup combination that we see a lot, especially in the fourth quarter. They are three of the team's best players, so a head coach would be stupid to not play their best players in the time when it matters most.
However, that is a small lineup when Booker is at the 3 and becomes a defensive liability.
Watson notes that "they played well together against Portland, because the Blazers are small." Great. They played well against one team. There are 28 other teams that the Suns have to compete against and in the NBA size matters, especially on defense.
There is little doubt that Brandon Knight will be traded at some point, whether it be during this season or the offseason. However, in the meantime, a backcourt of Bledsoe and a Knight, with Booker at the 3, is just not going to be effective against most teams in the NBA.
And while there is a multitude of reasons for why the Suns are 6-16 right now and the three-guard lineup cannot fairly be blamed for the Suns' record, it is certainly one of the reasons.
Watson Wants More Threes – This one perplexed me some. Watson said he wants the team to
More from Valley of the Suns
shoot more three's, and then says they have to make more three's. Just by the simple law of averages alone, if the Suns shot more three's, they would make more three's. So then why do they not shoot more threes? Watson can easily direct the team to take more outside shots, or even change the offense enough where the three-point shot becomes a more integral part of the offense.
The Suns are an average three-point shooting team in that they take only a moderate number of them. They are, however, a terrible three-point shooting team in that they are at the bottom of the league in shooting percentage. There are ways of helping this, but I believe the simplest method is setting up the offense for transition threes to be a bigger part of the game plan where a shooter takes the shot in rhythm – whether off the dribble or immediately following a pass – which should account for a higher percentage of threes made, as well as taken.
Watson discussed more about the Suns, and much more about his life in basketball. I highly recommend reading the interview and would love to see your thoughts on what he said.
Valley of the Suns fans, give us your thoughts! Tell us what you think by commenting on the post below!
Follow Valley of the Suns on Twitter at @ValleyOfTheSuns and on Facebook at Facebook.com/PhoenixSunsBlog
Want your voice heard? Join the Valley of the Suns team!
This article originally appeared on