Eric Gordon Finally Hitting His Stride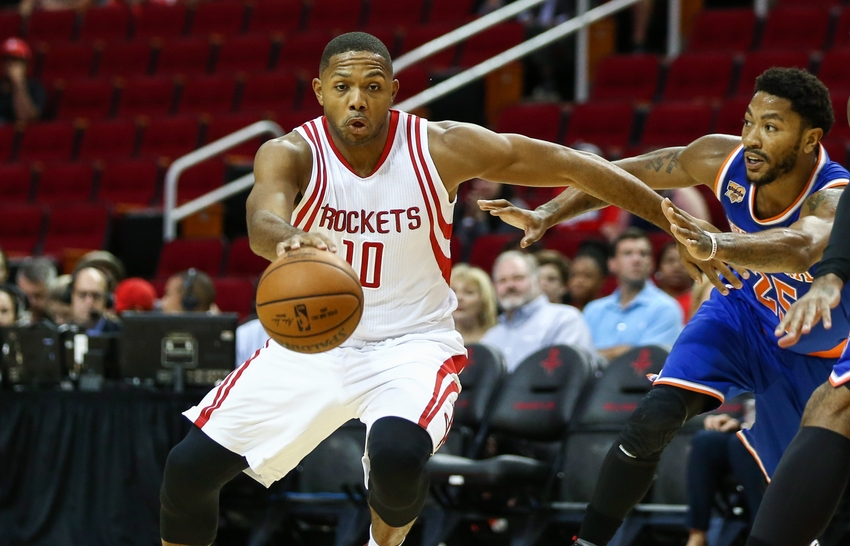 Once upon a time, Eric Gordon was the NBA's next great shooting guard. After years of setbacks, he's finding his role with the Houston Rockets at age 27.
It's easy to forget that Houston Rockets guard Eric Gordon was once a star in the making. At one time, he was the favorite to follow in the footsteps of Kobe Bryant and Dwyane Wade to take the mantle as the league's best shooting guard.
Due to injuries, team issues and various missteps, it never happened. Gordon turns 28 this Christmas and it's unlikely that Gordon ever fulfills the promise that he once had.
Once the centerpiece of the package that netted the Los Angeles Clippers Chris Paul, Gordon has flown under the radar after years of being unable to stay on the court or be the player he was projected to be when he was on it.
In his first season with the Rockets, Gordon's showcasing the skills that once had him touted as a future star.
Since his rookie season, Gordon has never played more than 64 games and has had three seasons in which he's appeared in 45 or fewer games.
With a new team, Gordon has looked reinvigorated. Averaging 16.6 points per game while mostly coming off the bench, Gordon has been one of the more important reasons why the Rockets are 14-7.
Over the past five games, Gordon has looked liked the player he was supposed to be. He's averaging 22 points per game on 50.7 percent shooting, including shooting 50 percent on a whopping 8.8 three-point attempts a night.
It's a long NBA season and five-game samples aren't enough to take meaningful observation from. However, his recent play isn't a mirage. It's more of a minor uptick from the level he's been playing at so far.
Specifically, Gordon has thrived as the team's scoring specialist off of the bench.
The Rockets are 10-3 in games that Gordon comes off the bench, which have included wins over the Golden State Warriors, San Antonio Spurs and Boston Celtics.
In those games, Gordon has been crushing it as the go-to scorer when James Harden rests.
Without Harden next to him, Gordon's usage rate skyrockets up to 32.3 percent, a rate that would rank seventh-highest in the league. Even with such a high usage, Gordon's been efficient.
Gordon has scored 158 points on 121 field-goal attempts in those minutes and has a true shooting percentage of 59.4, which would rank tied for 11th in the league.
The Rockets rely on Harden as much as any team in the league depends on a single player with the possible exception of the Oklahoma City Thunder do with Russell Westbrook.
It's not healthy for a team to rely heavily on a single player, but with Gordon manning the scoring responsibilities and allowing Harden to take a breather without the offense falling apart, Gordon is extremely important to the Rockets' success.
The team and scheme have been a great fit for Gordon after years of wallowing in New Orleans.
It's hard to quantify, but Gordon just looks more explosive, engaged, and athletic.
His quickness and bounce that was a huge part of the reason he was such a good scorer when he came into the league (22.3 points per game in his third season at age 22) has looked nonexistent over the past few years.
Whether he's truly healthier or more confident in his athletic ability, it's refreshing to see that still in his game.
Due to that added bounce and the spacing that Mike D'Antoni's offense creates, Gordon's been better at getting to the rim and finishing.
His shot distribution has stayed mostly the same despite the change of scenery and scheme that came with the change. However he's finishing more at the rim.
His ability to get his own shot and break down defenders off of the dribble has been great as of late.
The explosiveness in addition to his silky smooth jumper is what makes him such a scoring threat. In D'Antoni's scheme, he gets to maximize both of those skills. With Harden, he becomes another catch-and-shoot threat.
According to nbawowy.com, Gordon has hit 30 three-pointers when sharing the court with Harden. Harden's assisted in 22 (75 percent!) of them.
The Rockets are built around Harden and some wondered how Gordon would fit next to another natural shooting guard who will dominate the ball and need his shots.
It's still early in the season, but Gordon has shown that the fit couldn't be much better. He's capable playing next to Harden and his scoring punch allows the Rockets to maintain productivity when Harden needs a breather.
After years of false starts, Gordon has finally found his fit in Houston.
More from Hoops Habit
This article originally appeared on