Enes Kanter: Breaking Down the Mystery Behind His Lack of Playing Time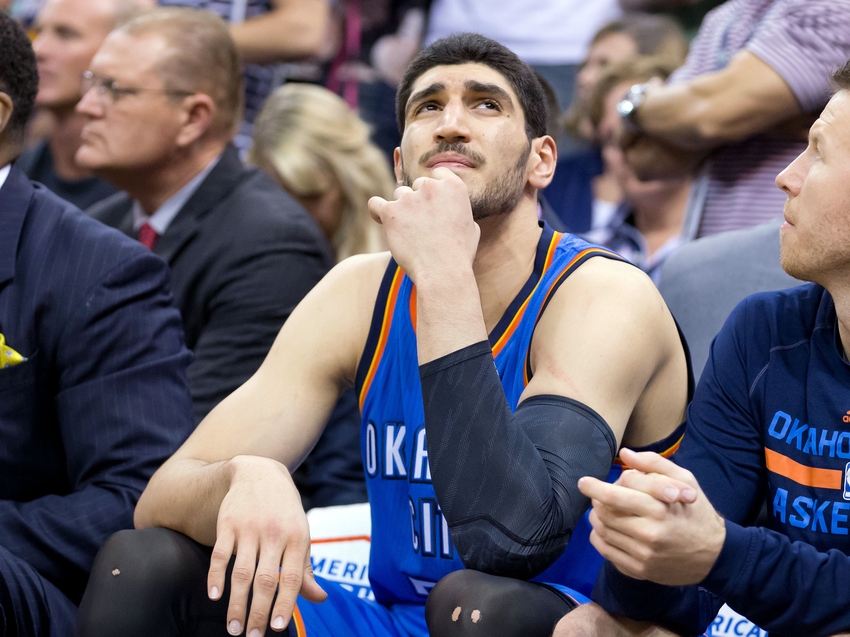 Enes Kanter helped the Thunder beat the Knicks last night, recording 27 points and 10 rebounds in 28 minutes. That's amazing production, so why doesn't he play more?
Some say that Russell Westbrook is one of the biggest enigmas in the NBA, but I'd argue he doesn't even win that title on his own team. Enes Kanter is the recipient of that award.
Through 19 games, Kanter is averaging almost 13 points and 6 rebounds a game while only playing 19 minutes per game. Kanter's 24.37 Player Efficiency Rating ranks 20th in the entire NBA. He's shooting almost 57% from the field. On a team with very few offensively skilled players, Kanter has been a bright spot for the Thunder.
Especially last night against the Knicks.
Kanter hit 12 of his 17 shots, absolutely dominating New York's second-unit in the paint. He played so well that coach Billy Donovan kept him in to close the game; that meant Enes had to guard Kristaps Porzingis. And this is where it gets crazy…
It worked.
After scoring 21 points, Porzingis was held scoreless the last five minutes of the game. If there's one flaw in The Unicorn's game, it's his lack of strength. Kanter was able to exploit that on both ends of the court, keeping Porzingis out of the paint on defense and bullying his way to two offensive rebounds/putbacks. But this wasn't supposed to happen.
Going into the game I figured Kanter would only play sporadically. The Knicks like to play a smaller lineup and that has always been Kanter's weakness. A quick look at Enes' game log highlights that: 3 minutes against Golden State, 13 minutes against Brooklyn, 12 minutes against Phoenix. It's not that Billy doesn't want to play Kanter, it's that he can't.
Want your voice heard? Join the Thunderous Intentions team!
Kanter's offensive game is all-star level, but his defensive ability has always kept him off the court. His positioning was terrible and he jumped at almost every fake; that's changed this season. Kanter's .8 blocks per game (still not a lot) is double his career average. His 106.4 defensive rating is four points lower than his rating two seasons ago.
More from Thunderous Intentions
All signs point to Enes Kanter deserving more minutes, but that hasn't been the case. Blame Sam Presti for that one. When Presti traded for Joffrey Lauvergne it meant the Thunder would have four legitimate big men in the rotation. Simply put, the minutes aren't there for Kanter.
Lauvergne fits better playing with the starting unit because he stretches the floor with his 40% three-point percentage this season. The organization has high hopes for rookie Domantas Sabonis so he is going to play more for the experience. And Steven Adams is Steven Adams.
Enes Kanter deserves more minutes, but they simply aren't there on this team. As the season progresses, we will see more of him against small-ball lineups however because he is proving himself capable of guarding out to the three-point line.
Even with mediocre defense, Kanter's offensive game is way to potent to play him less than 20 minutes a night. With the improvement he has shown on the defensive end, Kanter is making the case to up that average.
This article originally appeared on