Embiid, Whiteside Had Conversation About NBA Centers During Game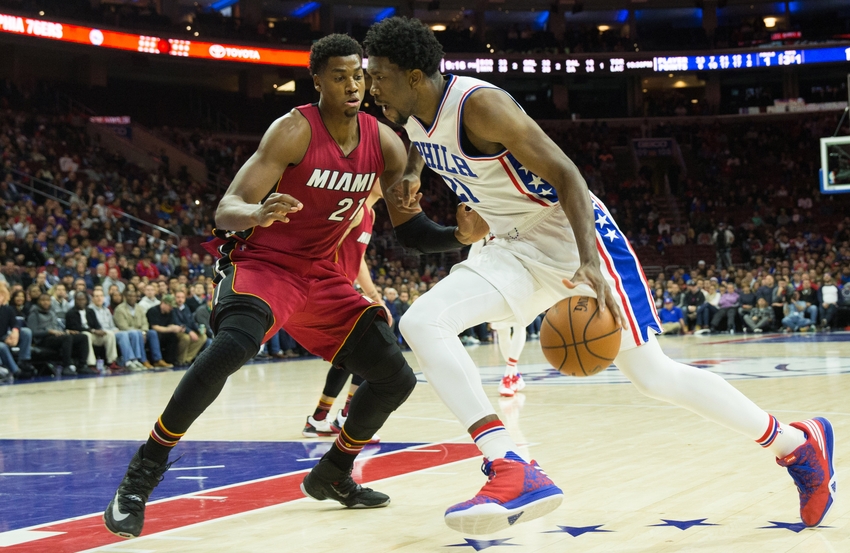 Philadelphia 76ers rookie center Joel Embiid and Hassan Whiteside had a brief conversation about how centers are taking over the game in the closing seconds of Monday's Sixers win.
After the Philadelphia 76ers beat the Miami Heat on Monday night, Hassan Whiteside was asked by the media about how he rarely has nights off against centers around the league, and how it seems like centers are up and coming.
.@youngwhiteside says people who think the NBA has moved away from big men aren't watching matchups like he had with Joel Embiid on Monday. pic.twitter.com/iHiDD8MUbS

— FOX Sports Florida (@FOXSportsFL) November 22, 2016
He was also asked about how some people are critical of centers nowadays, and how centers are under a lot of scrutiny for being a "dying position."
More from The Sixer Sense
"I don't know who [the critics] are. They don't watch basketball if they think it's not centers. I don't have a day off at the center position," Hassan said after his tough battle with Embiid.
Whiteside closed monday night's game with a career-high 32 points, but failed to lead the Heat to a win. Embiid had 22 points and 5 rebounds.
On top of talking about the misinformed critics of the center position, he talked about a conversation he and Embiid had at the end of the game.
Whiteside even had high praise for Jahlil Okafor, who came off of the bench and scored 15 points.
"You know, even Embiid at the end of the game, was talking about how we bringin' back the centers… Last ten seconds of the game he was just talking about bonging back the center position, you know, how many great centers it is, how well I was playing. I agree totally with him. It's so many great centers. Even Okafor coming off the bench.
Also, Whiteside inadvertently shed light on why it might be hard for the Sixers to trade a big man. Most teams already have pretty solid options in the center position.
It's a lot of great centers. I might say maybe two teams don't have a really good center, maybe, but every other team got a really good center."
Whiteside and Embiid aren't wrong. They are players on different ends of the center spectrum. One of them works well all over the floor and can hit 3-pointers, and another is most dominant close to the rim.
One thing is for certain — centers are not dead, not if Joel Embiid has anything to say about it.
This article originally appeared on