Early Season Boston Celtics Power Rankings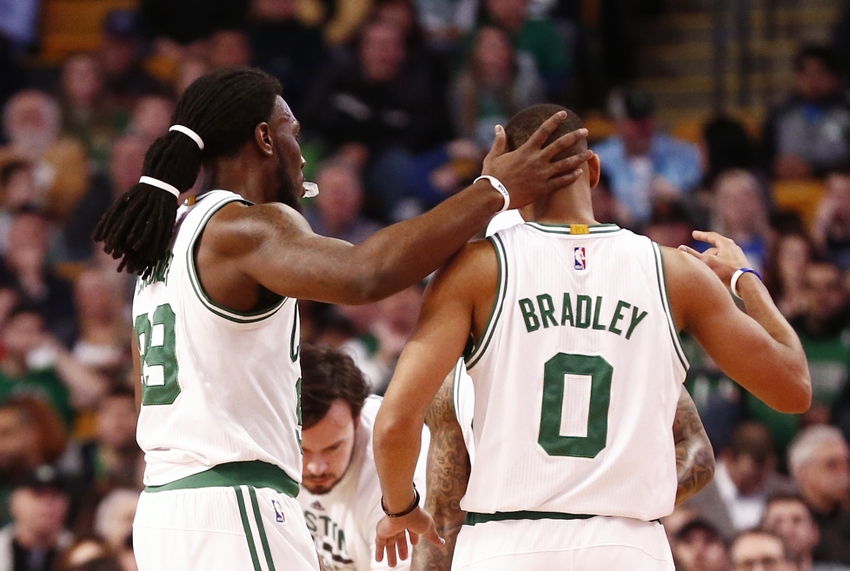 The Boston Celtics have experienced their fair share of ups and downs through the early part of the regular season. This is expected for any team dealing with injuries and increased roles for younger players. However, the Celtics have managed to win games with Jae Crowder and Al Horford both missing a significant amount of time.
Thanks to those injuries, it seems that every player on the roster has seen important playing time. While missing Crowder and Horford hurts, the experience gained by the reserves should help the team later in the season.
Based on the production from each player so far, let's see how everyone on the Celtics ranks compared to the rest of the roster.
PPG: 5.0  APG: 1.0  RPG: 1.5  FG%: 75.0
The rookie second round pick has mostly  seen garbage time minutes, but has shown flashes of being a very productive role player for the Celtics. He'll most likely bounce back and forth from Maine this season, so the bottom is where he'll have to stay for now.
14. James Young
PPG: 1.5  APG: 0.3  RPG: 0.9  FG%: 45.5  3P%: 40.0
Other than the strong showing against the Pacers, Young has not produced that much when given playing time. For the former first round pick to see consistent minutes on this team, he needs to show that his defense has improved, and that he can hit open shots.
13. Jordan Mickey
PPG: 2.6  APG: 0.4  RPG: 2.0  FG%: 50.0
The interesting thing about Mickey this season is that he has yet to block a shot. He seems more confident on the offensive end, which will be important as he continues to get minutes in a front court that lacks rebounding and shot blocking.
12. Gerald Green
PPG: 3.9  RPG: 1.6  APG: 1.7  FG%: 36.1  3P%: 26.3
The Celtics source of instant offense off the bench has not seemed to have settled in quite yet. Green needs to make shots to stay on the floor because of his weaker defensive play. If he can provide a spark in some key moments, Green will prove to be a much more valuable player coming off the bench.
11. Jonas Jerebko
PPG: 4.1  APG: 0.6  RPG: 3.2  FG%: 35.4  3P%: 26.3
The Swedish Larry Bird has struggled with his shot so far this season. However, Jerebko still proves to be a useful bench player due to his defensive versatility. Jerebko is a  good shooter, so I anticipate he will break out of this early slump. If that happens, he will likely see his minutes increase, as well as his rank among the roster.
10. Tyler Zeller
PPG: 7.0  APG: 1.4  RPG: 4.4  FG%: 50.7
As the biggest member of this small Celtics team, it's frustrating to see Zeller not play with consistent physicality. For some spurts he will play with more force and grab a couple of impressive rebounds. But if Zeller is going to be effective as a primary backup to Horford, he'll have to play with more physicality and use his nifty floater in the right spots.
9. Jaylen Brown
PPG: 6.8  APG: 0.9  RPG: 2.6  FG%: 46.0  3P%: 31.3
The #3 overall pick has had a strong start to his career. With the injury of Crowder, Brown has seen some unexpected opportunities early on this season. The rookie has been very impressive going to the basket and scoring inside, as well as hitting threes at a respectable rate. All Brown needs to do is continue to learn from his teammates, and find his fit on the floor. If he can earn more than 20 minutes a game, Brown's development will accelerate.
8. Kelly Olynyk
PPG: 10.4  RPG: 6.2  APG: 1.8  FG%: 41.3  3P%: 27.3%
After missing the first few weeks of the season, Kelly Olynyk returned from shoulder surgery to give the Celtics a much needed boost to the starting lineup. Once Al Horford returns, Olynyk will hope to provide the same offensive punch to the second unit. The Celtics bench needs the former lottery pick to stretch the floor, rebound, and make plays off the dribble so that other key reserves can settle into their roles. Then, I would expect the reserves to become one of the best groups in the NBA.
7. Amir Johnson
PPG: 8.1  APG: 2.6  RPG: 4.5  FG: 56.7  3P%: 50.0
Amir Johnson has played well so far considering his front court partners have mostly been Zeller and Olynyk. Johnson has even showed that he can hit the three from time to time if given space. If he can make force defense's to respect his jump shot, Johnson should provide even more value to the team than he already does.
However, it is unacceptable that the Celtics starting forward is only averaging 4.5 rebounds per game. Especially with the struggles Boston has had with getting beat up on the glass, Johnson needs to pull down more boards than he has. Although he is short for his position, he needs to box out and attack the glass. Sullinger isn't cleaning things up anymore.
6. Terry Rozier
PPG: 6.4  RPG: 3.1  APG: 1.5  FG%: 39.7  3P%: 42.3
Terry Rozier is in the middle of making the transition from playing once every few games, to playing big minutes every night. The second year guard has seen his fair share of struggles with consistency, and does not seem as confident as he did in the summer league.
The reason Rozier is this high on the list is that when he plays with confidence, it is easy to see why there are high expectations of this Louisville product. Rozier has shot the three very well and is incredibly shifty in the open court. I only see Rozier getting better as the season goes on.
5. Jae Crowder
PPG: 13.5  APG: 2.0  RPG: 6.3  FG%: 55.6  3P%: 47.4
Jae Crowder would probably be higher on this list if not for the low ankle sprain he suffered. Before going down, Crowder was showing off an improved shooting stroke. He also experienced a very impressive percentage from downtown due to getting more open looks.
It is important that Crowder returns fully recovered from his injury. As we saw late last season, an early return from an ankle injury did not yield the best results for the starting forward. I expect Crowder to continue his strong play as the heart and sole of this Celtics team.
4. Marcus Smart
PPG: 11.8  APG: 3.6  RPG: 4.5  FG%: 40.0  3P%: 32.6
Marcus Smart is probably the most versatile player on this Celtics team. As of now, he is the starting small forward, who is also the backup point guard, and can guard anybody you need him to. He definitely seems more comfortable running the pick and roll, which is vital to his development as a point guard.
Smart has also looked much better shooting off the dribble, driving to the basket, and shooting from beyond the arc. What can set him apart from other players is his post game. Smart has shown a strong ability to back down opposing guards and score on the block. The third year guard has a knack for making big plays when his team needs it most. Hopefully Smart can build off his strong start and lead the bench unit effectively.
3. Al Horford
PPG: 12.0  APG: 4.7  RPG: 5.3  FG%: 55.6  3P%: 28.6
Even though he has missed a substantial amount of time due to a concussion, it is hard to rank Al Horford lower than this. In the games he has played in, Horford has looked very good while still trying to find his fit within the team.
Once he finds his fit, the rest of the NBA will see how effective Horford will be spreading the floor and running the pick and roll with Thomas. Until then, all we can hope for is a full recovery and a strong return to action.
PPG: 18.5  APG: 3.5  RPG: 8.7  FG%: 46.0  3P%: 40.0
The man who gets better every year has done it again. Avery Bradley has put himself into the All Star conversation with his stellar all around play this season. A 6'2 shooting guard averaging almost 9 rebounds per game is almost unheard of. Bradley is also scoring the ball at a rate he never has before.
There's not much more the Celtics could ask Bradley to do. Hopefully he keeps this up, because Bradley and Thomas could prove to be the best backcourt in the Eastern Conference.
PPG: 27.2  APG: 6.5  RPG: 2.9  FG%: 45.5  3P%: 34.8
Isaiah Thomas has been easily the best player for the Boston Celtics so far this season. He is most certainly benefiting from an improved supporting cast. Thomas has been lights out in crunch time as well. Especially after scoring a whopping 22 points in the fourth quarter to seal a win against the Mavericks.
This season Thomas has shown that he has improved on the defensive end as well. He is no longer a liability on that end of the floor, as the 5'9 guard has stuck with his man and come up with opportunistic steals. As of now, it would not be ridiculous to say that Thomas would be the starting point guard for the Eastern Conference All Star team. Once the team is at full strength, things should open up even more for the "little guy."
More from Hardwood Houdini
This article originally appeared on