Earl Watson Is The Right Coach For The Phoenix Suns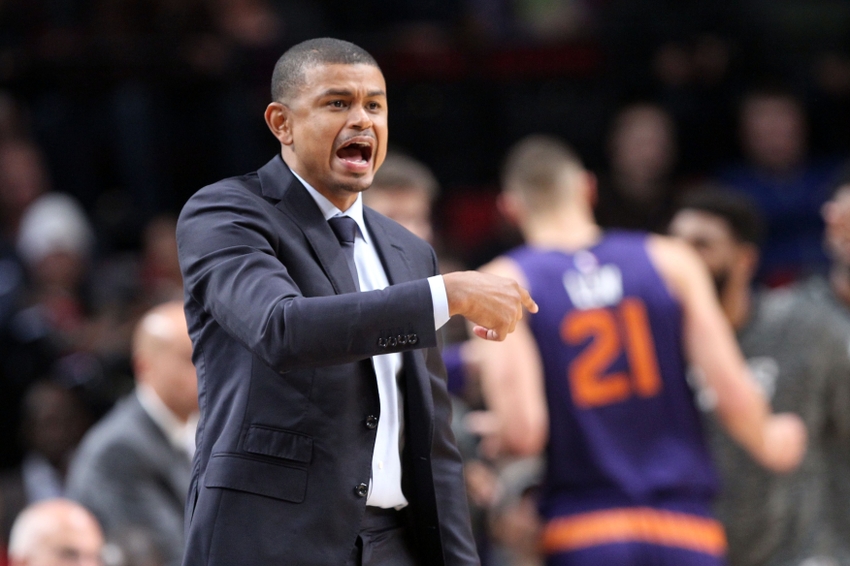 Earl Watson has coached 35 games in the NBA. It's too early to tell whether he will have a successful coaching career. But it's safe to say that he's the perfect coach for the Phoenix Suns at this point in time.
One thing has been clear since Watson took over the reigns in Phoenix: the Suns play, and play hard, for him. He's shown an ability to get the most from his players. Say what you want about game management and X's and O'x, but if your players won't play for you, you won't last long as an NBA head coach.
Watson is fair but tough. Encouraging but demanding. The perfect blend for a young team like the Suns. After Phoenix's 2nd team gave up a 16-1 run in the first half of the season opener against Sacramento, Watson gave the rookies (Bender, Chriss and Ulis) some run in the 2nd half. They responded with aggressiveness and an energy that was missing in the first half and pulled within 10 of the Kings. 
More from Valley of the Suns
In his post-game press conference, Watson announced that the young guys had earned more minutes in the rotation because of their play. Not only will that message encourage the rookies as the season goes on, the veterans will take note as well. Both of those statements were evident during the game against OKC on Friday night. The veterans came out with more fire and energy to start the game and the rookies once again contributed solid minutes down the stretch.
Healthy competition on a NBA team is good. It aids young players' development. It keep veterans from going on cruise control. The rookies haven't played perfect to this point but they've shown tenacity and heart. That counts for something. It's a reflection of their coach.
Watson has shown he is going to keep this team accountable for their performance and effort. At some point, maybe the next game, the rookies will play poorly and will lose minutes. That's ok. They'll learn that they need to give everything they have each night in this league.  They'll learn that they can't take their spot for granted. The veterans won't take a night off, knowing their spot in the rotation is not untouchable. For a roster not yet ready to compete with the best teams in the league, that's the type of mindset needed.The Suns are young, they need to learn how to compete each and every night.
Watson is fostering an atmosphere that will accomplish that.
This article originally appeared on