Dwyane Wade, Chicago Bulls Pick Up Victory In Return To Miami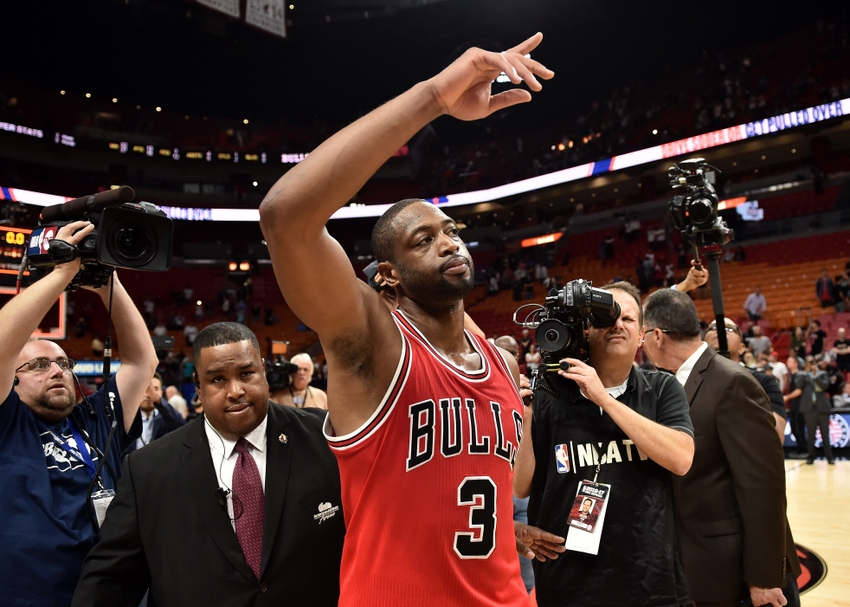 Dwyane Wade helped the Chicago Bulls to a victory over the Miami Heat in an emotional return to South Beach.
Dwyane Wade spent the first 13 seasons of his NBA career with the Miami Heat.
The two parted ways this past offseason, as Wade left as a free agent and signed with his hometown Chicago Bulls. Thursday night marked his first return to Miami as an opponent, as the Bulls made their only trip to South Beach this season.
Wade made plenty of plays in those 13 seasons at the end of games to help get victories for the Heat. On Thursday, Wade made yet another play at an end of a game. This time, the Heat weren't happy about it as it came in a different shade of red for a Bulls victory.
Wade drew a foul on Justise Winslow with 13.7 seconds remaining in the game. As he had done so many times previously in his career, Wade calmly stepped to the foul line. He knocked down both of his free throws, which surprised no one in the arena.
Wade and the Bulls picked up a good road win Thursday, defeating the Heat, 98-95. The fans showered Wade with applause and multiple standing ovations prior to and during the game.
A video montage was played near the end of the first quarter, to which Wade blew kisses to the crowd when he walked back on the court.
The crowd chanted "D-Wade" afterward, showing him even more love. It made for a weird and emotional night for Wade, who was happy to get it over with.
"I'm glad [this game] is over with. When I first looked at the schedule, I was like why so early? I'm glad it's over early so we can focus."
Wade didn't have the strongest game on the court. He scored 13 points but needed 17 shots to do so, making only five. He missed all four of his three-point attempts but nailed all three free throws. "I thought I'd shoot better since I've been knowing these rims for a while," Wade said.
While he had an off shooting night, he helped in other ways. He grabbed seven rebounds and handed out four assists, with one steal. He finished the game with a plus/minus ratio of +7, so he still had a positive impact on the court while not providing the greatest stats.
"Worst basketball game I ever played in my life," Wade said while laughing a little. "I couldn't wait until it was over. It's just weird. You're going against guys — it just seemed like we were just playing in the playoffs together."
Wade was just in the postseason with those guys. The Heat lost in the second round to the Toronto Raptors in seven games. Tonight, his new teammates picked up the slack knowing how badly he wanted to win the game.
Robin Lopez and Rajon Rondo both chipped in 16 points. Jimmy Butler led the way with 20, making baskets down the stretch and scoring eight points in the fourth quarter. Butler spoke after the game and commented on the demeanor Wade brought into the night and how happy he was to get the win for him.
"He's so calm about it," said Bulls All-Star swingman Jimmy Butler. "Nothing gets to him. He came in here to do a job, and he got it done. You know, emotions are rushing, but he's a professional, Hall of Famer, but he doesn't show it. He goes out there and competes, plays basketball the right way and leads us to victories. That's what you ask from him each and every day, and he brings it each and every day, and I'm glad we got this one for him."
The Bulls knew how important of a game this was to Wade and it was nice to see them get a victory for him. With this one now out of the way, Wade can concentrate on the rest of the games and go about business as he regularly would.
This article originally appeared on