Dwight Howard's Dominance Was On Display Against Cavaliers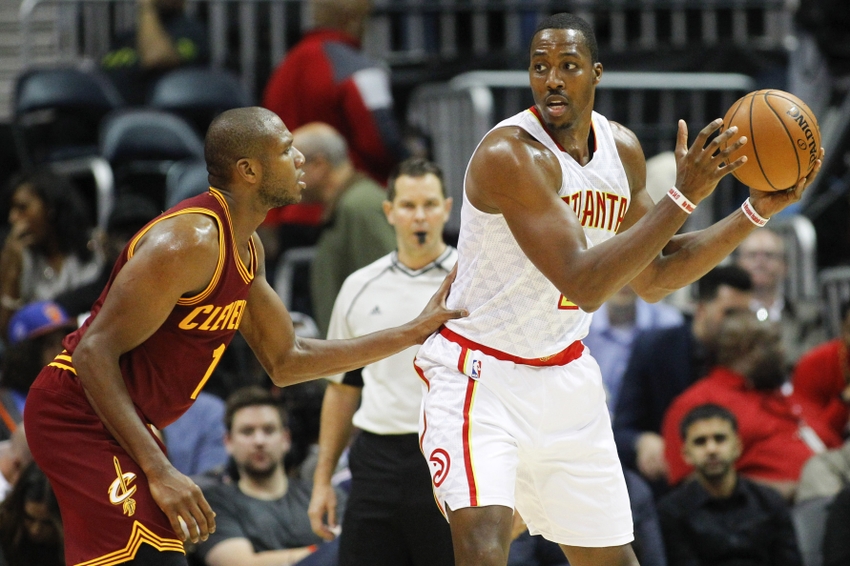 Dwight Howard dominated the Cleveland Cavaliers last night in a 99-93 win for the Atlanta Hawks. This could start becoming a routine thing.
"The NBA preseason is worthless basketball, nobody tries." That's what you hear out of the mouths of fans during this time of year when basketball is getting back into the swing of things. It's also extremely inaccurate.
For a guy like Dwight Howard, preseason is essential in order to form the chemistry that is needed with his new teammates on the Atlanta Hawks. To say players aren't trying is simply silly. The reason why preseason basketball looks much different than regular season is due to the dramatic lineup changes that the head coach is experimenting with so that when opening night does come around, they have a good feel for what their rotation is going to be at that point.
If Hawks fans can take anything from last night's game it's this–Howard is going to be a dominant force this season. The Hawks took on the reigning champion Cleveland Cavaliers last night and came out with a 99-93 victory. In Howard's second preseason game, he recorded 26 points on 11-of-15 shooting to go with eight rebounds and a pair of blocks.
All summer, fans have wondered if it was possible for Howard to return back to the dominant form that most remember during his days in Orlando. Since then for Los Angeles and Houston, Howard has been a shell of himself mostly due to injuries, but also be apart of systems that didn't fit his game.
He brings a new dimension to this team that they've been missing for a long time now: a big man who can control the paint on both ends. Last night was a perfect example of that.
One given with Howard's presence is the pick-and-roll threat that results in lobs. Point guard Dennis Schroder was having a field day coming off ball-screens from Howard and really not even looking to attack the basket. He was more of dragging Howard's man out to the perimeter and threw the ball in the vicinity of the rim and there was Howard leaping to slam it home.
Howard also gave folks a sneak preview of his face-up game in the post. One possession, he faces up, squares his shoulders, and knocks down a bank shot with perfect touch in his defender's face.
Defensively, Howard finished the game with two blocks, but altered many more shots throughout. Al Horford and Paul Millsap are respectable defenders down low, but there are only a select few of elite shot blockers in the NBA and Howard is one of them. While he isn't as mobile as Horford was, Howard can change anyone's shot at the rim, which will likely result in the Hawks once again being an elite defensive group this season.
If you were one of those who continue to doubt Howard's ability, do what you have to do. But once the first few weeks of the season go by, it'll be hard to stay pessimistic considering how well he fits with this Hawks team.
More from Soaring Down South
This article originally appeared on