Dwight Howard Proving The Skeptics Wrong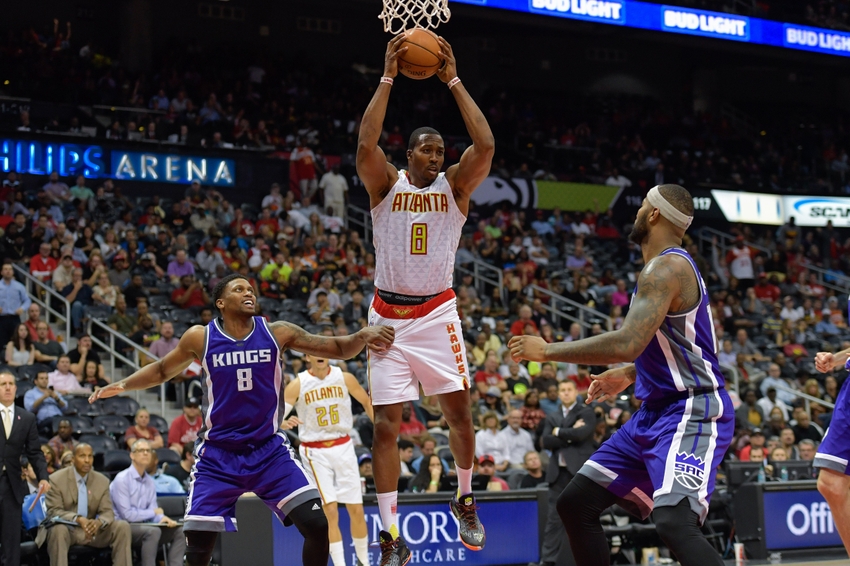 There was a time when everyone thought Dwight Howard was washed up, past his prime and no longer dominant. There was another time when many speculated that NBA teams wouldn't want him on their rosters. Lastly, it were a time when many doubted Atlanta Hawk writers on their belief he would come back stronger this season. Case in point, Howard is probably putting his pointer finger over his mouth. Howard, six games in the season, is back,
Although as aforementioned it's six games into the NBA season, Howard is looking far more energized than he has perhaps in his entire tenure with the Houston Rockets. He's scoring at a clip hovering his career average (17.0 this season, 17.8 for career).Rebounding at the same rate of his career average, too (12.3 rebounds per, 12.7 for career). But most importantly, he's looking like the athletic, dominant big man we saw in the late 2000's/early 2010's.
This alley-oop here in the Saturday night, Nov. 5 game against his former Rocket team shows that burst. 
And in this highlight clip below, Howard completely went to work on the Los Angeles Lakers on the offensive end.
Energy, a mixture of post moves and being a force in transition is what Howard has brought to the Hawks this year. He, too, brings a new dimension of athletic play to the pace-and-space, perimeter oriented Hawks offense. In the highlights from Saturday nights game, Howard defended the post on defense and operated from the top of the key on offense. He again brought energy, created a presence inside and even made a few good passes. This is the new dimension head coach Mike Budenholzer and the front office envisioned Howard would bring.
With 76 more games to go, Howard has plenty of time to increases his per-game averages and strong play. As of now, his play could be seen as an upgrade from big man/occasional stretch 5 Al Horford. Many will dispute that, but they can't dispute what Howard is doing for Atlanta. He's healthy, energized but most importantly, obviously happy and content. In the words of Dr. Dre, you can't put a price tag on a peace of mind.  But in the meantime, we can only hope that his doubters can at least, acknowledge that Dwight Howard-back; for now.
More from Soaring Down South
This article originally appeared on