Dwight Howard Dominates Cousins On the Way to Hawks Win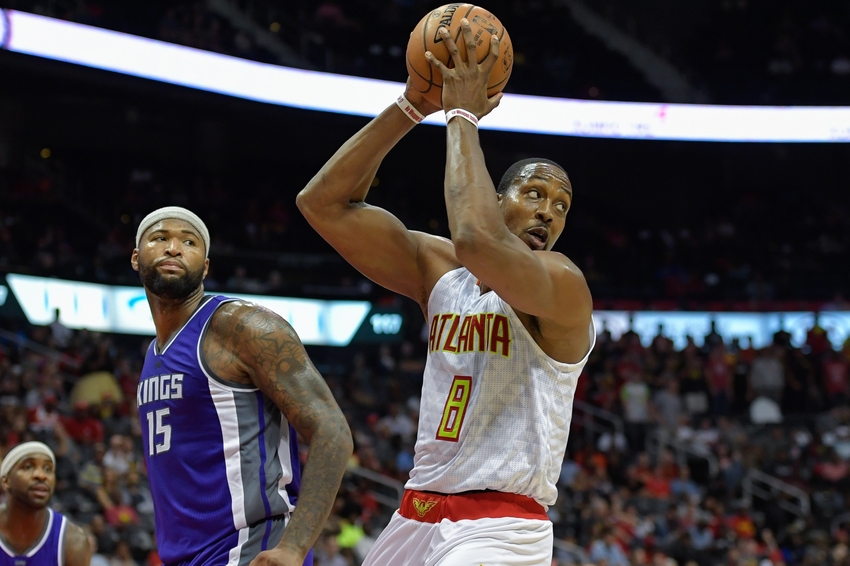 The Atlanta Hawks moved to 3-0 on the season with a win over the Sacramento Kings. Dwight Howard continues enforce his will.
This Hawks team earned themselves an impressive victory versus the Sacramento Kings in protecting their home court on Monday night. One of the more intriguing match ups for many fans was that of Dwight Howard and DeMarcus Cousins underneath the rim. While Howard had an awful time of it at the charity stripe, in terms of every other area of the game he was a monster. For most players, shooting a terrible 8-of-20 from the free-throw line would also have meant that they had a horrible game.
For Howard though, he owned and put his stamp of excellence on top of a 5-of-9, 18-point and 11-rebound type of outing. He also had four blocks to his name. To hold Cousins to a 14- point, 12-rebound type of game is an accomplishment that Howard should not forget about anytime soon. Cousins is without a doubt one of the best center's from anyone's perspective all across the landscape of the NBA.
In the Hawks 106-95 first 3-0 start since before their 2011-2012 season, Howard put on a clinic for Cousin's and any other center that may have been bright enough to mirror Howard's moves near the rim. Demarcus will usually dominate a game quite handily and score at least 25 points and grab 10 rebounds. He had a lot more trouble and a much harder time against the new center for the Atlanta Hawks.
Dwight Howard displayed why he has been a multiple time winner of the NBA's Defensive Player of the Year award. There are a few players that have leap frogged the 6'11" former slam dunk champion as top centers of the league. There are a couple that probably would make the Hawks a better team with them at center instead of having Howard. Andre Drummond and DeAndre Jordan are just a couple that would make Atlanta more intimidating .
Demarcus Cousins is definitely better than both of them though, and Howard made him look like an average joe, run of the mill big man on Halloween night. Cousins started the game making only one of his first five field goal attempts. If there were any concerns regarding his prowess and ability to hold his own after a mediocre showing versus the young, spry Joel Embiid and Jahlil Okafor of the Philadelphia 76ers, then he squashed those on Monday night.
Had the Kings not fouled Howard semi intentionally every time that he got the ball, then he would have easily scored 30 points. The only thing that really kept the game close, was Dwight shooting only 40 percent from the charity stripe.
He also managed to contain the Kings mobile big men from the perimeter and along the outside. It's just a matter of time before Howard has a breakout game ad gets on track offensively. He should pick up the pace soon and I expect his scoring average to climb towards the 18 points he scored against the Kings, and stay there.
More from Soaring Down South
This article originally appeared on