Dwane Casey trying new things with Raptors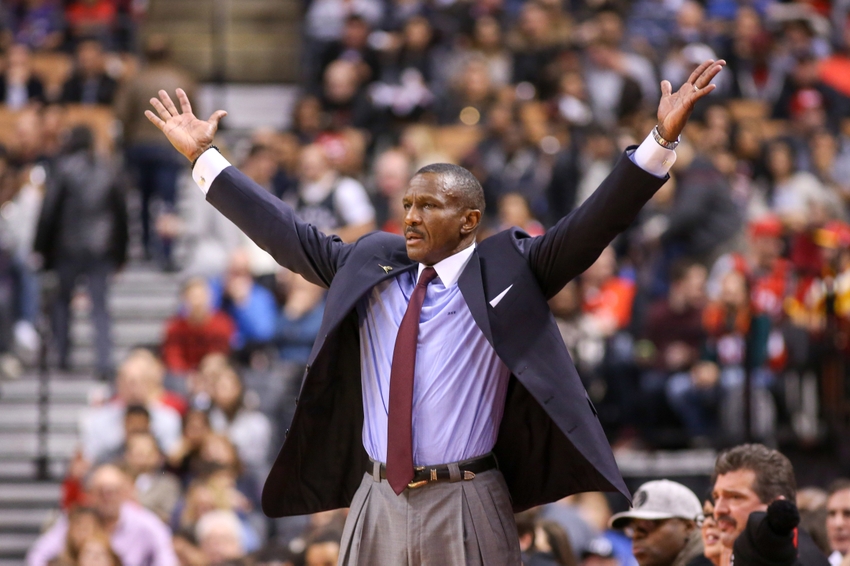 The Raptors have shrugged off some early injury worries and enjoy a better record after 20 games than last season. Should the coach get a little credit?
The Toronto Raptors are on roll. A 6-game win streak is pleasant; winning 5 of those 6 by hefty margins brings big smiles. A degree of smugness might also accompany such results, but I don't think Raptors coach Dwane Casey will tolerate that attitude, either in his charges or himself.
I like a bunch of things the Raptors have incorporated into their style of play, and believe Casey is showing an open mind.
More options than ever
ITEM: Pascal Siakam told two long jump shots off set plays against the Lakers. One was a long two (Pascal, be more careful with your footwork in future – that should have been a trey) and the other was a corner-3 that spilled out. Siakam may be a rookie, but he already possesses the discipline of a seasoned veteran. In other words, he'd never take shots like that without permission.
ITEM: Sticking with Pascal, he's been cashing easy buckets after receiving long outlet passes from Kyle Lowry. Think about it – the point guard pulls down the defensive rebound, then fires a pass to the leaking-out power forward. How's that for upside-down? Coach is fine with it, and so are we.
ITEM: Norman Powell has collected a bunch of DNP-CDs already this season, yet there he was starting against the Lakers. Coach is determined to keep DeMarre Carroll's usage down, ostensibly to maintain his fragile knee(s). The team hardly missed a beat without Carroll, which sends the player a clear message that he will need to play his best to keep his starter's spot.
ITEM: Lucas Nogueira has played a ton of minutes lately, to the detriment of Jonas Valanciunas' PT. While JV is probably still hurting slightly from last Monday's ankle turn, he isn't close to having the breakout season which has been expected of him. Bebe won't likely push JV aside, as the giant Brazilian takes too many fouls. A lot of those are of the reach-in kind, which the freemasonry of NBA referees whistles as part of the breaking-in process of junior centers. If Lucas manages to decrease those fouls, JV, like Carroll, may need to start worrying.
ITEM: DeMar DeRozan is becoming a team player right before our eyes. He's averaged almost 6 assists over his last 7 games, by finding teammates who are ready to catch and shoot. DD knows he's always Option A but dishing to open 'mates is a heck of an Option B.
Credit is due
All of these items are linked together by the coach changing his thinking. I doubt any of what I'm writing could have happened last season. Dwane Casey is unafraid of tweaking, to which we say "Keep it up, coach, and don't sweat it if not all your ideas work. If they did, it would be an indication you're not trying enough new stuff."
I've never understood why Dwane doesn't get more attention from Coach of the Year voters. Could this be the season?
More from Raptors Rapture
This article originally appeared on