Draymond Green's five craziest flagrant fouls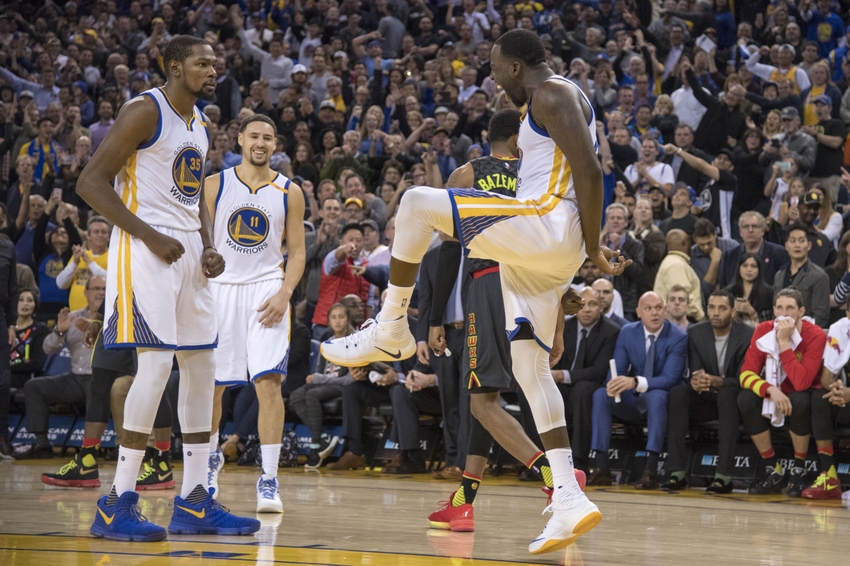 It's no secret at this point that Draymond Green has earned himself quite a reputation around the league. Yes, there have been several players over the history of the NBA that are known for being "dirty" and he's not the only one, but he may be the first to be known as the "kicker" of the league.
Green has earned himself numerous technicals, flagrant fouls and suspensions over the last couple of seasons due to his dirty play, none more costly than last year's Game 5 suspension in the Finals. Yes, basketball is a physical sport, but have we ever seen a player kick his leg up like that, and still continue to say it's a "natural body movement." He's also defended his physical play by recently posting pictures of the "Bad Boy" Pistons, who earned that nickname with their intense physicality in the 80s and 90s.
Still, Coach Steve Kerr is not buying it, who acknowledged Green's dirty plays as of late and adding that he's definitely "under the microscope." Unless Draymond Green wants to achieve a long-term suspension from the league, he's going to have to kick the habit, pun intended. Here's a look back at Green's five craziest flagrant fouls.
5.  12/1/2016 vs. Houston Rockets
One of Green's most recent dirty plays, which came at the expense of James Harden, in a double overtime loss to the Rockets. The play earned him a flagrant 1 foul, which leads to the opposing team having two free throws and the ball back, a play that obviously came at a crucial time and played a huge role in the Warriors' winning streak ending.
When Green was asked about the foul after the game, he made his case for his "natural kicks" by referencing James Harden's ability to draw fouls. "No offense to James Harden but I've never seen nobody up until James started doing it shoot layups like this (sweeps arm). That's not really a natural act. That's not a natural basketball play, either," Green said via the San Jose Mercury News' Anthony Slater. 
4. 12/3/2016 vs. Phoenix Suns
Draymond Green actually got away with this one, because there was also another foul against Stephen Curry at the same time and the refs didn't catch Green's kick. This one is still worth nothing because it came in the game directly after his flagrant foul versus Harden, which obviously didn't teach Green any lesson.
In the video, you can see Marquese Chriss shaking his hand in pain following the play. It's hard to say whether he was just trying to draw attention toward the kick, or he was actually hurt, either way this is a clear example of the potential danger that Green's fouls are bringing to other players.
3.  6/10/2016 vs. Cleveland Cavaliers (Game 4 of NBA Finals)
This foul is extremely tricky, mostly because in live time, it looked like James was the player being dirty here, by stepping over Green mid-play. The NBA missed this during the game, but James reportedly complained to the NBA after the game about what they missed, which was Green taking a swipe at a certain body part of Lebron's. "I don't know what should happen, it's not my call. That's the league office, they'll take a look at it. We all saw it in the locker room," said James, via ESPN, on the incident. He later added "As a competitor I love going against Draymond and I'm all about going out there and leaving it on the floor. But when it gets a little bit more than it should be, that's what caused me to have words with him."
Green defended his swipe at Lebron by saying he felt "disrespected" when Lebron stepped over him. The league saw what Lebron was talking about in the video, and ended up suspending Green for Game 5 in the finals, which was a huge blow to the Warriors team and definitely played a big role in the series overall.
2. 5/18/2016 vs. Oklahoma City Thunder (Game 2 of WCF)
This was the start of the kicking, or at least the start of people paying attention to Green's kicks. Steven Adams took the brunt of it, and it went unnoticed by the refs and most of the players at the time. This was around the time that Dahntay Jones hit Bismack Biyombo in the Cleveland/Toronto series and was suspended one game as a result. Of course, this was all just a prelude for what was to come.
1. 5/22/2016 vs. Oklahoma City Thunder (Game 3 of WCF)
"And down goes Adams once again," said Reggie Bush! Okay, maybe after the first kick versus Adams, you can argue that it was an accident or unintentional, etc. After the second though, against the same player, can you really argue that? This was the play that absolutely put the target on Draymond Green's back. It'll be interesting to see how the Warriors, or the NBA, go about dealing with this problem, which hasn't seemed to get better this year.
The play earned Green a quick flagrant foul. Steven Adams commented on the kick (the sequel) by saying, "It happened before mate, he's pretty accurate."  Unfortunately for Adams, this was mostly how he was remembered in the 2016 playoffs.
More from FanSided
This article originally appeared on