Draymond Green must keep composure vs Thunder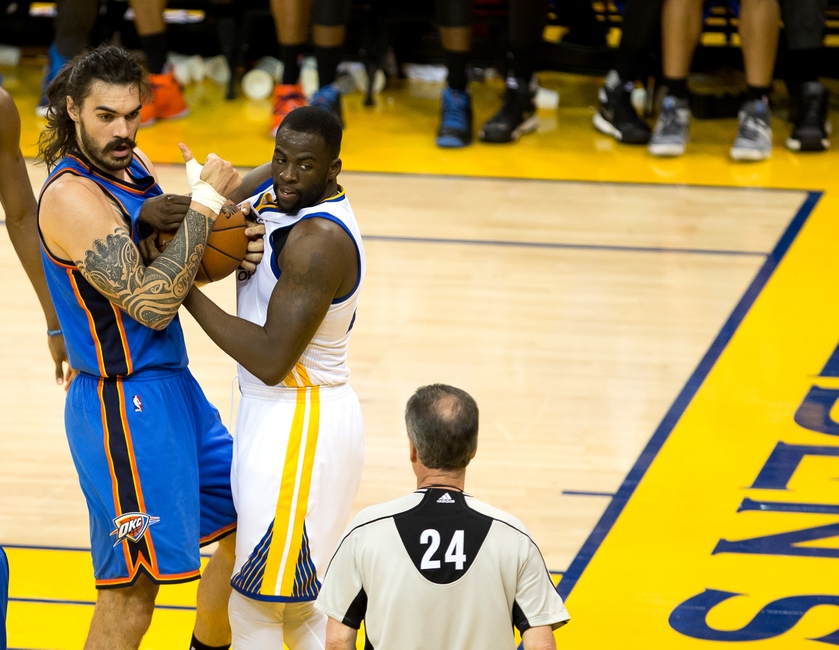 Golden State Warriors forward Draymond Green can't let any members of the Oklahoma City Thunder get under his skin on Thursday night.
The next big test for the Warriors takes place on Thursday night, when they take on the Oklahoma City Thunder. The two teams met in the Western Conference Finals and it was a pretty chippy affair. The Thunder are off to a 4-0 start on the season and are out to show they are still a contender without Kevin Durant. This is going to be a physical game. That means Draymond Green has to be smart on the floor.
As everyone remembers, Green was the subject of plenty of controversy in the Western Conference Finals. Constant technical fouls and a kick to the groin of Steven Adams were all that anyone could talk about in the series.
Tonight, Green is going to be poised with being the defensive stalwart again and not letting the Thunder take over their floor. That means that he is going to have plenty of battles with Adams down low.
In all likelihood, Green is going to get a technical foul. As long as it's not for something dumb and it just stays at one, then that is okay. If he starts going karate kid on everyone, then that would not be okay at all. They need him to win this game and he has to help protect the paint too.
He's passionate about winning and getting a signature win early on in the season will give the Warriors plenty of more momentum to build on after sweeping a road trip. Let us all hope for a great defensive game that leaves us with no controversy to talk about after.
More from Blue Man Hoop
This article originally appeared on