Draymond Green, Klay Thompson not in SI's Top 10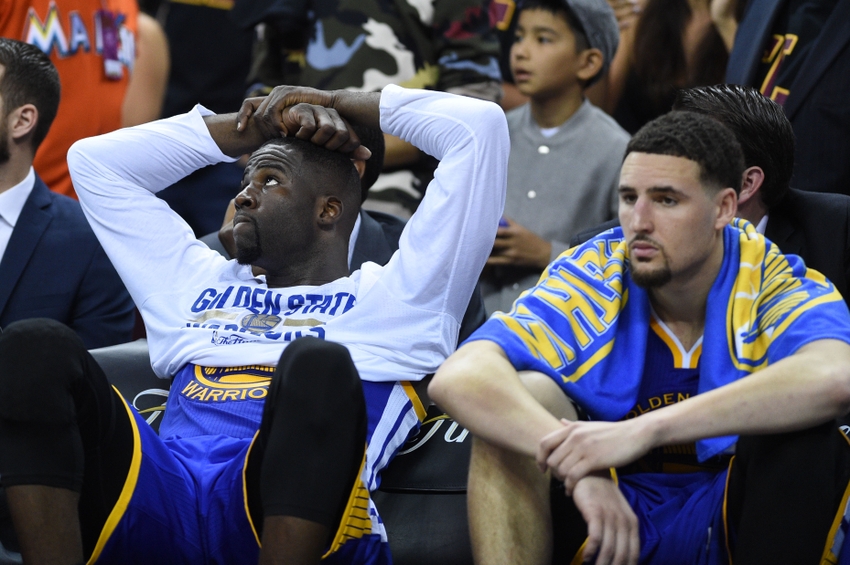 Golden State Warriors superstars Klay Thompson and Draymond Green didn't make the cut into the Top 10 in Sports Illustrated's Top 100 list.
Every year, Sports Illustrated publishes their Top 100 players of the upcoming year. It's always a fantastic read and it really puts into perspective the strength of each team. If a team has multiple players on the list, then they stand the chance of being pretty decent.
With the Golden State Warriors having won 73 games and signing Kevin Durant, it should come as no surprise that they had five players within the Top 50. However, what was a surprise was that only two players cracked the Top 10. While that's still amazing in itself, there is an argument to be made that either Draymond Green or Klay Thomspon could have made it.
Thompson was No. 19 on the list, while Green was No. 13. Both Durant and Stephen Curry were in the elite of the elite, as they were No.'s two and three respectively. While Green almost seems perfect at the No. 13 spot, it's hard to think of 18 players better than Klay Thompson. He saved the Warriors' season in Game 6 of the Western Conference Finals with a big performance and he is proving to be just as valuable a player as any superstar they have.
Now, this is elite company that high and the rest on the list definitely have earned their spot. It's hard to rank so many Warriors so high in the first place and exclude others on the list. Still, that's just how impressive the team's roster really is.
Thompson is probably a Top 10 player to some in this league. If he can continues to grow as a player and the Warriors bring another title to the bay this year, then he might make the jump next year. There's also the consideration that there might be a dip in numbers with another superstar being added to the roster.
At the end of the day, the Warriors have five Top 50 players, two Top 3 players, a Top 15 player and a Top 20 player according to the list. That's insane to think about.
More from Blue Man Hoop
This article originally appeared on