Don't Believe the Hype: LaMarcus Aldridge Is Not On The Trading Block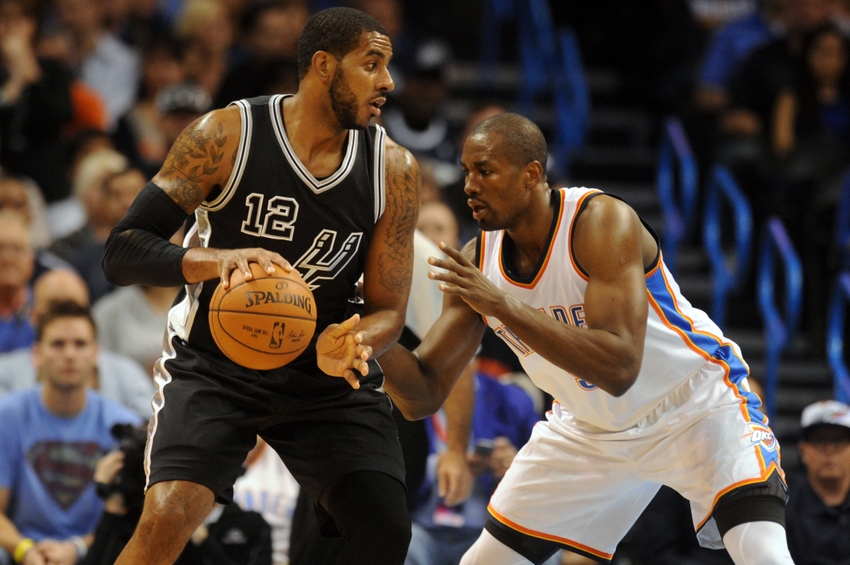 It's rumored that LaMarcus Aldridge is on the trading block. That's probably not the case.
On Tuesday, rumors began to circulate that LaMarcus Aldridge may be on the trading block. This rumor started with ESPN contributor Jackie MacMullan and was later picked up by local city newspaper, the San Antonio Express-News. It was an unusual rumor for the San Antonio Spurs.
The wording from the Express-News is particularly interesting, so it's important to focus on what the paper said. Specifically, they stated that the team would be open to a trade  "…should the right package surface."
Fans will focus on that last phrase, and a few media outlets certainly have. Here's the problem with obsessing with that sentence though: all teams are open to a trade should the right package surface.
Currently, Kawhi Leonard is the face of the franchise. That said, if the Golden State Warriors found a way to send Stephen Curry, Kevin Durant, and Draymond Green for just Kawhi, the Spurs front office would listen to that proposal.
All teams are 'open' to trade proposals, but that doesn't say anything about how serious they are about the discussion. That's the likely case with LaMarcus Aldridge.
At the same time, don't take the word of Jeff McDonald, a local reporter in San Antonio, as gospel. Both he and J.R. Wilco, another individual who has long covered the Spurs, are denying any substance to the truth of this rumor.
They're probably right. At the same time, the San Antonio Spurs are notoriously tight-lipped about this kind of thing.
This is not Los Angeles or New York, where the media gets a close look at rumors, disgruntled comments, and locker room feuds. The press in San Antonio is tightly corralled by the team to the largest extent possible.
If the Spurs are serious about this, nobody's going to know until the trade's got specific players on the table and some serious executives talking.
Is this rumor going to get a lot of play in the media? Of course. This is the Spurs, a no-drama team that rarely airs its laundry in public. For now though, fans of the Spurs and LaMarcus Aldridge shouldn't worry much.
General Managers have to listen to trade proposals as part of their due diligence. They don't work out more often than not, and are rarely serious.
Aldridge is as likely to be traded as Manu Ginobili or Tony Parker ever were. Did the Spurs listen to trade proposals for those guys? Absolutely. Was the team ever serious about pulling that trigger? No.
The only way this rumor ever gets solid footing is if the Spurs end up outside of playoff contention somehow, and that's just hard to imagine.
More from Hoops Habit
This article originally appeared on