Domantas Sabonis Is Growing Before Our Eyes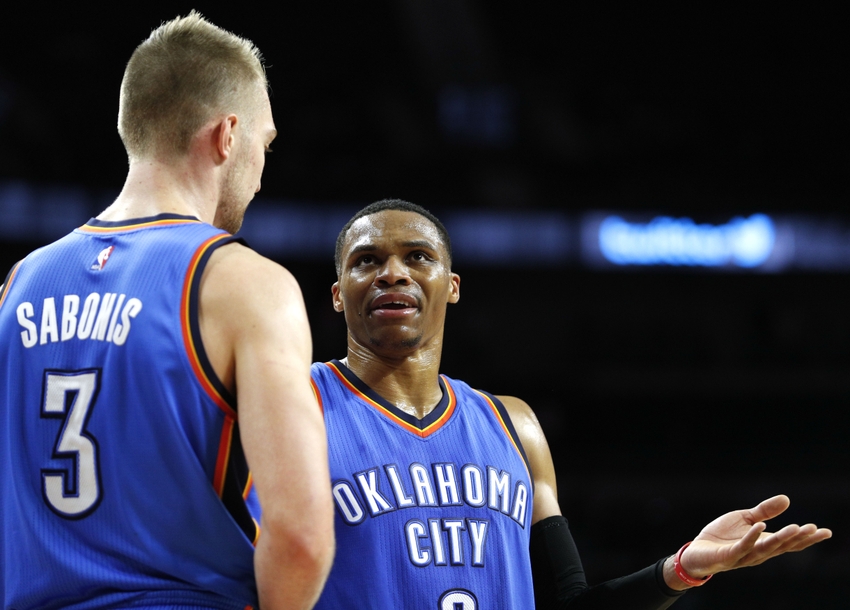 OKC Thunder rookie Domantas Sabonis is growing into an NBA player. He has started every game so far this season and will become something special.
Domantas Sabonis has a level of pressure on him that a lot of players will never understand. First, he is a rookie, starting on a team that was a contender last season, the OKC Thunder.
He is also replacing one of the best defensive power forwards of the generation in Serge Ibaka who was traded to the Orlando Magic to get Victor Oladipo, Ersan Ilyasova and the draft rights to Sabonis, the 11th overall pick out of Gonzaga last June.
Secondly, he is the son of probably the best passing center to come out of Europe. Fortunately, Domantas is his own man with his own game.
I first saw the younger Sabonis play at the Olympics in Rio. Lithuania was playing Australia and Sabonis looked like a boy among men.
Sabonis came off the bench and played 14 minutes. In that time, he went 0-for3 from the field including 0-for2 from three-point land. The shots that he took were poor quality and I did not believe that this son of a legend had what it took to play in the NBA.
Sabonis did score one point for the game, a free throw. Unfortunately he went 1-of-4 from the line. Sabonis did collect four rebounds though. This showed me that he had at least some of the fundamentals of a big man.
Now that Sabonis is in the NBA, he is playing alongside one of the best point guards in the world in Russell Westbrook. He is also playing for, in my mind, one of the best talent development coaches in the world in Billy Donovan.
I believe that this is having a really positive impact on Sabonis. Sabonis has averaged 22.1 minutes, 7.1 points, 3.4 rebounds and 1.4 assists, starting all 14 games for Oklahoma City. His slash line is .432/.390/.500.
Sabonis is making 1.1 three point attempts of the 2.9 attempts that he is taking per game. This means that Sabonis is quite a relevant floor spacer. He has taken 41 three-point shots in his short career in the NBA.
He has only taken 54 two point attempts meaning that just less than half his shots have been from outside the arc.
Having a role on offense defined so clearly has really helped Sabonis grow. In  his short career, Sabonis has had three games where he has scored in double digits, including a 15-point, 10-rebound game against the Miami Heat.
There are two things that I have noticed that Sabonis needs to improve on. He has only made it to the free throw line twice in 14 games, making only one of those. Sabonis is not going to be able to make a career sitting on the three-point line.
He is going to have to drive and draw contact from opposition players.
The other issue that Sabonis needs to improve on is the amount of fouls that he is committing. He is committing 2.9 per game, which is stopping Donovan leaving him out on the court for longer periods. He has yet to foul out, but that appears due to good coaching.
Fortunately this is what I call a rookie problem, the speed of the game in the NBA is that much faster than that of college. It is the difference of playing against men rather than boys.
Russell Westbrook is the leader of this team, Victor Oladipo is the other main scoring option. Ilyasova has been traded for the defensive-minded Jerami Grant from the Philadelphia 76ers.
Oklahoma City would have to be happy that the throw-in piece of the trade, Sabonis, is working out so well.
This article originally appeared on