Doc Rivers ejected in Clippers' double-overtime loss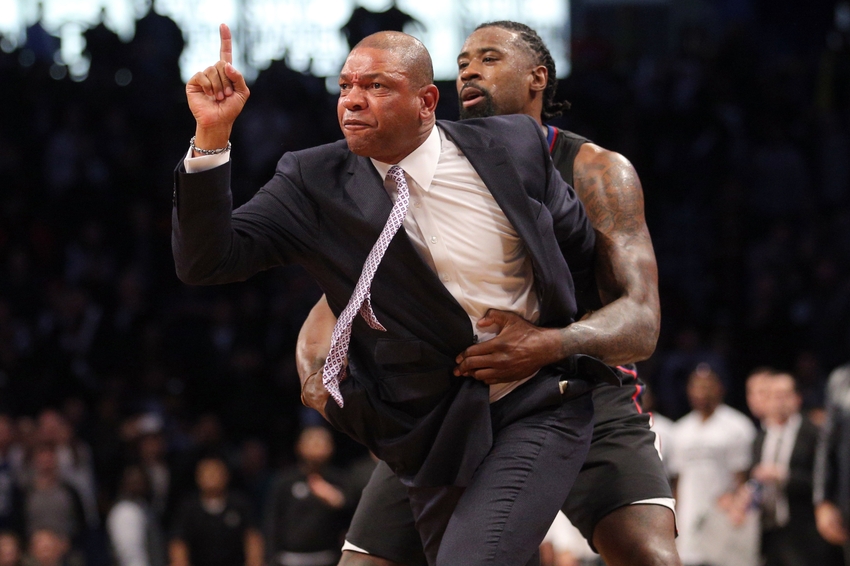 127

122
In the LA Clippers double-overtime loss head coach Doc Rivers is ejected!
Doc Rivers' ejection was not the main reason why the LA Clippers lost this game in double-overtime. There were multiple extra factors that led Lob City to this loss.
These factors include blown leads, missed dunks, turnovers, and little to no support from the rest of the team. The Los Angeles bench outscored the Nets' bench, yet the Nets won the game.
This is possible by way of the LA Clippers having had more players on the bench playing that didn't reach up to double digits.
Also, the Clippers starters were outscored by the Nets starters.
Lob City got clipped by Sean Kilpatrick, who dropped 38 points on the Clippers along with 14 boards. He single-handedly demolished the Clippers and is why the Nets starters nearly doubled the Clippers starters in points.
Los Angeles had the lead at halftime then they blew the lead in the 4th quarter. The blown lead in the 4th quarter is due in part to Kilpatrick.
LA was up by 12 points at halftime.
It was as if in the 4th quarter, LA fell asleep.
Once again, Los Angeles may have lost because they didn't have one of their starters playing in Blake Griffin. This loss shows how much of an impact he has on the game.
This is not taking away from Paul Pierce, it is just showing how Griffin has an impact whether he starts or comes off the bench.
The Clippers bench in this game yes outscored the Nets bench, because LA had more players but they didn't do so well.
They didn't do so well as in players who usually average double digits points or rebounds barely reached 7 with the exception of two players.
This article originally appeared on