Dispatch from the Blender: the Return of Jrue Holiday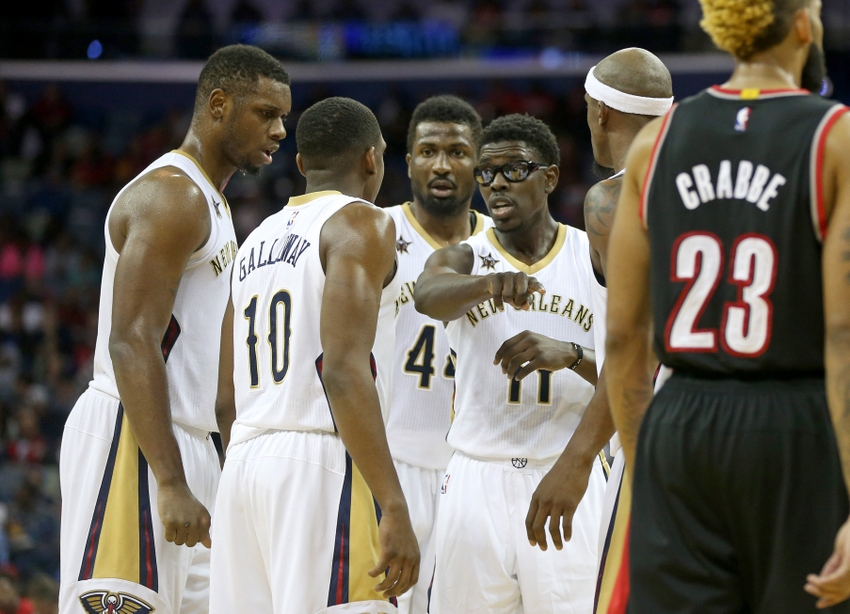 Rory Callais takes you inside the Smoothie King Center  with a look at what Jrue Holiday's return to the New Orleans Pelicans meant to the hometown crowd.
With 4:08 remaining in the first quarter, the New Orleans Pelicans got one hell of a spark off the bench.
The eight minutes leading up to that first time out were far from just any other game. Sure, the Pelicans were playing the visiting Portland Trailblazers well. Anthony Davis was already putting up impressive numbers. The rest of the team was competent, yet unimpressive.
But there was excitement in the air, for the crowd knew that any time out from a foul whistle could be the moment Jrue Holiday checked into a game for the first time of 2016-17 NBA season.
At 4:23, Holiday got off the bench and walked down to the scorer's table. At 4:08, Portland called a time out after the Pelicans pulled ahead. And then, this:
No one knew how Holiday would play after so much time off between injuries and personal leave, to care for his family. But, everyone was eager to find out and the first offensive position led by Holiday resulted in an assist to Terrence Jones for a lay up.
It was a great start and the Pelicans never looked back as they rolled to a 113-101 victory, that was even more dominant than the final score suggests. Holiday's return gave the crowd at the Smoothie King Center something special. Something more essential than winning or even hope:
Joy.
For the first time in a very long time, watching the New Orleans Pelicans play basketball was a joyful experience. Defensive schemes disrupted as they were intended. The offense flowed smoothly. Anthony Davis actually looked like he was having fun. That fun became infectious to everyone else in the arena (save the visiting Trailblazers).
For one night, the record didn't matter. The playoff odds didn't matter. The clear image of an unhappy Davis eyeing greener pastures didn't matter. The Pelicans finally looked like we all hoped they would. That was enough reason to celebrate.
The NBA season is long and the Pelicans are already at a 3-10 disadvantage. The team will not play like this every night and postseason hopes are likely already dashed. But, Holiday's return has given the Pelicans a fire, that has thus far been absent this season.
That fire will roar some nights and merely flicker on others. It will take time for that fire to become a blaze that engulfs the franchise and its fans, while scorching the opposition.
But every fire begins with a spark. The New Orleans Pelicans finally have one.
More from Pelican Debrief
This article originally appeared on