Detroit Pistons: The Return, Re-Integration Of Reggie Jackson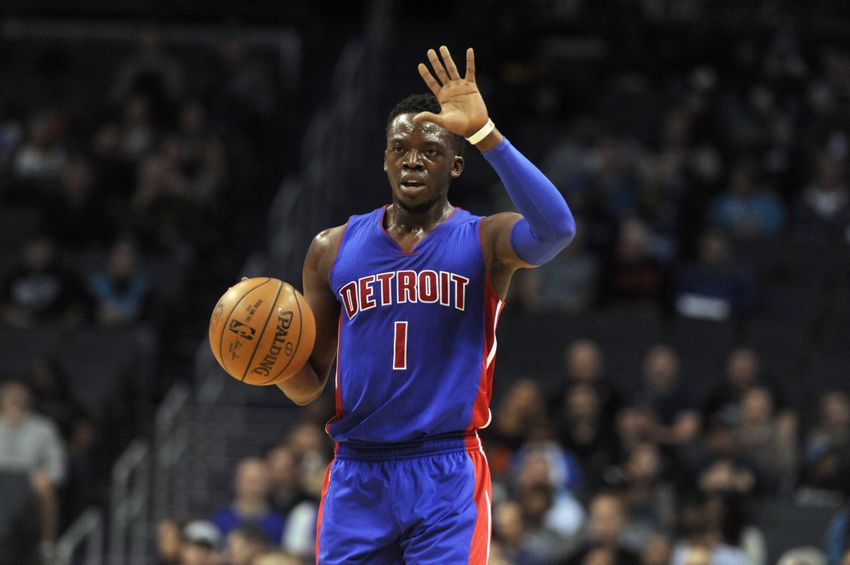 Reggie Jackson missed the first 21 games of the season for the Detroit Pistons with knee tendinitis. Their playoff seed will probably depend on how quickly he recovers.
Reggie Jackson was a key piece of a Detroit Pistons squad that fought their way into the eighth seed last season. The eventual champion Cleveland Cavaliers swept them in the first round.
However, Detroit had two close losses in Games 1 and 4 and was competitive throughout the series. The duo of Jackson and Andre Drummond looked poised for a strong season under Coach Stan Van Gundy.
The potential for a leap in the standings suffered a blow early in training camp. Van Gundy told the media in early October that Jackson would be out for six to eight weeks with knee tendinitis. Jackson returned to the Pistons for their game against the Magic on Dec. 4.
He has played limited minutes in his first five games, a trend that will likely continue for a little while. Jackson's return to form will be crucial for a Pistons team that is currently on the playoff bubble.
Last Season: The Drummond and Jackson Show
Reggie Jackson arrived in Detroit shortly before the trade deadline in 2015. The Pistons gave up two second-round picks along with Kyle Singler and D.J. Augustin to pry Jackson away from the Oklahoma City Thunder.
Jackson fit in with the Pistons almost immediately and averaged 17.6 points and 9.2 assists per game with Detroit. Stan Van Gundy signed him to a five-year, $80 million extension that offseason.
Jackson's effectiveness was due in large part to the great pick-and-roll chemistry he quickly developed with Andre Drummond. Drummond's athleticism and scoring ability near the rim forced defenses to guard him as the roll man.
This allowed Jackson to either drive to the rim himself or feed Drummond as he ran to the basket. Jackson was the passer on 46.8 percent of Drummond's assisted baskets last season.
Their partnership was not just a one-way relationship, however. Jackson averaged career-highs in points (18.8) and assists (6.2) per game last year.
That leap was partially due to an increased role with Detroit, but running so many pick-and-rolls with Drummond also opened the floor for Jackson to expand his own game and generate solid looks for himself.
This Season: Early Struggles on Offense and Promising Signs
Reggie Jackson has had an up-and-down first five games since he returned to the Pistons lineup. He has made only 23 of his first 65 shot attempts.
He is currently only shooting 37.5 percent in the restricted area according to NBA.com's shot tracking data–a troubling number for any player and a far cry from his 55.4 percent mark from last season. That number will need to go up for Jackson to remain effective.
On the positive side, Jackson has canned 38.8 percent of his three-point attempts so far. He shot 35.3 percent from deep last year, which was still better than his career mark of 31.7 percent.
If Jackson can continue to shoot well from three, he will be even more devastating in the pick-and-roll as defenses will have to contest him from behind the arc.
Although he has looked a step slow in his first few games back from injury, Jackson has had some solid moments so far. His chemistry with Andre Drummond still seems to be intact:
The sample size has been small, but Drummond has looked better with Jackson back in the starting lineup. He has averaged 17.4 points per game and 15.2 rebounds per game in the five games with Jackson.
Those numbers are up from his 15.0 points and 13.6 rebounds per game for the season. He has also shot 60.0 percent from the field in those games, a dramatic jump from his 54.5 percent mark for the season.
Defense: Room for Improvement
The play above also showcased Jackson's defensive potential, an area in which he has struggled in the past. Jackson has solid size for a point guard at 6'3″ but he pairs that with an incredible 7'0″ wingspan according to NBAdraft.net.
Despite his physical gifts, opponents shot 48.1 percent when guarded by Jackson last year. That mark was 3.6 percent worse than league average.
The Pistons currently have the top defensive rating in the league at 102.1. They have allowed just 96.0 points per game, second-best in the NBA. Jackson will need to improve defensively if Detroit wants to continue to be a solid defensive team.
If Drummond and Tobias Harris can continue to score at prodigious rates, that will ease Jackson's offensive burden. Hopefully, a decreased scoring load will give Jackson more energy to use his physical tools to wreak havoc defensively.
Moving Forward: The Push for the Playoffs
Reggie Jackson was the leading scorer for the Pistons last season, and losing him for the first portion of the season could have dealt a severe blow to their playoff chances.
However, the Pistons managed to go 11-10 without Jackson. Ish Smith managed to keep the Pistons afloat as the lead guard and Beno Udrih proved to be quite capable as his backup.
Both Smith and Udrih will see a reduction in minutes as Jackson returns to the fold. However, their solid play will far surpass that of Steve Blake, who offered little to Detroit as their backup last season.
Reggie Jackson has not put up incredible numbers so far this season, but he was a huge part of Detroit's run to the playoffs last season. Even without him in the lineup, Detroit currently has the eighth-best record in the East and the third-best point differential at 3.8 per game.
If the Pistons can continue to slowly work Jackson back into the rotation and build on the solid play of his backups, the Pistons have a good chance at climbing the standings and potentially earning home-court advantage in the first round of the playoffs.
This article originally appeared on