Detroit Pistons sign 7'6″ center Mamadou N'Diaye, who is heading to Grand Rapids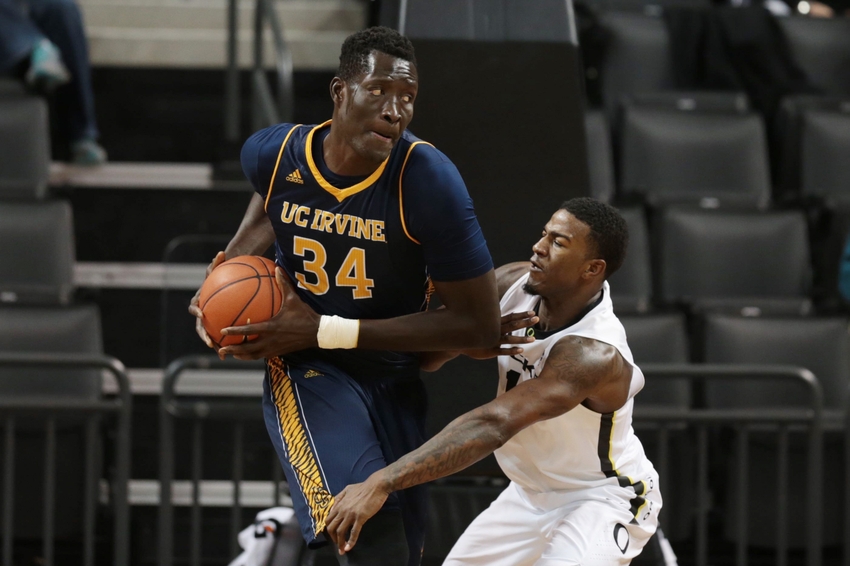 The Detroit Pistons signed former UC Irvine big man Mamadou N'Diaye. N'Diaye is likely on his way to the Pistons D-League affiliate, the Grand Rapids Drive.
The Detroit Pistons have added to their collection of giants. This time it's through the signing of 7'6", 300-pound center Mamadou N'Diaye, the 23-year-old center who went undrafted out of UC Irvine.
Marc J. Spears of ESPN's The Undefeated was first on the news:
The Pistons announce signing of 7-foot-6 former UC Irvine center Mamadou N'Diaye to a contract.

— Marc J. Spears (@MarcJSpearsESPN) October 22, 2016
N'Diaye is a native of Dakar, Senegal who came to the states after a then-UC Irvine assistant coach asked him to upon seeing him play in a pickup game in Senegal. He attended the same prep school in California that Enes Kanter and Nikola Vucevic did before moving on to Brethren Christian High in Huntington Beach for his junior and senior seasons.
After averaging 27 points, 14 rebounds and 4.5 blocks, earning All-State honors, and winning the CIF-5AA Player of the Year award during his senior season, N'Diaye signed with UC Irvine. There, he won the Big West Conference Defensive Player of the Year in his freshman season. He decided to enter the NBA Draft after leading UCI to a program-best 28 wins and averaging 12.1 points, 7.2 rebounds, and 2.4 blocks in 23.2 minutes per game during his junior season.
However, the Senegalese center went undrafted in the 2016 NBA Draft. He signed on to play for the Golden State Warriors summer league team, but only appeared in three games and only got to attempt two shots in Las Vegas.
This led the way to the Pistons being able to pick up him today. In fact, N'Diaye was already in attendance at the Pistons' practice today.
Of course, Detroit is already loaded at center with Andre Drummond, Boban Marjanovic, and Aron Baynes, so N'Diaye will surely be headed to the Grand Rapids Drive, the Pistons' D-League affiliate. It's been a good week for the Drive, as they also acquired the rights to Detroit-native Jordan Crawford a few days ago.
The Yao Ming-sized N'Diaye is still very raw, but with that size and 8'1" wingspan, he is definitely still an interesting prospect. The Pistons will take a chance on the young center and see how he performs with the Drive.
This article originally appeared on