Detroit Pistons player profile: Marcus Morris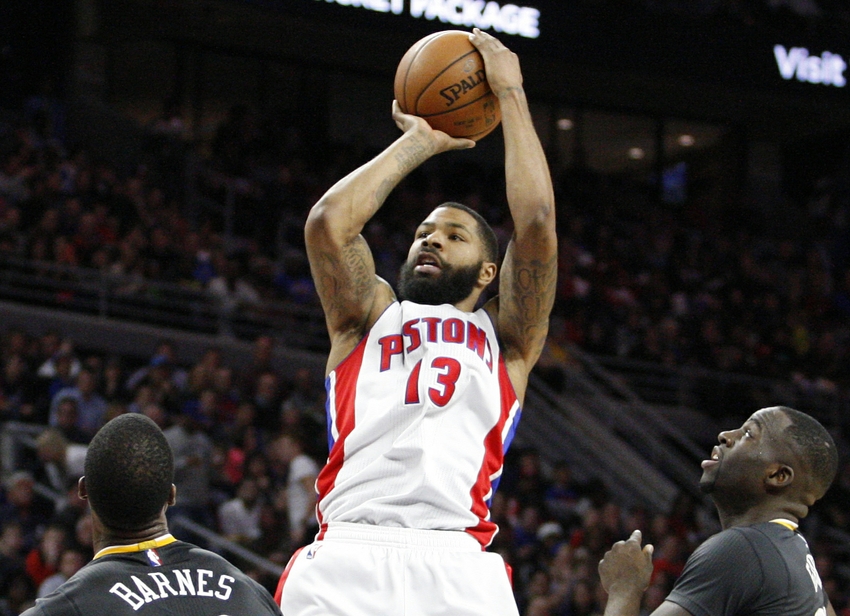 In a 2014 trade with the Phoenix Suns, Stan Van Gundy saw the opportunity to acquire an undervalued player in Marcus Morris.  As Morris played heavy minutes as a full-time starter for the first time in his career, he displayed the type of production that would strongly validate the Detroit Pistons move to acquire him.
Going into the NBA season last year, some thought that the highly touted rookie Stanley Johnson, would take over the starting small forward role for the Detroit Pistons early in the season. Marcus Morris had other ideas, as he took the starting role from the beginning of the season and never looked back.
Morris averaged 14 points, five rebounds, and two and half assists per game last season.  In addition, he shot 43 percent from the field and 36 percent from three.
Furthermore, he gave the Pistons a decent wing defender and brought his toughness to a team that severely lacked such skill in recent years.
Not to mention, Morris gave the Pistons another player who was versatility gave them more options for either forward spot both offensively and defensively.
More important for the Pistons last season, was Morris' ability to post up on the wing and score. Among players who played at least 55 games and had 100 post up possessions, Morris was tied for the 11th most efficient player on post ups last season.  His .99 points per possession on 165 post up plays landed him in 83rd percentile among NBA players.
This season, Morris will presumably be in the starting lineup to start the season at either forward spot.  His previously mentioned post up and isolation abilities are very helpful on a Pistons' team that doesn't have many players who can get their own shot.  He also helped space the floor with his three-point shooting, which allowed Reggie Jackson more room to create the offense.
It's possible that Stanley Johnson could challenge Morris for a spot in the starting lineup if Johnson's game takes a big step forward this season.  If so, Morris was a very solid starter last year and would be able to be the primary scorer off the bench.
Last season, Morris already scored well vs opposing starters, so against bench opponents, he should be able to handle them with ease.  He showed last season how valuable his own shot creation and floor spacing can be.
Coupled with Morris' good production, is his contract that he signed with the Phoenix Suns.  His contract is very team friendly at $15 million over three years.
Morris played an important role in the Pistons ending their playoff drought last season.  Whatever role Stan Van Gundy decides for him this season, will have an effect on the Pistons attempts to climb the ranks of the Eastern conference.
This article originally appeared on