Detroit Pistons fall to the New York Knicks in a nail-biter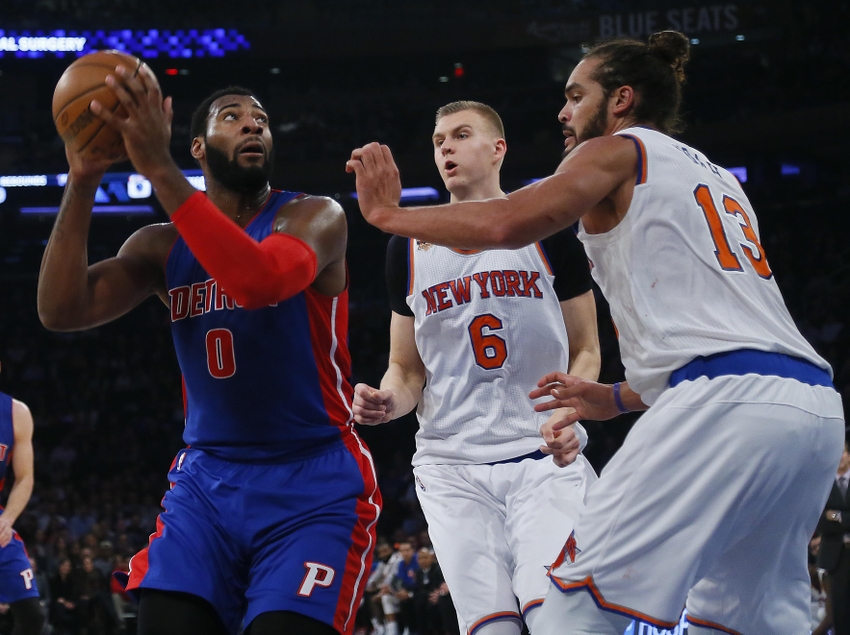 The Detroit Pistons and New York Knicks went down to the wire at Madison Square Garden, with the home team holding on for a 102-105 win.
The Detroit Pistons trailed for the majority of the game, however an impressive final two minutes saw them get within striking distance of the lead, however an inability to rebound and a missed three at the buzzer by Kentavious Caldwell-Pope saw the New York Knicks walk away with the win. The Pistons were dominated on the glass, being out-rebounded 40-52, while also giving up 19 offensive boards. Kristaps Porzingis was unstoppable in the first half as he raced away to 25 points, finishing the game with a career-high 35. For the Pistons Caldwell-Pope led the scoring with 21 points.
Ish
Smith
PG,
Detroit Pistons
B
Ish Smith
was one of the Pistons' better players tonight. He scored 14 points on a much improved 6 of 7 shooting which included a clutch three in the dying moments to keep the Pistons in the game. He also dished out 8 assists for the night.
Kentavious
Caldwell-Pope
SG,
Detroit Pistons
B+
Kentavious Caldwell-Pope continued his solid scoring form, dropping a team high 21 points. However, his shooting left a little something to be desired as he went 9 of 22 from the field and 3 of 9 from three. Unfortunately one of those three point misses was to tie the game at the buzzer.
Marcus
Morris
SF,
Detroit Pistons
D+
It's clear
Marcus Morris
is in a serious slump right now. After starting the season hot he has come crashing back to earth and contributed just 7 points on 3 of 9 shooting. His defence on
Carmelo Anthony
wasn't as good as the team needed it to be either, as Anthony dropped 22 points on 52.9 per cent shooting.
Tobias
Harris
PF,
Detroit Pistons
B+
Tobias Harris
was great tonight, and one of the few players who can actually say they crashed the defensive glass as well as they should have. Harris scored 19 points and pulled in a team high 10 rebounds, however he curiously had a box plus/minus of -9 on the night.
Andre
Drummond
C,
Detroit Pistons
C
Andre Drummond
didn't turn in one of his greatest games against the Knicks and perhaps was still feeling the effect of his ankle injury. Drummond contributed a handy 15 points, but only pulled in 9 rebounds and just one offensive board, which may be a sign his ankle is not at 100 per cent. The team also seemed to be at its worst with him on the court, registering a team low -17 box plus/minus.
Beno
Udrih
PG,
Detroit Pistons
D
Beno Udrih
contributed just a single assist tonight, in what is becoming an increasingly worrying sign for the bench unit. He contributed less assists than
Jon Leuer
and
Aron Baynes
while scoring just 7 points on 3 of 7 shooting.
Stanley
Johnson
SF,
Detroit Pistons
F
You could be excused for thinking that
Stanley Johnson
didn't even play against the Knicks. He scored just 2 points and grabbed a single rebound in his 10 minutes on the court, but still managed to be -9 in box plus/minus despite his limited opportunities.
Jon
Leuer
PF,
Detroit Pistons
A
Jon Leuer was the single bright spark off the bench for the Pistons. He scored 17 points on 7 of 11 shooting, pulled in 9 rebounds and had 3 assists in 27 minutes of court time. Leuer was a huge factor in keeping the Pistons from being blown out on the road yet again, allowing the Pistons to mount a comeback late.
Aron
Baynes
C,
Detroit Pistons
D-
Aron Baynes has 0 points and 2 rebounds in the 11 minutes he played. There's not much more to say than that. An incredibly disappointing follow up to his 20 point effort against Oklahoma City.
Stan
Van Gundy
Head Coach,
Detroit Pistons
B+
Stan Van Gundy did a great job of controlling the game and making sure the Knicks' lead never got too out of hand, allowing the Pistons to make their late run for the lead. Unfortunately, no matter how well Van Gundy coached tonight, the team's inability to secure a defensive rebound, especially with the game on the line, was always going to be too much of a factor.
This article originally appeared on