Detroit Pistons fall short against the Oklahoma City Thunder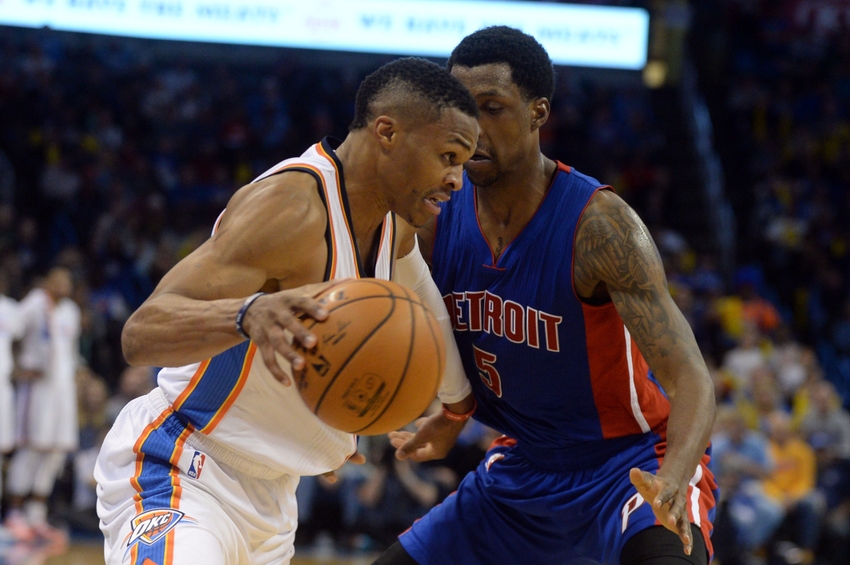 The Detroit Pistons' road woes continued in Oklahoma City, losing 106-88. The Pistons were unable to stop Russell Westbrook, who collected a triple-double.
The Detroit Pistons struggled to score and rebound in the first quarter, and they never quite recovered, losing 106-88 to the Oklahoma City Thunder.
The Pistons had a very difficult time creating offense against the long Thunder defense.  When they did create open looks, they generally came in the form of 3 point attempts.  Unfortunately for the Pistons, they failed to convert on those open 3 pointers, shooting 1-of-19 from behind the arc.
While the Pistons were struggling to create even average-percentage shots, Russell Westbrook easily and consistently set up his teammates for high-percentage opportunities.  The Pistons guards provided very little resistance, and Westbrook accumulated 15 assists as a result.
Accumulation was the name of the game for Westbrook.  He not only had 15 assists, but he grabbed 13 rebounds (3 offensive) and scored 17 points, good enough for yet another triple-double.
The Pistons' loss brings their road record to a miserable 1-8.  On a night where the Pistons had no answer for Westbrook, they're surely looking for answers to their road game woes.
Ish
Smith
PG,
Detroit Pistons
C-
Ish Smith did some nice things offensively, scoring 14 points and dishing 3 assists, while running several successful picks-and-roll with Andre Drummond. Smith, though, was a complete liability on the other end of the floor. Whether he was guarding Russell Westbrook or Victor Oladipo, Smith provided very little resistance to dribble penetration, something that killed the Pistons tonight.
Kentavious
Caldwell-Pope
SG,
Detroit Pistons
D+
Facing two great offensive creators, Kentavious Caldwell-Pope was not very effective defensively tonight. He struggled to defend the pick-and-roll and he got caught gambling several times. Offensively, he shot extremely poorly, including missing all of his 6 three point attempts. He just wasn't very good in a game where the Pistons desperately needed him.
Marcus
Morris
SF,
Detroit Pistons
C-
Marcus Morris gets some credit for being the only form of Pistons offense to begin the game, but he had another rough outing against the Thunder. He scored just 10 points, all of which came in the first quarter. During the final three quarters, he forced too much one-on-one action, missed all 5 of his three point attempts, and regularly got beat defensively.
Tobias
Harris
PF,
Detroit Pistons
B
Tobias Harris scored 19 points was the only Piston who could consistently create his own shot. He shot just 7-for-17, but his teammates' struggles tonight forced him into a lot of tough shots. Harris did struggle shooting from the 3 point line, going 1-for-4 from behind the arc, but his one make was the Pistons only made 3 of the night.
Andre
Drummond
C,
Detroit Pistons
C
After consecutive strong outings against Hassan Whiteside and DeAndre Jordan, Andre Drummond struggled a bit more against Steven Adams tonight. Drummond shot 50% from the field for 10 points, but he wasn't engaged enough to have a huge impact on the game. The Thunder grabbed 10 offensive rebounds, and ultimately, a lot of that falls on Drummond.
Beno
Udrih
PG,
Detroit Pistons
B
Beno Udrih was the Pistons' most efficient offensive player tonight, scoring 6 points on 3-of-3 from the field. He added in two assists and more than held his own in his 17 minutes.
Stanley
Johnson
SF,
Detroit Pistons
INC
Stanley Johnson played just 3 minutes off the bench. Johnson's limited minutes were a disappointment in a game where Darrun Hilliard struggled in the bench wing role. Stan Van Gundy's lack of faith in Johnson continues to be a reason for concern.
Aaron
Baynes
C,
Detroit Pistons
C+
Aron Baynes scored 7 points tonight on the strength of 5-of-6 shooting from the free throw line. He was good enough offensively, but he really struggled to defend the much quicker Enes Kanter. Baynes was +4 in his limited 12 minutes.
Jon
Leuer
PF,
Detroit Pistons
B-
Jon Leuer was again solid off the bench tonight for the Pistons. He didn't have the impact he has had lately, but he scored 8 points and grabbed 3 rebounds and was his usual calming force coming off the bench.
Darrun
Hilliard
SG,
Detroit Pistons
F
Darrun Hilliard struggled mightily in his 12 minutes. He made one shot and he gave up many more on the defensive end. Hilliard got consistently beaten off the dribble by both Anthony Morrow and Victor Oladipo, and provided no real value to the Pistons tonight.
Stan
Van Gundy
Head Coach,
Detroit Pistons
C-
The Pistons were flat tonight, which is understandable coming off an emotional win against the Clippers. But keeping the team's focus ultimately falls on the coach, and Stan Van Gundy failed in that respect tonight. He also didn't play Beno Udrih enough minutes on a night when Ish Smith was a complete liability defensively.
This article originally appeared on