Detroit Pistons blown out by the Cleveland Cavaliers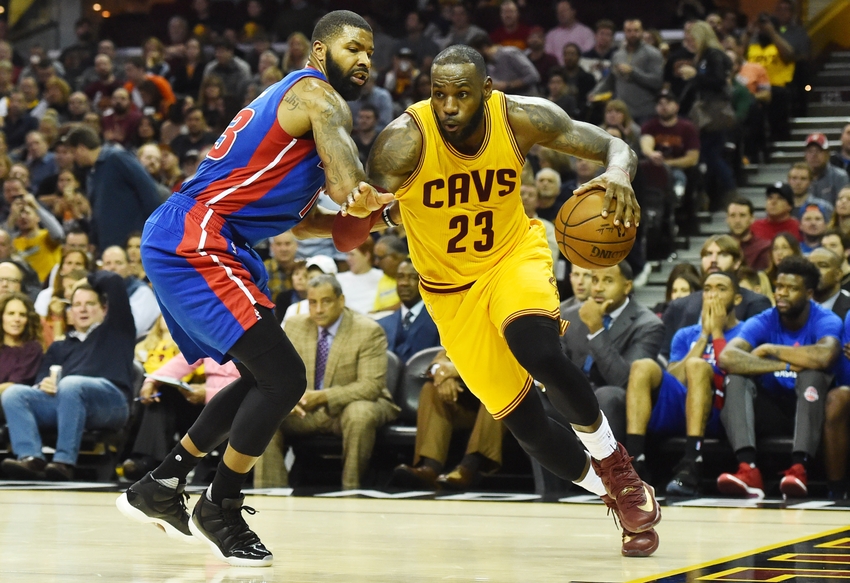 The "Big 3" combine to shoot 25 from 39 to help the Cleveland Cavs cruise by the offensively challenged Detroit Pistons.
The Detroit Pistons began the game strong hitting both their three-point attempts shooting out to an early 6-0 lead which led to an early timeout from the Cleveland Cavaliers.
The Cavs came out from that time out and rattled off eight straight points and took complete control of the game midway through the first quarter. The deficit got to more than 30 points before finishing 104-81.
Despite limiting the Cavs to just 5 offensive rebounds they were otherwise out rebounded 52-44 overall. The did somehow limit themselves to just 7 turnovers while grabbing 11 offensives rebounds.
The starters combined for an abysmal 15-54 (27 percent) from the field, many of which were open looks. There were missed dunks, blown layups and air-balled jump shots in what was one of the more disappointing offensive performances of the early season for the Pistons.
Unbelievably, not a single starter scored in double digits, in fact, Jon Leuer was the only Piston to do so scoring 15 points off the bench.
The "Big 3" of the Cavs combined for 58 points with none of the three playing more than 29 minutes due to the blowout. As a team the Cavs shot 11-25 (44 percent) from three-point range showing an enormous gulf in that department between the two teams. The Pistons entered the game last in the league in three-pointers made with the Cavs sitting second, and it showed throughout.
The Cavs move to first in the East with the Pistons moving a step closer to a position outside of the playoffs.
Kentavious
Caldwell-Pope
,
Detroit Pistons
D
Kentavious Caldwell-Pope
finished with 9 points on 4-12 shooting knocking down a single three-point shot. He did have the unenviable job of limiting
Kyrie Irving
who had 25 points (11-15) to go along with 11 assists in what was otherwise a dominating performance. I appreciate the fact Irving is going to generally get his on offense but on a number of occasions it seemed he was able to lose his man for an easy look.
Tobias
Harris
PF,
Detroit Pistons
D
Tobias Harris
was another Piston starter that struggled from the field scoring just 9 points (3-10). Matched up against
Kevin Love
, I thought he played him relatively well in this one limiting him to just 12 points. Love did shoot 50% from the field though and I also think Jon Leuer had more success in the match up defensively with Love.
Andre
Drummond
C,
Detroit Pistons
D
Andre Drummond
was often frustrated in this one but to his credit I didn't notice a drop off in effort which for him can sometimes come hand in hand. He wasn't getting any calls from the refs when inside and missed several looks I would like to see him regularly knock down which only lead to further frustration. He managed to secure 10 rebounds with 3 coming on the offensive end but unfortunately for both him and the Pistons, he was outplayed by
Tristan Thompson
.
Stanley
Johnson
SF,
Detroit Pistons
C+
I was quite impressed with
Stanley Johnson
in this one on both ends of the court. I thought he didn't try and do too much on offense and was capable on defense finishing with a team high +8 albeit in garbage time. He chipped in with 5 points (2-3) to go along with 3 rebounds, 2 steals and a block in what was an improved performance considering his early season struggles. Despite the blow out, he only played 16 minutes which I thought was surprising.
Aaron
Baynes
C,
Detroit Pistons
C+
Aron Baynes
was his usual solid self on both ends finishing with 4 points and 7 rebounds in just 15 minutes off the bench. As normal, he worked hard on every possession and even picked up a couple assists.
Ish
Smith
PG,
Detroit Pistons
F
Ish Smith
was an absolute liability when shooting the ball in this one. Going 1-9 from the field, hitting his final attempt of the night, most of which were open looks, missing layups that he just simply needs to make. The Cavs from the outset gave him plenty of room to operate but he wasn't able to take advantage. His inability to make teams pay for sagging off on him is restricting the space for teammates to operate which was evident in this one. He did have 6 assists to just the one turnover in what was otherwise a very frustrating performance to watch.
Jon
Leuer
PF,
Detroit Pistons
B
Jon Leuer finished with a team high 15 points (5-12) and 7 Rebounds. I liked his effort on both ends but particularly when matched up against Love defensively. He was easily the Pistons best player tonight and his flexibility at both ends looks to be something coach Van Gundy really appreciates.
Darrun
Hilliard
SG,
Detroit Pistons
C
Darrun Hilliard
received an opportunity tonight in which he was given more minutes in this game (20) than he has received in the previous twelve combined. He scored 7 points but some of his misses were wild, barely hitting iron if at all. I liked what he was able to do with the ball in his hands when not looking for his own shot, finishing with 3 assists.
Boban
Marjanovic
C,
Detroit Pistons
Inc
I was surprised to see
Boban Marjanovic
only get 6 minutes in this game considering the result was all but known at half time. He did finish with 5 rebounds in those 6 minutes.
Reggie
Bullock
SG/SF,
Detroit Pistons
Inc
Reggie Bullock
scored 5 points in garbage time including one three pointer.
Henry
Ellenson
PF/C,
Detroit Pistons
Inc
Henry Ellenson
didn't really impact the game at all in the 6 minutes when on the court.
Beno
Udrih
PG,
Detroit Pistons
C
I thought the Pistons looked a lot better when
Beno Udrih
was running the point in this one. He did finish with just 6 points (2-7) but the Cavs weren't able to sag on him defensively and that seemed to open up the court for others.
Marcus
Morris
SF,
Detroit Pistons
D
The struggles continue for
Marcus Morris
who finished with just 7 points (3-11). Matched up for most of the night against Lebron James it was always going to be a struggle on the defensive end. It was on offense that disappointed the most as shots have seemed to have stopped falling for him.
Stan
Van Gundy
,
Detroit Pistons
C
It's hard to be too harsh on Van Gundy in this one. It seemed the Pistons jumped out of the gates well early which can be credited to his buildup. They just simply missed too many makeable shots in this to have any chance. They got enough good looks in this to make a game out of it they just weren't able to capitalize as their road struggles continue. When the game was clearly over and the deficit up to over 30, I did think Van Gundy could have given guys like Ellenson, Marjonavic and Bullock more run. I thought changes needed to be made at halftime and it seemed that he just stuck with what he knew, which unfortunately for the Pistons it seemed the Cavs had an answer for.
This article originally appeared on