Detroit Pistons at Boston Celtics Preview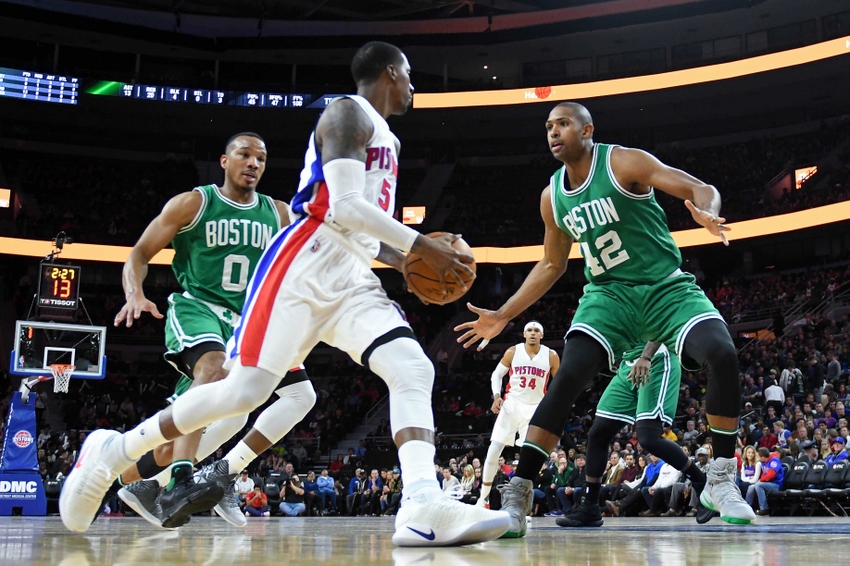 The Detroit Pistons (9-10) have their second meeting of the season against Al Horford and the Celtics (10-7) Wednesday night in Boston.
Kentavious Caldwell-Pope and the Detroit Pistons (9-10) have their second meeting of the season with Al Horford and the Boston Celtics (10-7) Wednesday night. Their first meeting this season resulted in a 94-92 loss for the Pistons at home. The game was tight throughout and ended on a game-winning offensive rebound and shot by Horford in the closing seconds.
However the Pistons will look to carry some momentum into Boston coming off of a 112-89 win over the Charlotte Hornets (10-8) last night. The Pistons notched just their second road victory, but did so against a talented Hornets team and without Andre Drummond for much of the game (ejected in the second quarter).
The three-point shooting from Caldwell-Pope (4-for-8) and Tobias Harris (3-for-5) led the way in Charlotte. Without Reggie Jackson this season, the Pistons are only averaging 19.8 three-point attempts per game. This contrasts last season's average of 26.2 per game with Jackson playing, which is what makes last night's 28 three-point attempts surprising.
The Pistons will want to continue that kind of hot shooting on the second night of this back-to-back in Boston. In their first meeting, the Pistons shot a frustrating 7-for-20 from beyond the arc. The Celtics shot 12-for-31 that game.
The success of Caldwell-Pope and Harris is vital if the Pistons are to win this kind of game on short rest. Fortunately for the Pistons, Drummond will return to the lineup in Boston to clean up what shots might not fall.
Interestingly enough however, that duo has done surprisingly well without Drummond being available:
KCP+Tobias with NO Andre Drummond: The Pistons have a +15 net rating and a 90.3 d-rating in 247 possessions. Explanation? Lol. Got nothing.

— Duncan Smith (@DuncanSmithNBA) November 30, 2016
Drummond played well in his first matchup against the Celtics this season scoring 20 points and grabbing 17 rebounds. However, Stan Van Gundy strategically replaced him with Aron Baynes for the play before and couldn't substitute on defense before Horford's game-winner.
The Celtics beat the Miami Heat (5-12) 112-104 Monday night in South Beach. A 25-point game from Isaiah Thomas proved too much for the Heat on a night Horford took off for the birth of his daughter.
Pistons guards will likely have their hands full containing Thomas who is averaging 26 points and six assists per game. His ability to drive to the basket kept the Pistons chasing him in the paint in their first meeting. This left the Celtics big shooters in Horford and former Piston Jonas Jerebko open for threes much of the night.
Thomas will present a challenge not only to Pistons starters, but to Beno Udrih and possibly Darrun Hilliard off the bench. Van Gundy seems to have turned to Hilliard in wake of Stanley Johnson's tremendous struggles throughout this season.
In a tight Eastern Conference, matches against top-tier teams like the Celtics will matter most. The Pistons are currently sitting just outside of the final playoff spot. It is a long season, but every game matters when a team sits on the outside looking in.
This article originally appeared on