Denver Nuggets: Wilson Chandler Putting Together Career Year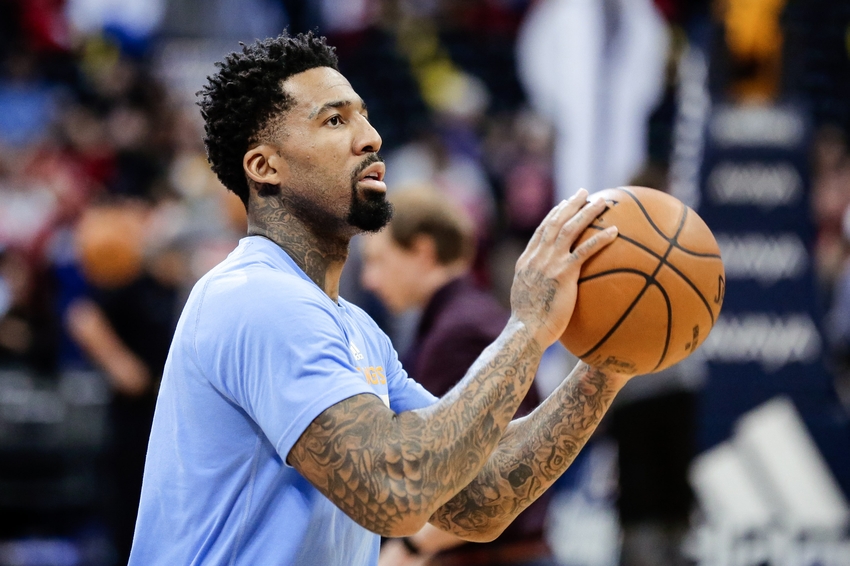 The Denver Nuggets have gotten off to a decent start this season much because of the career year from nine-year veteran Wilson Chandler.
Prior to the 2016-17 NBA season, the Denver Nuggets were viewed as being one of the more exciting teams to watch due to their youthful talent including Emmanuel Mudiay, Nikola Jokic and their rookie Jamal Murray.
However, they do have a few savvy veterans that every young team needs to be successful. In this case, Wilson Chandler has exceeded expectations immensely.
Chandler has always been known for being a solid wing player who can score when called upon and impact a game with his perimeter defense, but with this being his ninth season in the NBA, it would be a lie to say that many had their eye on him having a breakout season.
The nine-year veteran out of DePaul is averaging career-highs in points (18.3) and rebounds (7.7) and has been the catalyst behind the Nuggets' 7-10 start.
Their record isn't anything to brag about, but the fact of the matter is this team is still extremely young. While their roster is filled with exciting young players, it takes time in the NBA to turn around a franchise that is so used to losing.
Still, their 7-10 record has them trailing the Portland Trail Blazers for the last playoff slot if the season were to end today.
What's even more impressive is Chandler is doing this damage by coming off the bench as a sixth man. Rightfully so, his name is atop the early list for Sixth Man of the Year, but head coach Michael Malone had something more to say about his swingman:
"It's too early to start talking about sixth man of the year and all of that stuff," Nuggets coach Michael Malone said. "But he's been our MVP."
Chandler is doing most of his damage when Malone utilizes him as the stretch-4. His athleticism overwhelms bigger, slower forwards while his strength can help him overcome smaller players in the post.
Chandler has always been a mostly efficient scorer. This season, his .549 true shooting percentage ranks second-highest in his career. His three-point attempt rate of .260 is a big decrease from his two previous seasons (.476, .416), which indicates he isn't settling for long contested shots.
A big difference with Chandler's season so far is that he hasn't dealt with any injuries. He missed the entire 2015-16 season with a labral tear in his right hip that required surgery.
Instead of spending his time rehabbing his body, he has finally had the opportunity to make detailed improvements in his game.
"I never got the chance to keep growing," Chandler said. "Most players grow every year from year-to-year. I was derailed a lot. It happens, it's part of the game. So this is the first time I was able to come back fully healthy, start the season off 100 percent. And I was able to work on my game."
As the Nuggets approach their next five games, they can all be deemed winnable if Chandler continues this type of play. They'll face Miami Wednesday in Denver, and will host Houston before visiting Utah, Philadelphia and Brooklyn.
They have a chance to run off a five-game winning streak to bring their record to 12-10, but will realistically drop one or two of those games with still having a chance at .500.
Denver has a good mix of talent and experience to keep them in the position they're in. Let's see if Chandler can bring them over the hump and make their mark as a final team in the playoff picture.
This article originally appeared on