Denver Nuggets: Wilson Chandler Has Been The Team's MVP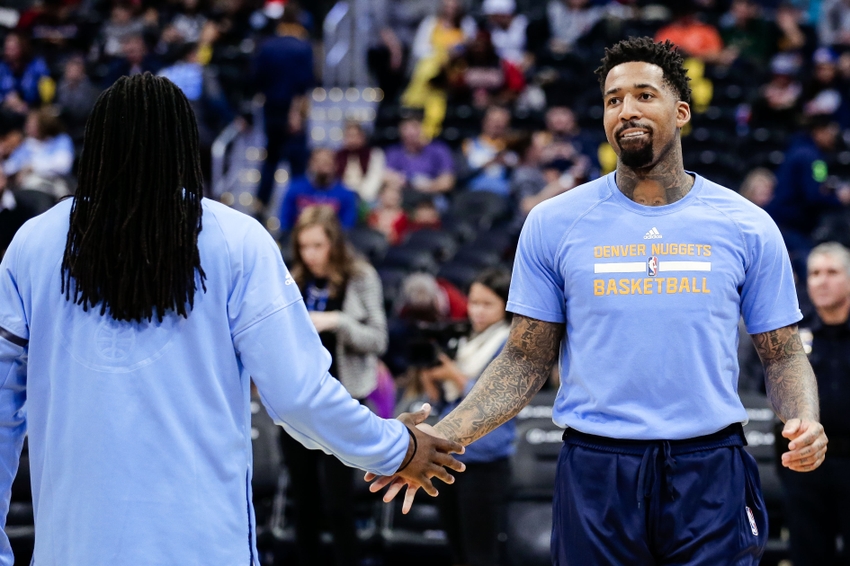 He won't get many headlines, but Denver Nuggets forward Wilson Chandler has been the team's MVP so far this season
Sitting at his locker post game after scoring 25 points for the Denver Nuggets in a win over the Phoenix Suns, Wilson Chandler continued to have his trademark cool and calm demeanour as always.
Consistent on both sides of the court. Wilson is that kind of you're strong hold, to be a leader for this team with you're consistency? Asked a Nuggets Reporter. "Not really, just trying to be aggressive and play off my teammates, and play as a team player also. It's just coming out in games when I'm scoring and trying to be aggressive and play off my teammates. But I think my role is to just help the team win no matter what, if it's defense, if it's passing the ball, sharing the ball, picking my teammates up. Whatever it takes."
Those words pretty much some up the kind of player and teammate Wilson Chandler is. It's never about him; it's only about the team winning. That's very rare, especially in a league full of players that are more selfish, in terms of playing time and starting.
I mean just look at the Philadelphia 76ers, one of those big men is going to be unhappy playing less minutes then the others (right now that big man is Nerlens Noel as everyone already knows.)
More from Sir Charles In Charge
That's just the nature of the league. It's rare to find selfless teammates. But when a team does find them, they tend to win a lot. Golden State, San Antonio and Cleveland are prime examples of that. Those three teams are full of players that want the team to succeed; more then they want individual accolades. That's why they've all earned championships.
Now Denver isn't in that boat yet, as they still have a very young team that needs a little more time to grow. But with the teams' aspirations being the playoffs or bust this season, coach Michael Malone has been playing the guys he can trust. One of those players continues to be "Ill Will."
Wilson Chandler has been a key cog in closing out games for the Denver Nuggets, because Malone knows he can do such a vast array of different things. Whether that's scoring the ball (averaging a team-high 18.3 points per game), rebounding (second on the team, averaging 7.7 boards), or defending multiple positions (can guard 2 through 4), Chandler can essentially do it all.
That's what makes him such a phenomenal player, especially for a guy that comes off the bench. Just ask coach Michael Malone.
[via Reuters.com]

"It's too early to start talking about Sixth Man of the Year and stuff like that but he's been our MVP so far," Denver coach Michael Malone said. "His scoring, his rebounding. I had him out there 39 minutes … whatever needs to be done, he's out there saying, 'I've got you, Coach.'"
The fact that his coach thinks that highly of him should speak volume about the type of player he is. Through the first 17 games of the season his PER of 18.6 is the best on the team, and a career-high if he can sustain it for the season.
The Denver Nuggets also have an offensive rating of 104.2 points per 100 possessions when he's on the court, compared to a putrid 100.4 points when he sits. His Net Rating of -6.3 points per 100 possessions when he's on the bench is the highest Net Rating on the team. That alone shows the type of impact he brings to the court on a nightly basis.
His play has been a key catalyst for the team, but the Nuggets as a whole have been inconsistent at times. That's why they sit three games below .500 at this point in time. They've got a ton of talent on the roster, but inexperience from their younger players has continued to plague the team.
So now if they can get other guys to get going on a game-to-game basis the Denver Nuggets will have a better shot at making a playoff run. But even if they don't in the end, one thing's for certain, it won't be because of Wilson Chandler.
This article originally appeared on